BAT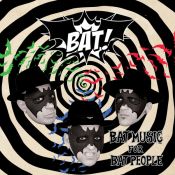 "Bat Music For Bat People"
Cleopatra Rcds | 12 titres | 2019 | Divers
Critique : Super groupe formé de Daniel DeLeon (REZUREX) à la guitare, René Garcia (The BRAINS) à la batterie et Dusty Grave (STELLAR CORPSES) à la contrebasse. Ajoutez à ça quelques invités prestigieux (le rockab' Danny B. Harvey et le gothique Jyrki 69), et le tout donne exactement ce à quoi on pouvait s'attendre: un Rock moderne et soigné, aux refrains mélodiques, catchy et un peu convenus. C'est bien réalisé, même si les lignes de contrebasse auraient mérité d'être plus affinées. BAT! vient chercher le côté Pop des BRAINS et de REZUREX, et si vous appréciez les 2 groupes, vous devriez vous y retrouver.
À noter: bonne reprise de "Tainted Love".
Liste des titres: 1. We Fight! 2. Tainted Love 3. Villain 4. We Own The Night 5. Running Scared 6. Take It Off 7. You're Running Away 8. Revenge Of The Batmask 9. Monster Party 10. She Wolf 11. Wicked Love 12. Getaway Car
[Lire ou Ajouter un commentaire]
COMPILATIONS : 91 compilation(s)* avec BAT.
*: Possibilité d'erreurs dues aux homonymes.