Compilation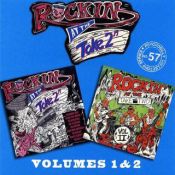 "ROCKIN AT THE TAKE 2 (Réédition)"
Anagram Rcds | 30 titres | 2007 | Psychobilly
Critique : Deuxième fois que ces 2 compilations sont réunies sur un même CD, mais on trouve 4 titres de plus que la première fois (un titre pour the TAILGATORS et the HEPILEPTICS et 2 pour SOME KINDA EARTHQUAKE). Il manque toutefois encore 2 chansons par rapport aux 2 vinyles initiaux.
Bref, un bon panorama du Psychobilly britannique de la fin des 80's, en concert. Cette réédition porte le numéro 57 dans la série "Psychobilly - Collectors Series" d'Anagram.
Liste des titres: 1. Screaming Dead: Swords Of A Thousand Men 2. Sugar Puff Demons: Dance With The Dead 3. The Hepileptics: Burnin' Fever 4. Lover Not A Fighter 5. The Tailgators: Norman Bates 6. Should I Stay Or Should I Go 7. The Batfinks: Sleep Kills 8. Some Kinda Earthquake: Brand New Cadillac 9. Love Rock Jive 10. The Radiacs: Jungle Rock 11. Radiac Drive 12. The Frantic Flintstones: Ring Ring Ringing 13. Alcohol Buzz 14. The Deltas: Ragin' Sea 15. Heart Attack 16. Cigarette 17. Stage Frite: Island Of Lost Souls 18. Grovel Hog: Take A Trip 19. The Batfinks: Brain Damage 20. Sleep Kills 21. The Radiacs: Hellraiser 22. Indian Reservation 23. The Coffin Nails: Skateboard Frenzy 24. Myra Hindley 25. The Frantic Flintstones: 44 26. Hang 10 27. Demented Are Go: One Sharp Knife 28. Rubber Rock 29. Rubber Buccaneer 30. Rubber Plimsoles
&nbsp [0 critique]