Compilation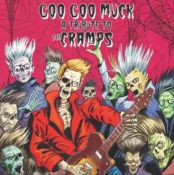 "GOO GOO MUCK - A TRIBUTE TO THE CRAMPS"
Cleopatra Rcds | 12 titres | 2023 | Garage
Critique : Une compilation hommage aux CRAMPS avec, entre autres, les groupes de l'écurie Cleopatra: the BRAINS font une version speedée du hit de CHARLIE FEATHER de "I Can't Hardly Stand It", et BAT! reprend la chanson titre. Y participent également des groupes prestigieux de la scène Rock-Garage ouest-américaine comme the FUZZTONES ou the FLAMIN' GROOVIES. Le tout donne une très bonne compilation bien calibrée, avec quelques très bonnes surprises et dont on retiendra notamment la superbe version bluesy-marécageuse de "Primitive" par HILLBILLY MOON EXPLOSIONS.
Liste des titres: 1. Shooter Jennings: Human Fly 2. The Courettes: Bikinigirls With Machine Guns 3. The 69 Eyes: Aloha From Hell 4. Night Beats: I Was A Teenage Werewolf 5. Bat!: Goo Goo Muck 6. The Hillbilly Moon Explosion: Primitive 7. The Flamin' Groovies: Fissure Of Rolando 8. Blitzkid: Garbageman 9. The Brains: I Can't Hardly Stand It 10. Linda Gail Lewis, Danny B. Harvey, Clem Burke: The Way I Walk 11. The Fuzztones: Can Your Pussy Do The Dog? 12. Stellar Corpses: Fever
&nbsp [0 critique]