Compilation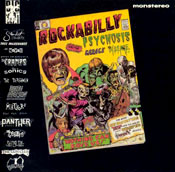 "ROCKABILLY PSYCHOSIS AND THE GARAGE DISEASE CD"
Ace Rcds | 16 titres | 1989 | Psychobilly
Critique : Excellente compil Garage : Que des classiques!! les principaux précurseurs du Psycho y sont représentés.
Sans qu'on sache vraiment pourquoi, la version vynile ne contient pas exactement les mêmes morceaux: THE PHANTOM a disparu du CD par contre, on a le droit en plus à RALPH NIELSEN, LINK WRAY et the MILKSHAKES.
Liste des titres: 1. The Trashmen: Surfin' Bird 2. The Sonics: Psycho 3. The Novas: The Crusher 4. Ralph Nielsen & The Chancellors: Scream! 5. Legendary Stardust Cowboy: Paralysed 6. Hasil Adkins: She Said 7. Link Wray: Hidden Charms 8. The Meteors: My Daddy Is A Vampire 9. Jimmy Dickinson & The Cramps: Red Headed Woman 10. The Milkshakes: Run Chicken 11. The Meteors: Radioactive Kid 12. Tav Falco & Panther Burns: Dateless Night 13. The Gun Club: Jack On Fire 14. The Geezers: Folsom Prison Blues 15. The Sting-Rays: Catman 16. The Guana Batz: Just Love Me
&nbsp [0 critique]