Compilation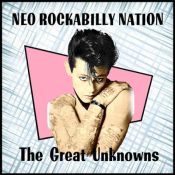 "NEO ROCKABILLY NATION 1 - THE GREAT UNKNOWS"
Modern Syndrome Rcds | 30 titres | 2014 | Neo-Rockabilly
Critique : Première compilation d'une série de 3 sur ce label espagnol spécialisé dans les bootlegs. Superbe travail d'archéologue pour déterrer ces pépites de la fin des 80s début des 90s. Ça va du Neo frétillant de the FREZ à celui plus sombre des ATOMIC CREEPERS, en passant par le Psychobilly des PUSSYKILLERS ou des SKIPJACKS, le Rockabilly commercial des THREE ALLEY CATS ou le R&R plus traditionnel de the ROCKITS.
Excellemment balancé, une compil sortie sur CD à 500 exemplaires à dénicher d'urgence, surtout que la plupart de ces titres sont introuvables aujourd'hui.
Liste des titres: 1. The Fretz: Don't Fret 2. The Lap-Dogs: Train Of Life 3. The McFlys: One More Day 4. Pink Pedal Pushers: Ambulance 5. The Rockats: Diamond Ring (1982 Demo) 6. Crazy Cats: Bad Kitten 7. –Rocky Chagalou: Put Your Sweet Lips To Mine 8. Swindlers: Hell's Race 9. Sneaky Pete & Cool Cats: Daughters Of Glory 10. Mad Bats: No Way Out 11. The Kraze: Your Baby Blue Eyes 12. The Cops: That Don't Move Me No More 13. –The Overiders: Katz Keep Rockin' 14. Les Skipjacks: Chez Mon Boucher 15. –The Rocking Fools: Steady Job 16. Stylbop: The Stylbop Bop 17. The Renos: Tonight 18. –Rockin' Dabblers: Persuasion 19. Atomic Creepers: Twisted Paradise 20. The Drive-Ins: Go Cat Go 21. Three Alley Cats: Who's Leavin' With My Girl Tonight 22. Dusty Dodgers: Did I Die (I'm Running) 23. Brioles: Crawlin' Home 24. Primitive Roadrunners: Last But One 25. Pussykillers: Zombie Rockers 26. The Convertibles: Rock My Bones 27. The Rockits: Two Timin' Baby 28. Manboy Combo: Women, Wine And A Cadillac Car 29. The Therapy's: We Play Tonight 30. The Radiations: Hot Shot
&nbsp [0 critique]