Compilation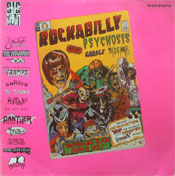 "ROCKABILLY PSYCHOSIS AND THE GARAGE DISEASE vinyl"
Big Beat Rcds | 14 titres | 1894 | Garage
Critique : 14 titres venant de groupes précurseurs (The PHANTOM, The NOVAS,...) ou de la toute première vague Psycho britannique (STING RAYS, METEORS, GUANA BATZ...). Le tout oscillant entre early-psycho, Garage et Rockabilly déjanté. Fondateur!
Liste des titres: 1. The Phantom: Love Me 2. The Trashmen: Surfin' Bird 3. The Sonics: Psycho 4. The Novas: The Crusher 5. The Legendary Stardust Cowboy: Paralysed 6. Hasil Adkins: She Said 7. The Meteors: My Daddy Is A Vampire 8. Jimmy Dickinson & The Cramps: Red Headed Woman 9. The Meteors: Radioactive Kid 10. Tav Falco's Panther Burns: Dateless Night 11. The Gun Club: Jack On 12. The Geezers: Folsom Prison Blues 13. The Sting-Rays: Cat Man 14. The Guana Batz: Just Love Me
&nbsp [0 critique]