Compilation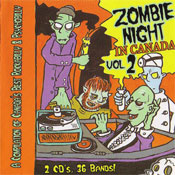 "ZOMBIE NIGHT IN CANADA vol.2"
Stumble Rcds | 36 titres | 2005 | Psychobilly
Critique : A l'instar du 1er volume, cette compil, sortie cette fois-ci en double-CD, est très vaste puisqu'elle part du Rockabilly traditionnel pour aller jusqu'au Gothabilly, en passant par du Neo-Rockab, du Garage et du Psycho.
"ZOMBIE NIGHT... vol.2" contient de très bon morceaux (notamment GUTTER DEMONS, the BRAINS, ou CREEPSHOW, pour le Psychobilly, et the ROWDYMEN, ALLEY DUKES ou the ROYAL CROWNS pour le Neo-Rockab), mais aussi beaucoup de titres moyens et quelques déchets ... ce qui fait que parfois on se demande si un simple CD n'aurait pas suffit.
Pour résumer : bonne compil pour découvrir pas mal de choses très différentes, à acheter au prix d'un simple.
Liste des titres: CD1: 1. Gutter Demons: Day Of The Dead 2. Hank Engle & Hooiser Daddies: Rockin' Around With You 3. Deadcats: Peggy Suicide 4. Royal Crowns: Goonie Bird 5. Matadors: Hellhound 6. Howlin' Hound Dogs: Cat By The Tail 7. Creepshow: Shake 8. Astrobillys: I Lie Awake 9. Farrell Bros: Fight 10. Bloodshot Bill: Root-Toot Toot 11. Swank: 1963 Galaxie 12. Attic Daddy: Dead End 13. Brains: Train 14. Devil's Hotrod: Baby If You Leave 15. Switchblade Valentines: Werebitch 16. Alley Dukes: Your Sister 17. Threat: Switchblade Romar 18. Krazy 8's: Phantom Car CD2: 19. Flesh: Last Breath 20. Screamin' Black Cadillacs: I Know 21. Big John Bates: Mystiki 22. Rowdymen: Legend Of Johnny Rumb 23. Meathookers: Dodging Bullets 24. Kc & The Moonshine Band: Wolfwoman 25. Night Stalker: Road Race 26. Black Coffee Cowboys: Dragstrip Girl 27. Raygun Cowboys: Hotrods 28. Hot Rod Hullabaloo: Street Rancing Man 29. Killbilles: Zombie Love 30. Stag Reels: Sayulita 31. Buzz Deluxe: I Wanna 32. Sintones: Rockabilly Rehab 33. Kustom 45:2*4 34. Treble Kigs: Drunk On Colt 45 35. Zombie Riot: Pet Cemetary 36. Slim Sandy: Don't Need Nothing
&nbsp [0 critique]