Compilation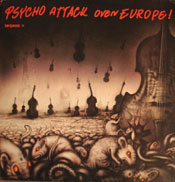 "PSYCHO ATTACK OVER EUROPE vol.1 - ed. Polonaise"
Tonpress | 16 titres | 1986 | Psychobilly
Critique : Réédition sur un label polonais de la fameuse compilation fondatrice pour le Psychobilly européen. 3 groupes ont disparu (RESTLESS, ROCHEE & the SARNOS et the METEORS), mais ils sont remplacés par des titres issus des mini-LP d'ARCHIE et de BATMOBILE.
A noter: la pochette sera reprise par Kix4U pour le 3e volume de la série.
Liste des titres: 1. Batmobile: Slapping Suspenders 2. Voodoo Dolls: Vampire Ville 3. Archie: Archie Sez 4. P.O.X.: Baby What You Want 5. Waltons: Waltons Go 6. Wampas: Sha La La 7. Batmobile: Scum Of The Neighbourhood 8. Tranquillizers: Destroyed Illusions 9. Archie: The hottest Rod 10. Waltons: Teenage Trash 11. P.O.X.: A Psycho In New-Orleans 12. Tranquillizers: Paranoia 13. Wampas: Dracu Bop 14. Batmobile: Transsylvanian Express 15. Dave Phillips: The Trip 16. Voodoo Dolls: Club 'X'
&nbsp [0 critique]