Interview: MAD HEADS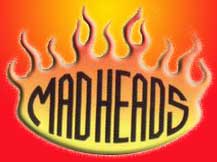 January 2004
MAD HEADS, a band from the Est ... precisely from Ukraine. They're playing for a long time now, and they have first played fresh batmo-like psychobilly ... Then they get harder with their 3rd album, "NAKED FLAMES". Times change. Their 4th LP shouln't be found outside Ukraine.
Thanx to Vadim for the answers. Some of the pix come from their website : www.madheads.kiev.ua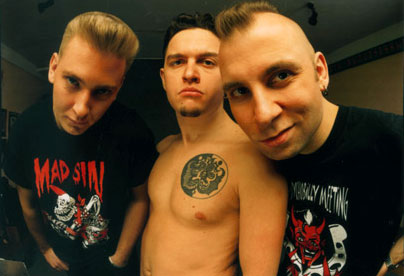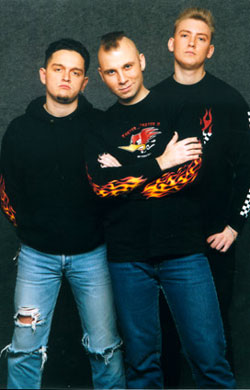 1) Who are you? (name, hobbies, fav' band, fav' movie, ...) Describe yourself in a few words.
My name is Vadim Krasnooky, I'm the guitar player and the lead singer of the band. Music and lyrics for the songs are also my piece of work. MAD HEADS is what we all do for living, although I'm also doing some job as the radio DJ and announcer.
Maxim Krasnooky is my brother and a double-bass player for the band. He also has some studies at the technical university, and fond of computer games and cybersports. His CS team even won some nation-wide championships.
Bogdan Ocheretyany is a our drummer. He is also a student of a musical university and a leader of his own rockabilly/country band Mr. Och & his Root Boys, where he's singing and playing an acoustic guitar.
It's hard to talk of a fav' movie or band, 'cause it's a constant subject to change. Like, we've all been big fans of a psychobilly scene, but we don't take it so serious any more (except for a few bands who are really cool).
2) Where are you from?
We all are from Kyiv, which is the capital of Ukraine.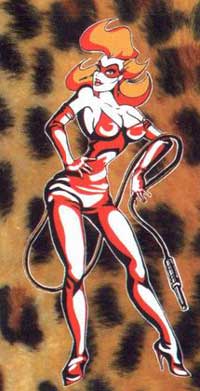 3) How long have you been playing for? could You tell us the story of MAD HEADS?
The first line up come together in late 1991, and I'm the only founder member left. Och is in the band since 1994 and Max joined 2 years later. We have 4 studio albums released and lots of gigs performed all over Europe, mostly psychobilly festivals and a few of them we headlined. The total list of countries we played in is: Germany, Spain, Finland, Italy, Holland, UK, Switzerland, Poland and Russia. At home in Ukraine, we are a major rock band – you can see us on the TV or hear on the radio. For more biographical information and other basic facts about the band I welcome all the readers to visit our website at www.madheads.kiev.ua
4) What are your maine musical influences? They seem to have changed with time: more "Rock", less "Billy"?
Yes, sure, they are changing all the time, or I would rather say that we are adding the new ones to the basic ones. It's hard to really name all the influences we are currently under, because sometimes I don't even know what comes from what. And I prefer to think that it's something uniq, my own. The biggest influences appart from rockabilly and psychobilly are definitely punk, surf, ska and blues. To me it's all rock-n-roll, though – live, wild and powerful.
5) Other Influences? Movies? ...
Movies might influence the lyrics, rather than the music, unless you're talking about soundtracks. Anyway, lately I prefer to sing about what I see, think or feel. The life itself influences me more than movies.
6) Could you tell us some words about your past releases ...
- Psycholula : ...
…was not quite what we wanted it to be. It was the first big expirience in the studio for us, and the sound engineer worked up the sound the way he wanted it to be. But we were lucky, because the old guy's vision wasn't bad, and he helped us a lot. I wasn't happy of the result right away then, but later in years I understood that the album was quite good in it's own way. Some kind of a tribute to 80's psychobilly. And I know some people who actually prefers it to our later works.
- Mad(e) in Ukraine : ...
…was almost what we wanted it to be. Not perfect, but still quite satisfying, especially keeping in mind that we recorded it in Ukraine, not in some western studio. We learned a lot about the sound production while making it. The music was clearly influenced by Batmobile and Reverend Horton Heat, yet very original.
- Naked Flame : ...
…is definitely best of them all, if you like it hard and fast. Also, it was the first time that we quit thinking if it's "in style" or not, and just did what has to be done.
7) Can you describe your current music?
If you mean the new album, it's near the same ingredients as in Naked Flame, but mixed in a different proportion. Less fast, less "billy" and the recording is better.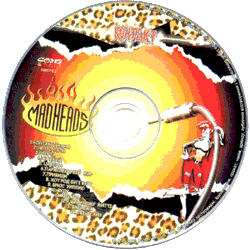 8) "Kontakt" is not supposed to be sold outside Russia & Ukraine. Why?
It's not even supposed to be sold in Russia at the moment, and the reason is very simple. Most of the lyrics are in Ukrainian, few in Russian, none in English. Our biggest fans from the west might want a copy for the collection, but in general it's not so interesting for the western audience because of the language. Some of the songs might be later released in English, or maybe we will just write enough of the new ones.
9) How is the rockabilly and psychobilly scene in Ukraine?
There is none. Of course there are people who like this music, some of them even try to form bands, but it's still far from being a scene at the moment. In general, Ukraine is doing very bad with all kinds of alternative scenes, everything is a deep underground. We just had no other choice to become a "mainstream" band here.

10) Which bands do you like?
It's the same as with influences, which is natural. What we like influences us the most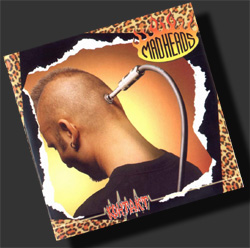 11) Have you planned to come and play outside Ukraine? Will you play in a Psychobilly festival?
As I said at the beginning, it's not just planned, it's done for many times. Sure, we'll keep coming.
12) What are the next projects of MAD HEADS?
We are currently busy with the new album promo campaign – gigs, interviews etc. I think the year 2004 will be dedicated to get even more recognition in Ukraine. Also, there must be some trips to the west. There was an invitation to USA for the end of the year, and I wait to hear some calls from Europe as well.
13) Have you got something else to add?
Good luck to all the readers!