Interview: G-STRING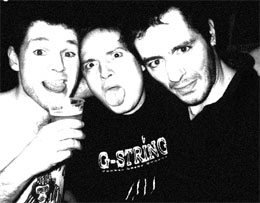 September 2003
Interview carried out following one of their repetition. Heat wave or not, the G-STRING don't make seeming! Those who have already heard the album know that G-STRING is not a group like the others, and that it is closer to Punk than to traditional Psycho. Those who've them on stage know that the "show" is worth the blow, that it is single. After having heard some one their new pieces, a question comes to me but I will not ask them: the 1st album, was it only a heating?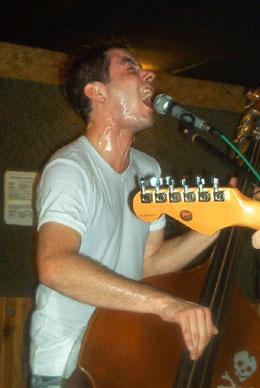 1) G-STRING: who does what?
J.C.: I play the guitar and the b-vox. I have a job, as a storekeeper in a compagny which makes resin figurines. And I also play in SIRE (electro-barroque).
Laurent: barman, and incidentally drummer. I drink more than I serve! I am also the drummer of MARSHMALLOX DYKES (ex- FLYTOX).
Mat: double bass and sing. There, I am on holiday! I try to be work as an "intermittant du Spectacle (a special french statut for artists).I also play in a Swing-Manouche trio: the TONTONS SOUINGUEURS; We've played in a short-movie, and also very often in Paris.
2) Since when does the Group exist?
JC: The group truly started at the beginning of autumn 2000, when Laurent joined us, after we met several drummers.
3) Your 1st album arrived quickly afterwards?
Mat: We've recorded a 6 tracks' demo in June 2001, and we sent it to Crazy Love Rcds; at the beginning, it was so that they finds us concerts. In fact, I knew Guido well, since it had left the album the CELTIX. He proposed to us to make the album, and we made it in April 2002.
We made it in 1000 specimens CD, 1000 specimens vynil + 250 in vynil of color.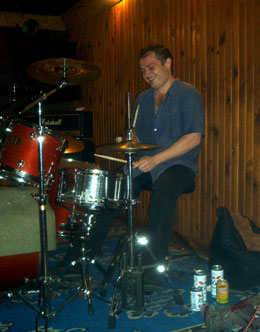 4) Why did the CELTIX split?
Mat: In fact, during the recording of the album, Fred, the guitarist of the CELTIX, had announced to me that he wanted to stop the band, that he finished the recording of the album, but after he wanted to stop. In fact, the group did not split immediately. But one day, I received a fax from Guido (Crazy Love Rcds) announcing to me that there was a rumour which said that the CELTIX were over. Then, I called Fred who confirmed to me.
5) Give a definition of the music of G-STRING?
All: SLAP-PUNK!
In fact, it's more Punk played with a double bass than Psycho played in the Punk style.
Laurent + JC: In fact, us, we didn't know the Psycho, we're more interrestted in SUPERSUCKERS or RANCID. It is Mat who made us discover the Psycho.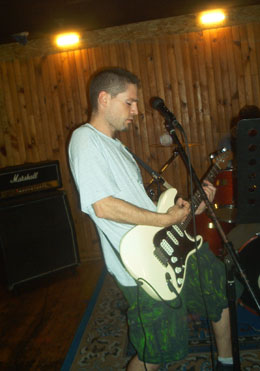 6) What are your influences?
All : RANCID, ZEKE, DWARVES, SUPERSUCKERS, FISHBONES, NEKROMANTIX, ROLLINS BAND, EXPLOITED, MOTORHEAD, HENDRIX, Swing Manouche, LUNACHICKS, MAD SIN, ...
7) Have you had some returns on the sales and the way in which "Punker Looser drinker" has been liked?
JC: In fact, we don't know too much. The chronicles are generally good. But we don't know, about the diffusion, we didn't have no return.
8) What do you think of the current Psycho scene?
JC: We don't know it very well, except for the bands with which we've played. We've had a good feeling with OS CATALEPTICOS (it is a good compromise between metal and Psycho), MAD SIN and NEKROMANTIX. These 2 bands and DEMENTED ARE GO are truly the top of the Psycho production.
Laurent: When we play in a Psycho concert, the public is sometimes surprised, because our music is not psychobilly©.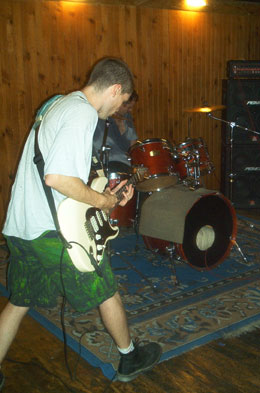 9) You have an album in forecast?
Mat: No, not for the moment. We are going to re-record a demo.
10) will Your next album be on Crazy Love Rcds?
Mat: We don't know yet. Guido is cool, because he helps the bands a lot, and there are not a lot of constraints with him. But what is shitting for us, it's that he is only turned towards the Psychobilly scene: we can't get in touch with the Punk audience. We'd like, for the next being on a Punk label.
Laurent: But, Crazy Love rcds is a good compagny. It doesn't correspond to us too much because of "the Psycho label", but it is really him who made us start.
11) You are going to turn?
Mat: Yes, we prepare a US tour with The RIPMEN, The DRAGSTRIP DEMONS and The HORRORPOPS, and that will be cool! It is the singer of the DRAGSTRIP DEMONS who organises it, that will occur in South-west from the United States (California, Arizona...).
Laurent: There are for the moment 12 dates in forecast. We'll leave Paris the 10, just after the concert of RANCID, and we'll be back on October 6. Ah, we'll miss the CRAMPS!
12) G-String, on stage, how much liters of sweats does it make?
JC: that depends on the beers which we drank! Before, we paid attention, but now, we drink more than before. Laurent is the one who slowed down, to level itself our!
Laurent: The excitation to play is very strong. We give all that we have, we dosn't make seeming. Physically, it is true that it is intense!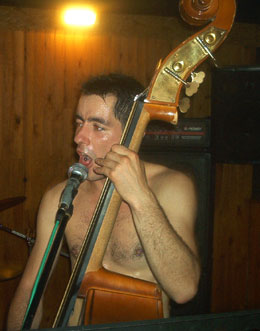 13) What misses in Paris to be more Rock'n' Roll?
All: What does it miss? It lacks public, places, openmindness... There are too many constraints.
Perhaps the Parisians don't move too much. If you have to do 4 subway stations, that appears to you far!
In Paris, there is no place of average size: there are small places, where there is no problem to play, but there are often sound problems (and they are afraid to have to close because of the neighborhood), or there are large places.
There are not many places which allow making noise, with except for the Gambetta Café, or the Café Montmartre.
And then it is perhaps also a question of fashion. If you make electronic music, it's perharps easier to find a place.
14) Last Words?
Laurent: G-String, we are full of force! we all will tear!
Mat: We're going to the States for the tour, then, when we are back, we'll play in Holland. We're still looking for a tour-brooker.
JC: we want to play!!
Mat: We'd like to be in a more professional network. Yes, we want to play!
And, thank you for your interview.