Interview: FRANCINE

April 2004
FRANCINE is playing for a lot of years, now. At their beginning, they used to play some modern Rockabilly, but since then, their influences have been more diversified. Their last album, "LEVEL8", which have seen daylight last year, is worth being talk about.
Thanks to Pete -talkative, no?- who answered the questions.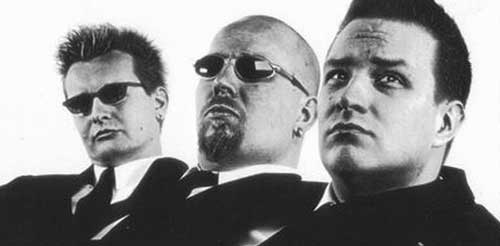 1/ FRANCINE esxists for a long time, now. Could you make an historic of the band?
Pete: Here's the "short" version what has happened so far... (hah!Hah!)

1987 - 1988 "I wanna play in a Rock'n'Roll band..."
Francine was formed in 1987 and the original composition was:
Pete Salomaa (Bull fiddle, Backin' vocals)
Mika Jokinen (Vocals, Guitar)
Esa Nurminen (Drums)
1989-1990 "I'm on fire..."
In January 1989, the current drummer, Tude Usvaala, joined in the band.
Jari Paksunen came to play acoustic guitar and Pete Salomaa changed his electric bass to a bull fiddle.
Francine had lot of gigs, warming up some famous Finnish bands, like Miljoonasade, Hearthill, Melrose, etc.
A small Finnish record company, My Way Records, took Francine on their list in summer 1989. The MyWay boss Marko Hakala was at the Tawastia club, to watch the British Howlin Wilf orchestra, that was warmed up by Francine. After the gig Hakala rushed into backstage and immediately offered to make a contract with Francine.
Francine's first record, "Shake my Bones" EP was released in autumn 1989.
Francine's first album "Fire" was published in February 1990, and it gained great publicity in the Finnish media.
Francine, who continues as a trio, after Jari Paksunen quitted, made their biggest gig (there was an audience of some 15 000 people) in Russia...
Late in 1990 Francine's second album, produced by Pete Gage, "Hard enough" came to daylight.
1991-1992 "Money talks..."
After the release of Hard enough, Francine decided to seek a for bigger record company, and released their first single, "Downtown" for Poko Rekords.
Early in 1992 the album "A piece of noise" was released and immediately after release, it made its way to the Finnish top 40, staying there for a month, best ranking was 24.
Late in 1992 Francine was left rest, because the band felt that the joy of playing was lost.
1993 "Älä ota pitkätukkaa..."
As a counterblow to hard rockin' and wild performances on stage, boys formed an another band, called Pääesiintyjät , which played finnish pop.
They made two singles during 1993 ( Sua aattelen and Iiris ) and also an album, called Pitkäsoitto.Their songs conquered audiences and radio stations all over Finland. Unfortunately, the career and success of Pääesiintyjät lasted only a while, because Pete Salomaa's and Tude Usvaala's hearts' still had a beat for rockin' hard again.
1994-1996 "Almost alive..."
Early in 1994, Mika Jokinen decided to quit playing: Francine had to find a new guitarist/vocalist. Ana Kukkola joined Francine and Francine's almost two-year break finally ended.
In autumn 1994 a single "Almost alive" is released, and in February 1995 the album "Animal beat",produced by T.T.Oksala, came out.
Then a tour with Long Tall Texans (UK) is organised, and also a couple of gigs with the legendary Pirates. (Shakin' all over...)
1997 "Lost in space..."
To celebrate their 10-year career, a new album, "The Francinest" came to daylight in February 1997, and the producer was T.T.Oksala. The new album includes eleven old "Francine-hits" in new versions and five entirely new songs ( Set me free, A real good man, Francine, Lost in space ja Don't come back home ).
Francine performs on finnish television in programs Lista (TV1) and Jyrki (MTV3) on 18.10.1997
1998 "Set me free..."
Francine is enjoying of well-earned break in the spring and starts touring in May.
After seven year with Poko Rekords, Francine moves on to Bluelight Records.
After a mini-tours with Restless (UK) and Mad Heads (UKR), Francine starts the recordings of the new album with the producer-guru Mikko Karmila
1999 "The Playmate..."
The new album "The Playmate" sees daylight on 22.1.1999
The Playmate -Tour begun in the end of February and it consisted of approximately 50 gigs all around the Finland and several summer festivals: Provinssi Rock, Down by the laituri, Puistoblues, Ilosaarirock, Down by the Kemijoki...
2000 "Silence is golden..."
Francine is taking rest and composing new songs for the next album. In the fall Francine makes a mini-tour of 11 gigs.
A Single from the next album, "She bop", is released in December 2000.
2001 "FULLAHEAD!"
New album "FULLAHEAD!", also produced by Mikko Karmila unleashed on 2.2.2001. Francine's website is updated for the 2rd time as the new album is released.
Francine started the FULLAHEAD tour in April 2001, and "She Bop" became a radiohit in Finland. In 2002, Band plays in Spain (Calella Psychomeeting)
2003 "LEVEL 8"
New album, recorded this album in Tude Usvaala's studio, and also produced by Mikko Karmila, was out 31.3.2003
Immediately after release, it made its way to the Finnish top 40, staying there for a month, best ranking was 11!!.
The story continues...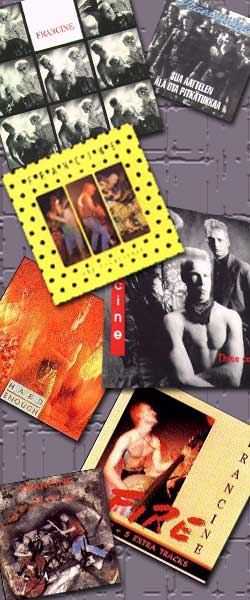 2/ Describe the members of the band?
Tude Usvaala (Drums)
" Boldie" "Boldie" Born in 1970, present place of residence Villähde, married with six children. Tude has studied classical bull fiddle playing at a conservatory. His first band was "Hellion noise", but Tude joined Francine in 1989. He has composed the songs Rumble on the bayou and In rust we trust. In 2002 Tude built a great studio in to his house and it's called Villvox. Of course Francine recorded the newest album "Level 8" there. He give up all tour vehicles (now they are collecting rust in his backyard) because The brand new hobby for Tude is boating! He bought a big boat and maybe Francine have to do all it's gigs in cities that have a harbour...(hah!hah!) His favourite drink is just some liquid with alcohol, and favorite music is King Crimson and usually everything which just has a great feeling, not depending on any music styles.
Ana Kukkola (Guitar, vocals)
" From darkness to spotlights" Born in 1975, engaged, lives in Lahti. Acareer na's musical began with a band called "Snot rockers" in 1992. Ana has composed songs like Short life, Lost in space, Shame on you, A house on the moon, That's what I mean, Whatcha gonna do, Stonecold etc... He plays also surf music in Ronnie&His Twangin' Little Fellow and rockabilly in Goofy& The Gamblers. On tours he likes to play Playstation (NHL) with Pete and Jaska. Ana's a quite calm lad, if you don't count the time he spends on stage. Ana's favourites are ice hockey (of course Pelicans,icehockey team in Lahti), anything free which contains even a bit of alcohol, and when it comes to music, anything Roots-based music (R'n'B, rockabilly, Surf, etc) goes - in general, he likes all good music.
Pete Salomaa (Bull Fiddle)
" A really long road..." Born in 1965, lives in Lahti, married with four children. The only founder member who has lasted all these years from 1987. Pete is the soul of Francine's songs, he has composed about 40 songs to Francine, such as Till the day I die, Little girl of mine, Sweet lovin', Money talks, Almost alive, Set me free, Goodbye Forever,Annie,Never Let You Down, Anything you do,That little one etc. In 2002 Pete started booking office ( Rock'n'Roll Agency BooKing) for Finnish Rock'n'Roll bands like Francine,Whistle Bait,Housewreckers,Nine Lives,Barnshakers.... So he is his own manager....Pete also plays in Goofy&The Gamblers. Being the oldest member in the band, Pete is "awarded" as the grandpa of Francine. According to other members Pete is a quite unstable person, like the oldies usually are. His dream is to get even one gold record before he dies... As a favourite drink works a Finnish Koskenkorva with orange juice and beer, and favourite music is just anything which sounds good, the style doesn't count, but Pete recommends the following: Housemartins, Hearthill, Melrose, Depeche mode, Green day, Offspring, Don Huonot, Long Tall Texans, Living End etc.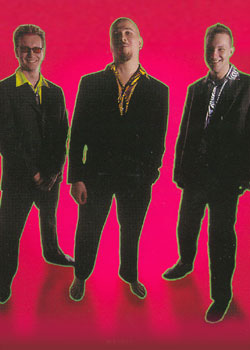 3/ From Neo-Rockabilly to Rock : your influences seem to be large. What are you listenning to, today?
Pete: I'm listening to all kind of music but my favourite music must fill two things:
there should be a good melody
Noisy guitars are great...(this is not so important...)
We all listen to diffent musicstyles so it's hard to say where the influences really come...
4/ When will you release a new album?
Pete: Next album will be out in 2005 (maybe)
5/ You've covered Cyndi Lauper ("SHE BOPS") and Blondie ("CALL ME"). Will there be any cover in this style on your next release?
Pete: That's hard to say but why not if some great songs from the 80's pop up...
6/ How is the scene in Finland?
Pete: The scene in Finland is very strong, I think it's the strongest in Europe if you compare it that we have only 5 million people here in Finland. We have over 1000 people in some big parties. There's also a lot of bands and gigs in Finland. (check out:http://groups.msn.com/rocknrollagencybooking).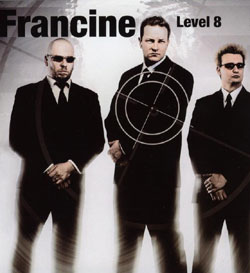 7/ What do you think of the actual Neo-Rockabilly scene?
Pete: It hasn't change a lot in last 20 years. Not very interesting new bands around and the old ones rules! (Restless,Blue Cats...)
8/ Where does the name "FRANCINE" come from?
Pete: It came from the song of ZZ TOP. When we started 1987, we used to play some ZZ TOP songs ("Tush", "Automobile"...)
9/ What is the complete discography of FRANCINE? Could you tell us a few words about each record?
Albums
Level 8 (2003) : The latest one and the most popular album of Francine.It was a big suprise that in finnish top 40 album chart it went straight to place 11.!!! After that some rockabilly fans said that we have sold ourselves... but I think this is very strong modern Rock'n'Roll with influences from Rockabilly,Punk,Powerpop etc. Also this album brought us a lot of new fans.We are going to continue on this road...
Fullahead (2001): This album contains She Bop which is one of the favourite songs of Francine fans.fullahead is more pop than Playmate but very good album in my opinion. We got a lot of new fans after releasin Fullahead.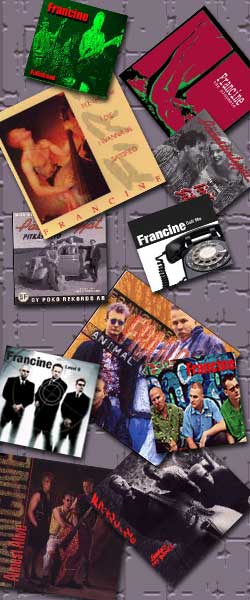 The Playmate (1999): This is the best Francine album so far in my opinion! Playmate introduce "new" Francine with very strong sound and good melodies. The opener Goodbye forever is my favourite song of Francine.Very hard Rock'n'Roll!!
The Francinest (1997): Our 10th anniversary album including 11 old songs and 5 new songs.All old songs are re-played. The first album where we took some influencies from ska and Punkpop.
Animal beat (1995): Ana Kukkola's first album.After Pääesiintyjät we really wanted to go back in basics.This is really hot neobilly. It was easy to start with a new vocalist/gutarist with a simple Rock'n'Roll and start to develope a new direction for Francine
Pitkäsoitto (Pääesiintyjät, 1993): Our only album in finnish language. We change the name of the band and recorded one album under a name Pääesiintyjät.It was more like pop and it went very well in radio.
Fire+ (1993): record company released album which contains Fire album + Shake my bones EP
A piece of noise (1992): The first album to the major finnish record label. Our first album on the charts! In this album we tried to do more complicated songs which wasn't our thing...Big hit Downtown was the single.Also the last album to Mika Jokinen in Francine
Hard enough (1990): This album was produced by Pete Gage (Restless,Meteors). I don't like this one so much because we were too hurry to do it and sound of the album is too clean. Some great songs like 3 cool cats and Rumble on the bayou.
Fire (1990): the first album, a lot of great songs. The style is more like popbilly and sound is very acoustic.One of the three best albums of Francine!
Singles
Call Me (2003), She bop (2000), Almost alive (1994), Sua aattelen (Pääesiintyjät, 1993), Iiris (Pääesiintyjät, 1993), Downtown (1991), Three cool cats (EP, 1990), Till the day I die (1990), Shake my bones (EP, 1989)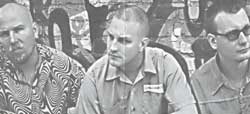 10/ Anything to add?
Check out our website: www.francine.st. There you can find sound samples,videos,pics etc.
If you want to know more about rockabilly in Finland check the website of my booking agency:
http://groups.msn.com/rocknrollagencybooking
Francine has also started a brandnew record label called Rumble Bros.
The first release will be a live CD from our R'n'R Party held in Finland 28.2.2004. The bands on that live CD are Restless,Long Tall Texans,Francine,Whistle Bait and Flat Broke trio. It will be out in June 2004.