Interview: The FLANDERS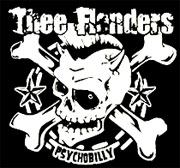 July 2013
Norman Winters is certainly one of the most active personalities in the Psuchobilly world: he organizes the Psychomania Rumble festival (in Potsdam, Germany), he designes many covers and posters, he publishes the beautiful fanzine Psychomania, and of course, he sings in his band thee FLANDERS, for the last past 15 years.
And, between all this, he managed to find a couple of minutes to answer this few questions for GoPsycho: thank you!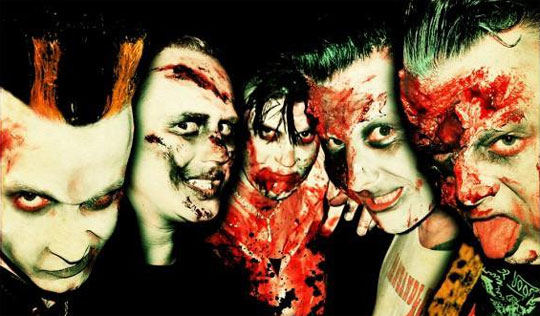 1/ Could you sum thee Flanders' history?
Founded by Dennis & Norman in 1997, Micha "the butcher" came 1998, first gig in 1999.
2001 came Felix, Kevin came 2003, first LP "Punkabilly from hell" 2003, a lot of gigs then; 2004 the "Monsterparty" was recorded, another bunch of gigs; 2005 "back from hell" - yeah, a lot of gigs again, 2005/2006 "Erna P." a great fun to make the first video;
2006 we also did the "Hellbilly Cannibals"-Video, which was even more fun; during 2005-06 we also recorded the songs of the "Graverobbing"-album that came 2007 along with the "Psychobilly Ratpack"; 2008 we were on "Haltestelle Woodstock" in Poland and a lot of gigs again; 2009 "Spirit of 666" was released, we then played a lot together with Bloodsuckin' Zombies From Outer-Space from Austria and consequently made a split album in 2010 with them.
In 2011 Micha "the butcher" left the band for personal reasons and Kevin changed from guitar to drums, which took a little time to rearrange some songs. 2012/13 we made another bunch of concerts and played our first gig where we had to fly - in Russia – and now is now.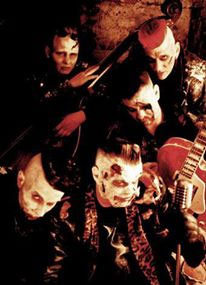 We played with bands like Bela B. (Die Ärzte), Misfits, Mad Sin, Demented are Go!, The Meteors, Exploited, Batmobile, Frenzy, Cock Sparrer, The Bones, Guana Batz, Anti-Flag, the Boys, Angelic Upstarts, Anti Nowhere League, Real McKenzis, Nigel Lewis, Lokalmatadore, UK Subs, OHL, Last Resort, Mimmis, Ruberslime, Buisness, Kreator, Clawfinger, Vader, Stranglers and many more international Top Psychobilly, Hardcore, Metall, Punk and Indie Acts........
And we played on several festivals like Endless Summer (3x), Satanic Stomp (2x), Kings of Psychobilly, Force Attack (2x), Lindenpunk, Punk & Disorderly, Spirit from the Streets, City that Never Sleeps (2x), Haltestelle Woodstock, Psychobilly Earthquake, Wave and Gothiktreffen & Psychomania Rumble (4x)!
2/ Since the beginnings, the sound of thee FLANDERS has evolved. Could you describe your music today?
Well, the first LP was Punkabilly, now we play Punkabilly Version 1.1 – we still like our unique flanders-sound.
3/ Who are the members of the band? What is the best quality of each one of them?
Norman - best designer and head of the band
Dennis - musical head of the band
Kevin - still gets Normans VW-Van working & Drummer
Felix - just the bass player and coleric
4/ What are the main influences of the band?
All kind of music, see "graverobbing", but we still do our own style and sound.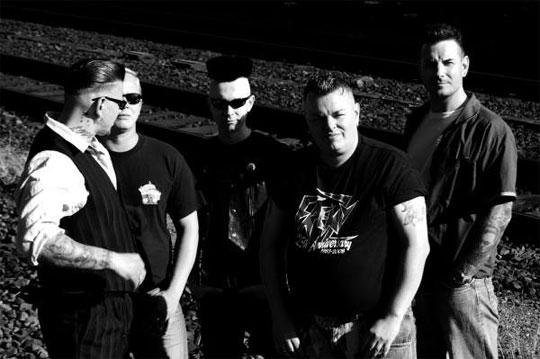 5/ Over 15 years of rockin... You might have some good anecdotes on the road?
"I won't have pissed myself in?!" (Felix in 2004, a little drunken, but it was only water Micha poured him in his pants)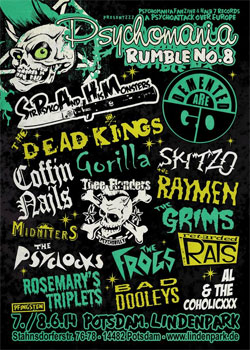 6/ With the band, the festival Psychomania Rumble, the magazine, the illustrations, ... you seem pretty busy, don't you?
Yes. I am. And I have a job to do, too! (Norman)
7/ Talking about the festival, Psychomania Rumble #8 has just been announced. How many bands? Who are they? It must be a hell of organisation, mustn't it?
Look at flyer! 16 fantastic Bands played (Demented are Go, Dead Kings, Sir Psyko, Coffin Nails, Skitzo, Gorilla, Raymen, Midniters, The Grims, The Frogs, Bad Dooleys, Psyclocks, Retarded Rats, Rosemarys Triplets, Al & the Alcoholixxx & Thee Flanders).
8/ You're a very talented illustrator. What is the cover you are the most proud of?
All of them! No, some works that I did for my customers are pretty bad, because they loved it that way.
9/ With thee FLANDERS, You have released a lot of special editions, boxes, 7", DVDs, etc... What will the next FLANDERS album look like?
It's gonna be a ordinary CD and LP and with a bit of luck a Picture LP too.
The next album will be recorded in a few weeks by Köfte of Mad Sin – we hope he will not kill us during recordings and then we figure out the name....
10/ When you are dead, what should be written on your grave?
Norman: "See you next time"
Dennis: "Ain't it dead yet?"
Kevin: "Bitte werfen Sie eine Münze ein" (Please insert coin)
Felix: " ...und tschüss"(...byeeeeee)