TRANQUILLIZERS
[Hollande]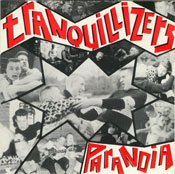 "Paranoia"
Cat-Machine Rcds | 4 titres | 1985 | Psychobilly
Critique : Un EP fondateur pour le Psychobilly: Un groupe Hollandais avec une guitare au son clair et aigü, une slap bien claquante... Et c'est sorti la même année que le 1er mini-LP de BATMOBILE (si je dis ça, c'est juste pour bien situer).
Bref, 4 très bons titres dont 2 compos (qu'on retrouve que le 1er volume des "PSYCHO ATTACK OVER EUROPE") et 2 reprises "BORN TO LOVE 1 WOMAN" et "LONG BLOND HAIR").
Liste des titres: 1. Destroyed Illusions 2. Born To Love One Woman 3. Long Blond Hair 4. Paranoia
[Lire ou Ajouter un commentaire]
COMPILATIONS : 4 compilation(s) avec TRANQUILLIZERS.