SOME KINDA EARTHQUAKE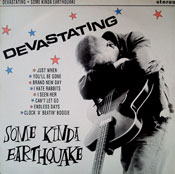 "Devastating"
Link Rcds | 8 titres | 1989 | Garage
Critique : Ce groupe que l'on peut retrouver sur divers compil Link, joue un RnR influencé Psy ou Neo sur certains titres, avec basse électrique, une batterie qui rappelle les TAILGATORS (cf "YOU'LL BE GONE"), et un très bon chanteur.
C'est pas mal fait, mais il n'y a rien d'exceptionnel, et certains morceaux sont un peu mou.
Liste des titres: 1. Just When 2. You'll be Gone 3. Brand New Day 4. I Hate Rabbits 5. I Seen Her 6. Can't Let Go 7. Endless Days 8. Clock 'A' Beatin' Boogie
[Lire ou Ajouter un commentaire]
COMPILATIONS : 6 compilation(s)* avec SOME KINDA EARTHQUAKE.
*: Possibilité d'erreurs dues aux homonymes.