LEVI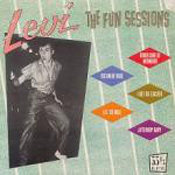 "The Fun Sessions"
Passport Rcds | 5 titres | 1983 | Neo-Rockabilly
Critique : LEVI, c'est LEVI DEXTER, sans les ROCKATS, mais avec DANNY B. HARVEY à la guitare quand même! De plus, ce dernier signe 2 des 5 titres de ce mini-LP. Bref, ces "Fun Sessions", sorties la même année que le virage New-Wave des ROCKATS, sont l'occasion de découvrir des excellents titres d'un Neo-Rockabilly vif et entraînant, parmi lesquels l'emblématique "Other Side Of Midnight", ou encore "I Get So Excited" qui sera magnifiquement reprise par the LONG TALL REXANS.
Bref, 5 titres, c'est bien trop court!
Liste des titres: 1. Other Side Of Midnight 2. Victim Of Kool 3. I Get So Excited 4. Let 'Er Roll 5. Jitterbop Baby
[Lire ou Ajouter un commentaire]
COMPILATIONS : 7 compilation(s) avec LEVI.