Compilation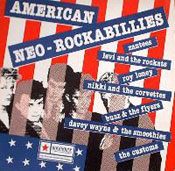 "AMERICAN NEO-ROCKABILLIES"
Rockhouse Rcds | 16 titres | 1982 | Neo-Rockabilly
Critique : Rockhouse, le grand label européen (hollandais, plus exactement) de Rockab sort là un superbe album. Peu d'inédites, mais des groupes pas forcemment très faciles à trouver à l'époque, et d'excellente qualité. À noter: parmis tous ces groupes américains, on trouve le groupe de LEVI DEXTER (Anglais, à la base) dont l'essentiel de la carrière se déroula aux states. A l'inverse, il y a BUZZ & the FLYERS, qui sont bien américains (New-York), mais qui ont vu leur album sortir chez Nervous, UK).
Le titre "Bring My Cadillac Back" ici repris par the CUSTOMS a été repris par GUANA BATZ.
Liste des titres: 1. Roy Loney: Don't Start Crying Now 2. Lana Lee 3. Levi And The Rockats: Room To Rock 4. All Thru The Night 5. Nikki And The Corvettes: Honey Bop 6. Shake It Up 7. The Customs: Let's Get It On 8. Bring My Cadillac Back 9. The Zantees: Please Give Me Something 10. Big Green Car 11. Buzz And The Flyers: My Baby Can't Be Satisfied 12. Everybody's Movin' 13. Davey Wayne And The Smoothies: Sharp Shoes (Are Comin' Back) 14. Drivin' Love 15. Levi And The Rockats: Rockabilly Idol 16. Note From The South
&nbsp [0 critique]