CREEPERS
[USA]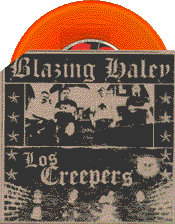 "Split EP (w/ BLAZING HALEY)"
Split Seven Rcds | 4 titres | 2003 | Heavy-Psycho
Critique : Split EP avec BLAZING HALEY (2 titres par groupe).
Le premier titre de Los CREEPERS est un psychobilly bourrin à l'américaine, avec un son approximatif, et le second, une chanson country-éthylique, le tout présentant un intéret somme toute très relatif.
Liste des titres: 1. Blazing Haley: Time To Burm (Straight To Hell) 2. Run Awawy Truck Ramp Love Story 3. Los Creepers: Man Gone Mad 4. Mistakes & Broken Hearts
[Lire ou Ajouter un commentaire]
COMPILATIONS : 11 compilation(s) avec CREEPERS.