ARCHIE
[Hollande]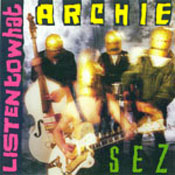 "Listen to What Archie Sez"
Kix 4U Rcds | 8 titres | 0 | Psychobilly
Critique : Excellent album qui oscille entre le néo-rockabilly et le psychobilly. Le son est très clean et les mélodies vraiment originales (comme "EAT THE WORM" ou "STEELCAP STOMP"). La voix ainsi que les instruments sont bien travaillés. Ce court LP est un vrai régal !
Il vient de ressortir en CD avec sa pochette originale.

A noter que l'album dans son intégralité plus une chanson qui était parue sur "PSYCHO ATTACK OVER EUROPE !" est trouvable en CD sur la compil "GO PSYCHO WITH BATMOBILE AND OTHER DUTCH ACTS" en compagnie des SONS OF THE YOMPIN' COCKROACHES et de ES-FEIV.
Liste des titres: 1. Listen To What Archie Sez2. Eat The Worm 3. The Creep 4. Steelcap Stomp 5. Radar Love 6. The Hottest Rod 7. Casting My Spell 8. In Search Of The Lost Prairie
[Lire ou Ajouter un commentaire]
COMPILATIONS : 5 compilation(s) avec ARCHIE.