Interview: Flatline Rockers

September 2005
Released of their 1st record, "Neonlights & Hell Celling", a modern Psychobilly realisation, although it's a lot inspired by Old-School and Rockabilly. In one word, these seems to be a full of promise ouset worth examinig the FLATLINE ROCKERS' case.

1/ Where do you come from?
We're from the town of Pori located on the west coast of Finland in Europe.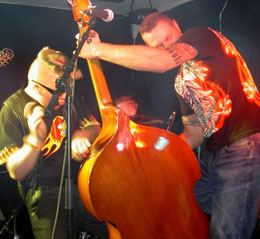 2/ Why "FLATLINE ROCKERS"?
Well, there's actually a story to it. We had played a few gigs with different band names and none really described the music we played. One night after band practice we were discussing possible new names for the band. None really came to mind and we were getting pretty frustrated at it and the talk soon went to naming the worst band names ever. Well we thought of some, but Gerry & the Pacemakers translated into Finnish was probably one of the worst ones. Right then a friend listening to the discussion remarked that "Why don't u be the Flatliners then?" Well... it sounded good so we agreed to that. Soon after we realized that an Austrian band was already using it and actually doing psychobilly. Go figure! So before after a couple gigs we dropped the S and added Rockers. Sure it's dumb, but it actually describes the music we do pretty well so we've stuck with it.
3/ What are your main influences?
Well, this is a tough one as all the guys have their own influences that they bring to the band.
A-V's loves Batmobile and Meteors, but also listens to newer stuff like Reverend Horton Heat and Nekromantix. He's also into stuff like Johnny Powers, Charlie Feathers, Dick Dale, Johnny Burnette and Restless. Some rock and heavy too and the biggest influence from those is Melrose.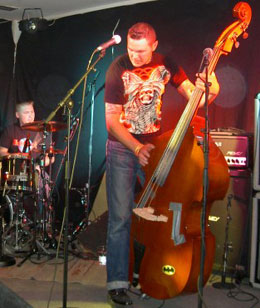 Ake digs stuff like Nekromantix, Phantom Rockers, Asmodeus and Astro Zombies. From rockabilly its Sun records stuff like Elvis and Roy Orbison and other stuff like Skiprats and Hillbilly Hellcats. Blues and Country is close to his heart too, BB King, Robert Gray and Dale Watson & Dwight Yoakam.
Tuomas listens to Reverend Horton Heat, Nekromantix and Mad Sin. His biggest influences come from heavy metal, bands like Iron Maiden, Slayer, Rammstein, Amorphis and Meshuggah. He's also into progressive rock like King Crimson, Jethro Tull, early Genesis and Bela Fleck.
Janstu is into stuff like Mad Sin, DAG, Batmobile, Gorilla and Nekromantix... and then maybe to name a few he also listens to Reverend Horton Heat, Number 9, Jimi Hendtix and Pink Floyd.
So as you can tell, we're into different sorts of "billys" and there's also some other interesting stuff to mix along with it.
4/ Tell us about "NEONLIGHT & HELL CELLING", your 1st LP
End result was a positive surprise, taken into account that the album was records in just four studio days. We weren't really expecting very big reaction from anyone as we sort of made the album for us and to ease up the process of getting on the bigger shows.
The album itself is a pretty good description of our current status and the music styles we play live. We didn't really put any brand new songs on the album, as all of them have been played live more than a dozen times, except maybe for the last title-track on the album, which was done on one take improv-style. Yeah.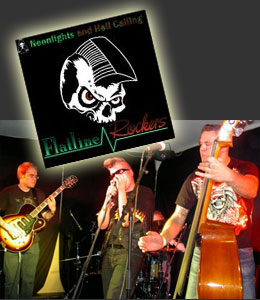 5/ How many gigs until now?
We've had just some 50 gigs, most in Finland and a couple in Sweden. We're ready to play just about anywhere and there's a couple European tours coming up next spring and we're also looking into playing in Russia. Would be very cool to play in Canada, USA or Japan, so give us a ring if you're interested.
6/ Could you make a short historic of the band?
The spark was lit sometime late 2002 when A-V Nauha (lyrics/rhythm guitar), Ake Råberg (double bass) and Janne Valtonen (drums) got together and formed a band to play some neo-rockabilly. Soon after Tuomas Noutio (sologuitar) joined in and A-V became a stand-up singer. Around that time we started to add psychobilly into the set. A couple gigs and a year later we realized that our drummer Janne wasn't up to our standards and we got a more experienced drummer and a friend Jani Parkkali to join up. It was indeed the right choice and soon after we realized that psychobilly was the way to go.
About a year later we recorded a self-published EP called "Live At Newfield" which was soon sold out. A couple months later we signed the record deal with Empire Records's Axis of Evil label. So I guess we're on the right track... ;)
7/ Oldschool Psycho? Neo...? How'd you describe your music?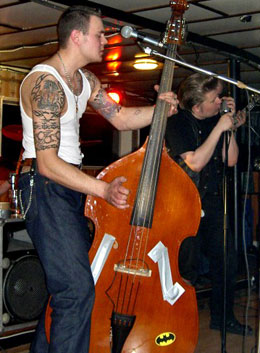 Well... put in one word its Psychobilly. If you want to look further we probably mix a lot of Neo and Rockabilly into it, especially some of the older songs found in the album (like "Fast Getaway" and "In the Night"). We all dig rockabilly, but psychobilly is what we wanna play with a touch of punk and garage as well. Some do call us old-school psychobilly since we play a lot of it and have a LOT of material from that side, so yeah that's fine, but we don't wanna limit ourselves into "just that" mould.
"Hell-a-billy bop", whatever. (laughing out loud...)
8/ What is according to you, the Psychobilly today?
Psychobilly is a wide minded music style that gives a sort of freedom that none of the other 'billys' do. There are a lot of bands doing punk or heavy metal with a slap bass and they call it psychobilly, sure why not, but we prefer to keep the billy in the psycho. There's gotta be something more to it than just an upright bass. That tingles the spine, so to speak. And the psychobilly scene in Finland is fantastic. It's open minded, easygoing and very cool, you gotta see it to know.
9/ What are the 5 last albums you bought?
Hmm.. tough one. Let's see... Horrorpops - Hell Yeah!, The Stillmen - Go Go Go!, Nekromantix - Dead Girls Don't Cry, Rollin Miles - Hot Rock and Gorilla - Genetic Joke. Not all fresh ones but quite good picks I gotta say.
10/ "NEONLIGHTS..." is the 1st CD of Axis of Evil, a division of Empire Music. Do you know if other Psychobilly releases are planned on this label?
Sure, Marc Fenech told me that the second release is most likely a
Scandinavian psychobilly compilation released later on this year. Swedish, Finnish, Danish and Norwegian psychobilly acts of today. We have a new track going on it. I know he's been talking with someone about another full album too, but he didn't spill the beans about who it is yet. So just you wait...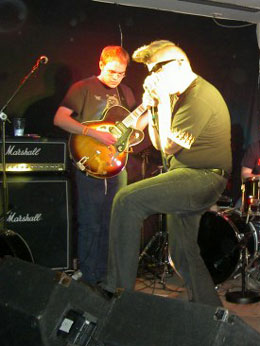 11/ What are the next project of the band?
We have lots of new songs in the works and we're going into the studio next month to record a couple of songs that we've already played live a few times, first one is "No Regrets" and the second is "Straight to Hell". We'll probably record a couple covers there as well, but they're hush-hush for now... Two songs out of these will probably go into compilations and maybe a single later on. A-V's also into organizing a couple psychobilly events in Finland including the 2nd Finnish Rumble (with Southern & Rocking Agency) and West Coast Rumble vol.5 so that's a project for the band as well.
12/ Last words ...
Goddamn! You really surprised us with this one, last question and no doubt the hardest. Hmm. Well, the main thing here is that we'll keep on rockin with psychobilly and the plans are in motion. You might wanna check out our homepages at www.flatlinerockers.com for info and gig pics and maybe throw a
comment into the forum there as it's cool to hear what YOU think of this all.
Thanks to Gopsycho folks! Stay Sick, Go Psycho!
A-V, Ake, Janstu, Tuomas
Flatline Rockers
Pori, Finland