CRAZY CAVAN and the RHYTHM ROCKERS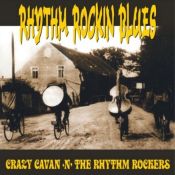 "Rhythm Rockin Blues "
Crazy Rhythm | 14 titres | 2001 | Psychobilly
Critique : Il y a 2 choses pratiquement certaines qui accompagnent la sortie de chaque album de CRAZY CAVAN: 1/ On sait à quoi s'attendre. 2/ On sera pas déçu.
Une nouvelle fois, cet album ne fait pas exception à la règle et bien que le groupe tourne déjà depuis plus de 25 ans lorsqu'il sort cet album, il n'a rien perdu de sa fougue! Réédité en vinyle en 2017 par Rebel Music Rcds.
Liste des titres: 1. Rhythm Rockin' Blues 2. They Raided The Joint 3. Frankie Got A Quiff 4. Wolverton Mountain 5. The Feeling Of Love 6. Lizzy Beth 7. Crazy Love 8 I Go Ape 9. Somebody's Stealin' My Baby 10. Gamblin' Baroom Blues 11. Teddy Boy Flick Knife Rock 'n' Roll 12. Crazy Moon 13. Oh Sugar 14. I'm Gone
[Lire ou Ajouter un commentaire]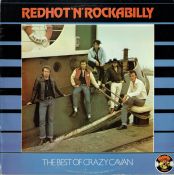 "Redhot N Rockabilly"
Charly Rcds | 16 titres | 1979 | Rockabilly
Critique : Compilation mythique des premiers albums: 4 titres de "Crazy Rhtythm", 5 de "Rockability", 7 de "Our Own Way Of Rockin'" et le titre "Alabama Shake" en live. CRAZY CAVAN and the RHYTHM ROCKERS est certainement l'un des groupes les plus emblématiques de la scène British Rockabilly des années 70 et son influence sur l'ensemble de la scène -billy reste indéniable.
Liste des titres: 1. Wildest Cat In Town 2. Sweet Baby Jean 3. Teddy Boy Boogie 4. Sweet Little Pretty Thing 5. Boppin'N'Shakin' 6. Rockabilly Star 7. Ol' Black Joe 8. Saturday Night 9. Teddy Jive 10. Sadie 11. My Little Sister's Gotta Motorbike 12. Drinkin' Wine Spo-Dee-O-Dee 13. Gonna Rock, Gonna Roll, Gonna Boogie 14. Knock Knock 15. Stompin' Shoes 16. Alabama Shake (live)
[Lire ou Ajouter un commentaire]
COMPILATIONS : 3 compilation(s) avec CRAZY CAVAN and the RHYTHM ROCKERS.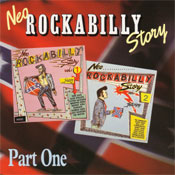 NEO ROCKABILLY STORY Part 1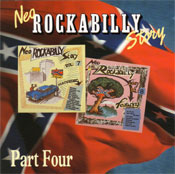 NEO ROCKABILLY STORY Part 4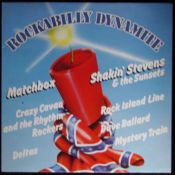 ROCKABILLY DYNAMITE