Compilation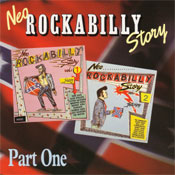 "NEO ROCKABILLY STORY Part 1"
Rockhouse Rcds | 22 titres | 1991 | Neo-Rockabilly
Critique : Les 2 premiers volumes de cette excellente série ont été regroupés sur un CD. Très bonne initiative, malheureusement, -problème de place et/ou de droit- il manque pas mal de titres. The SUNCATS, the RUMBLE CATS, the TEEN CATS, LEVi & the ROCKATS, the CONTINENTALS et DAVE TAYLOR se sont ainsi retrouvés évincés de la version CD.
Pour parler de ceux qui sont sur le CD, vous retrouverez aux côtés des poids lourds du British Rockabilly (CRAZY CAVAN, RIOT ROCKERS, FLYING SAUCERS, ...), les petits nouveaux de l'époque dans un style beaucoup plus Neo (DAVE PHILLIPS, BLUE CATS, ...), parfois proche du Psychobilly (BOPPIN' KIDS, HONEY HUSH, ...), parfois beaucoup plus sages (BLACK CAPS). Cette compilation, très variée, est indispensable pour tous ceux qui s'intéresse de près ou de loin à la scène du Neo-Rockabilly Européen.
Liste des titres: 1. Dave Phillips: It Was Free 2. Flying Saucers: Rockin' Chair Rock 3. Flying Saucers: Mean Little Mama 4. Memphis Bend: Tic Toc 5. Boppin' Kids: Castle Of Death 6. Boppin' Kids: Love Me Like A Stone 7. Riot Rockers: Hey Mr. Phillips 8. Riot Rockers: Road Of Steel 9. Whyos: No. 2 10. Whyos: One-Two-Three-Four 11. The Kingbeats: I Can See It In Your Eyes 12. Rocky Road: How Low Can You Feel 13. Rocky Road: Let Me Tell You Why 14. Black Caps: Train From The Past 15. Black Caps: My Rockabilly Baby 16. Blue Cats: Live Fast Die Young 17. Blue Cats: Who Stole My Blue Suede Shoes 18. Tranquillizers: Long Blond Hair 19. Crazy Cavan & The Rhythm Rockers: Why Can't We Be 20. Honey Hush: Rock Itis 21. Honey Hush: Getaway Girl 22. Jon & The Nightriders: Catalina