Interview: WASHINGTON DEAD CATS
July 2003
They're back on stage: One of the most charismatic and controversed band. Over 20 years after their beginnings, the WASHINGTON DEAD CATS are on the road again ... with a new album soon!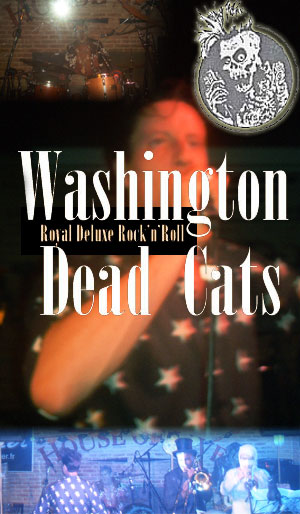 1) A lot of bands have tried to make a Come-back, not always succefully. The WDC have made a Live album, 2 years ago, then nothing untill today.
Is it the real return of the WDC??
We don't make our Come-back, we're an eternal restarting.
We've made a necessary break not to continue by routine, and without conviction.
I effectively think that most of Come-Backs are pathetic because the bands don't start again for good reasons (money).
In our case, we don't need the band to live, and we've done this step by step, we've taken the time and now, we really want to make tours and records.
We've made the Live 2 years ago, just for fun, and to see what we wanted to do, because we were all playing with other bands, and after our 25 dates Tour, which was really good with the audience, and between us, we wrote some new songs.
Is it our true return???
I just think that today, we've got a good label, we've recorded a good album, in some very good conditions, and we are motivated.
we're going to make a lot of records and lives, but You, Are you ready????
2) WDC has always had a lot of different influences. What are the influences of the WDC in 2003?
The influences are still multiple: Rockabilly, Surf, 60's Garage, Punk 77, movie musics, Mambo, Rock Steady, Blues, Jazz.
3) What are you listenning to, today?
Vocal Jazz (Ella Fitzgerald, Sarah Vaughan, Billie Holiday, Peggy lee, Julie London, Nat King Cole), a lot of Franck Sinatra, some Skate Punk, some Electro, some Hip Hop,some Rock'n' Roll and some Blues, but no Metal, nore Techno, I confess.
As new bands or artists :
Jon Spencer Blues Explosion, Ben Harper, Brian Setzer Orchestra, White Stripes, Living End, G love & Special Sauce, Gorillaz, Fun Lovin' Criminal,the Libertines and also some good oldies like Elvis, Johnny Cash, Chris Isaak, the Clash, Bob Marley.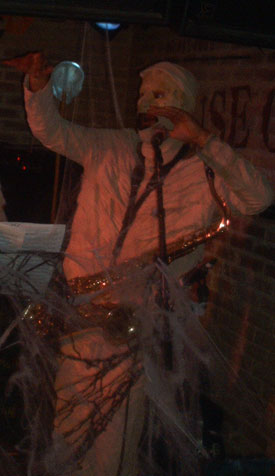 4) Why the return of the WDC? What has justified this reformation?
The desire for playing Rock'n Roll and the fact that we are the best band of the world.
5) What is the actual line-up?
Mat Firehair "the voodoo Caruso": lead vocal
Lord Fetide Beltran: guitar
Daoenstein: Bass
Seaweedyo: drums
El Signor Igor: Trombone
Kall Hil G.G: saxophone
Chet Alban: Trumpet
6) Have you keep some contact with the ex-members?
We have recently make a support concert for the "SCALP" and "Réflexe" (anti-fascism), and there were our first drummer and our first sound engineer.
And the guitarists have all been put a spell on them by women with supernatural capacities, and they now live in a communauty, on a paradisiac island.
But it's important to notice that they, now, only drink milk of anness.
7) A new album to come?
New album out the 15th of october.
8) What about your label "MADE IN HEAVEN"?
Back in Heaven for long ...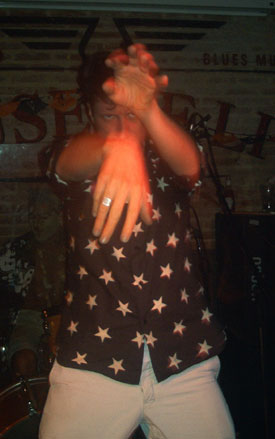 9) Short retrospective : can you say a few words on ...
GO VEGETABLES GO: The 1st album is for a lot of people the best.
I personally don't listen to them, but, although it sounds old, I still think it has a stuff that the bands generally loose after the 1st LP : some freecareness (certainly because of the Lack of experience).
But this record is funny.
GORE A BILLY BOOGIE: the 2nd album is quiet unequal. There are some songs I love, like "Pizza Attack" and some others that I like much less, like "Gorething" or "Green creatures" that I can't stand anymore.
It's also the album who make us pass a stage, according to the sales (25 000 specimens in france), according to the audience (2 bataclans - NDT: A big live place in Paris) and according to foreign tours (Germany, Netherland, Hungary, Belgium, England, ...).
I love the covers of these both records. They're going to be reissued, next spring, in digipack, with the original covers.
GO CRAZY: Great 5 tracks, great cover, the sound is much more better (It will be as a bonus on the reissued of "Gore A Billy Boogie").
GO-LDEN AGE: The EPs more unedit tracks. The EPs are good, the unedited tracks are unequal ... Well 22 songs on one CD, it's not so bad.
WATCHAMALLACALLIT: A mistake according to the sound (very bad mix), according to the cover, according what I wanted to do.
Some tracks are really good (Napalm surf, Gore Gore girl, I believe), and some others are not terrific.
It was the period when we wanted to evoluate, but we haven't taken the right road.
That makes me sing in a new band, Juju Messengers, my Blues hip hop band, whith who I've made a mini album and an album and a lot of jazz or blues festivals.
That has pushed me to leave the washington style, and to progress, which was very important to me.
LIVE AT THE FRANKENSTEIN ODEON: Funny, great cover, it looks like the WDC, 2 years ago. we made it just for pleasure, without any particular goal.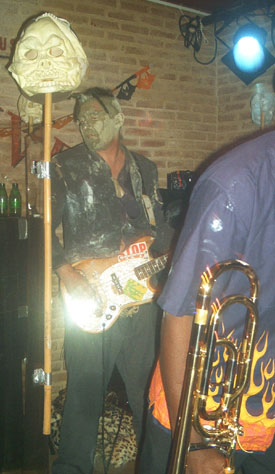 10) Although the WDC have never really been a Psychobilly band, you have taken part to the movement.
What can you say on the current psycho scene?
The 1984 Pyschobilly scene was very opened: there were bands like the Guana Batz, the Sting rays, the Milkshakes, Restless, the Cannibals, King Kurt, a lot of bands with different styles, but who used to play together, and the fun was very important to them.
The scene from this period was really cool, good ambiance, good attitude.
Actually, the psycho scene has becomen much less original, there's only one kind of music, a kind of speed Rockabilly without any originality, and without fun, I think.
A lot of bands look like each other, and Ii prefer the actual Garage scene.
It is true, as you said, that we're on the edge of the psychobilly scene, but we're also on the edge of the Punk scene.
11) You've been asked this question 1000 times (and you gave 1000 different answers):
Why "Washington Dead Cats"?
The mystery must remain whole
12) Last words ...
Buy the record the 15th octobre, come to the concerts, don't be afraid.
Rock'n' roll is back. Elvis is not dead, he lives on a desert island, and like a mutant from the XXIst century, he's waiting that we are ready to make his great Come-back!