Interview: TIGHT FITTING PANTS

February 2005

They call it "Obscene Psychobilly": The TIGHT FITTING PANTS are touring for a few years, now. They got a solid reputation (They do come from West, don't they?), and has got an 4-tracks CD out. Let's see what they're planing for 2005.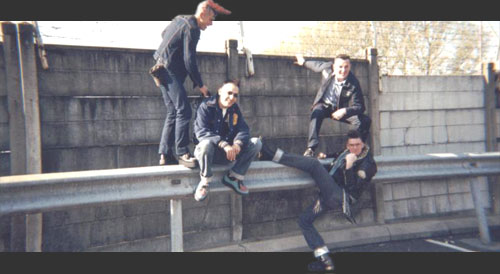 1/ TIGHT FITTING PANTS ... Where the hell does the name come from?
Tight fitting pants, it's a litteral translation of a gang's name, in "Cry baby" movie, with Johnny Depp.
2/ How long do you play together for? Could you tell us the band's history?
We began to play together in 2002, so this year is the 4th.
3/ Present the members of the band: who does what?
We are 4 members: Sim sings and plays the guitar, Gaëtan plays the guitar, Tiju slaps the bass and Nanail hits the drums.
4/ You've done a mini-CD. How has it been appreciated?
Our 4-tracks CD has been well appreciated by those who already knew us, we've always been asked for recording some songs. It has also been pretty well apprreciated by the people who has discovered us with it. And a little bit abroad.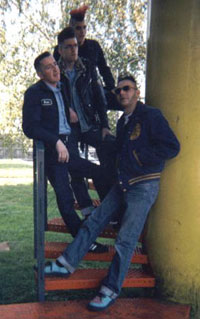 5/ Where can it be found?
You can find it through "Pure & Proud", at all ou gigs, or, you can command it directly to us.
6/ What are your main musical influences?
We're quite inspired by Psycho bands, as Barnyard Ballers or Godless Wicked Creeps, and also by Punk-Rock bands, as Toy Dolls or Sheriff...
7/ In your songs, 2 topics offently occurs: Porno and TV series. Your dream should be to act in a porno movie, or in a TVserie?
We could say that, acting in a TVserie with porno actress wouldn't be so bad!
But, we aren't good actors.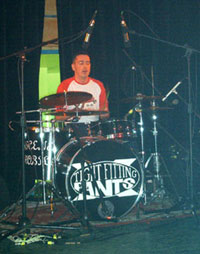 8/ How many concerts have you play? What are your best memories?
More than 40 concerts, today. We only have good memories. We really have good times on stage.
9/ You come from a region where Psychobilly is more expended than everywhere else. Why, according to you?
It's true, there's a lot of psychos in the West of France. Apremont should have done a lot for that. The Happy Drivers and les Bananes come from here, that may be another good reason. But, most of all, there are people who are workin' hard to organise concerts and perpetuate the movement, and that is cool.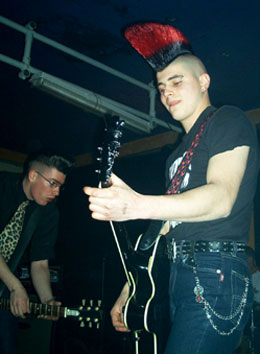 10/ What are the bands you're close to?
We are particularly close to french bands, like les Bananes, Monster Klub, No Ziz Sheat. But also foreign bands, like Cenobites... Generaly, we have good feelings with the bands we play with. We've always had some fun.
11/ Are you planing an album?
Yes we're planing an album with 10 songs (we'll get in studio in february), but we can't say too much about it yet...
12/ What is the question that you would like me to ask? (and its answer!)
I wish you had asked me if we had more girls since we sung songs upon sex, and my answer would have been ... no.
13/ Last words:
Thanx for the interview. We hope to see you soon, with the release of our album
SeeYa - nanail tfp
PORNO RULES!