Interview: The Tazmanian Devils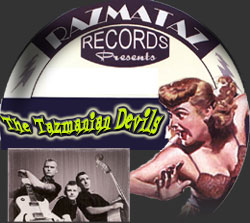 August 2005
They seem to come from the past, but they're current and real! Here are the TAZMANIAN DEVILS, from Germany. Put on this new wild and frantic old-school Psychobilly record on your turntable, and stomp... or die!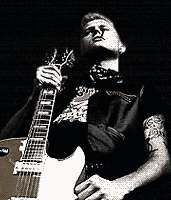 ..::Salmi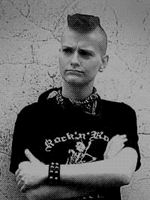 ..::Laura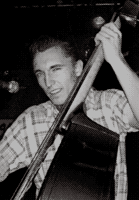 ..::David

1/ Who plays what? Could you make a short history of the band?
Laura: Salmi and me we've still heard Psychobilly through the years and one day Salmi had the silly idea of founding a Psychobilly band. Well, why not? We both played in several bands and we knew what we want to do. He looked out for a half-accustic guitar, we restaurated an old 60ies drum and bought a double-bass. After all, David joined us to play the dirty bass and voice. But note: Salmi was the evil guy with this evil idea!
Salmi: I play the fat red guitar.
David: And how he does! I know, they never wanted to make everybody's music, since rock'n'roll is certainly a kind of obsession! Me, being the same opinion, joined the project half a year later without having played in a band before, which lead me to bloody fingers and countless funny rehearsals. However, we managed to write some songs for several gigs in the following two years and had lotsa cool parties. Actually, this is the whole story of three desperate teenagers out for kicks.
2/ How'd you describe your music?
S: Psychobilly in its purest and roughest style.
D: We don't deal with a certain formula with what we're doing, we just follow our own ideas. Obviously, the result is the same, as some guys once achieved by adding more madness and insanity into classic Rock'n'Roll music. Maybe, we're a Rockabilly-band with a brain-disease - I guess, this is to be called authentic Psychobilly!
3/ What are your main influences?
D: Though Salmi and Laura have had their main stage-experience in Punkrock, they're both into Psycho,- and Rockabilly, but that ain't all. While I am is mostly Rockabilly and R'n'B influenced, Laura is involved a lot with Jazz, Blues and Ska as well. Of course, we all go wild to any cool guitars and a wild beat that can be heard in those rockin' styles like ***billy, Surf and whatever...
S: For me THE METEORS and BATMOBILE.
L: Well, Slim Jim Phantom impresses me much... when you'll see us live ... it would be visible..
4/ You seem to get the Psychobilly to its roots. What do you think of the current scene?
S: Only a few real authentic Psychobilly-bands. There only a few young bands. The bigger part are the old bands of the 80thies.
D: The current scene is as cool as it's always been (I believe). Yes, we do like some of these 'modern' bands, if they're able to play Psychobilly in a 'different' way, without losing the relation to the pure and original charme of Rock'n'Roll the way it was meant to be. So here's the point - we like a lot of styles, but if you're playing Rock'n'Roll, don't forget it's roots. In case you play something else, we might love you, if you give it a suitable name. I don't like 'wannabillies'!
L: There are a lot of very unbelievable great bands, but also masses of so called Psychobilly with metal-influences, which is not really our cup of tea. We are more orientated to oldschool-Psychobilly style.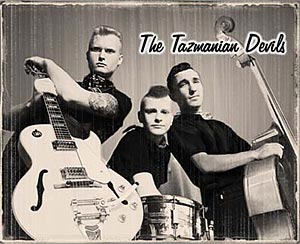 5/ Your 1st LP has just been released for a few months. Why did you decided to release it on your own label?
D: Well, there shouldn't be anybody telling us, what to do, and there shouldn't be anybody being told by us what to do. This lead us to being completely independent from anybody! To start an own label has always been one of our dreams. There's only one record out on it yet, but it's ours - and this way, we can be proud of it twice! If it flops, nobody's got to suffer from our revenge...
S: More money for us!!!!!!!!!!
L: That's the way it is, baby! We also like to do everything on our own risk, 'cause no risk no fun! And it's important for us to work independent! But all in all: the whole money for us, of course!
6/ Will you produce some other band? or a sampler?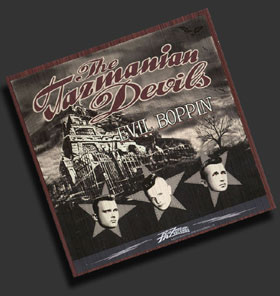 L: We'll look out for unknown great oldschool Billy-Bands.
D: That's what we will do! Next on RazmaTaz Records is a compilation called 'Coolest Cats In Town' featuring - the coolest cats in town (many towns in fact). Unbelievably cool stuff from Rockabilly to Psychobilly can be heard on there! Hopefully, it can be released already this year. More of that coming soon!
7/ What can you tell us about "EVIL BOPPIN'"?
S: Fuckin' great bloody psychobilly ...just too evil!!!
L: Nothing for people with a heart-disease or problems to fall asleep!
D: Buy or die!
8/ Will there be a CD release of it?
S: No!
L: What the hell...? NO!
D: We really can't see the good old vinyl dying out, that's why we decided to produce an non-CD-edition. This is a record for vinyl-junkies and the foresight still doesn't show a CD release. You don't have a record-machine? Shame on you!
9/ What are the next project of the band?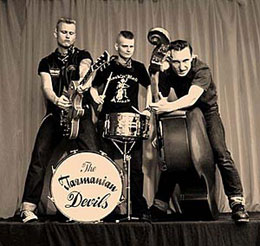 D: As you've heard, the band is also the label. There's much more to do than we're able to, so we keep things running unhurriedly. The Tazmanian Devils will start over touring Europe next year, Razmataz Records just gets a new studio installed, and new recordings of us and others are just a matter of time.
L: We are just building our small studio and we'll record some new tracks for our second album. So, less time to play live unfortunately, but we are going to make a small Netherlands-Tour in October. So watch out for new gigs and releases! We will also come to you... one day...
10/ Last Words...
D: Buy or die!
S: Take care!
L: Whatever you would wish us - we'll wish you as well!