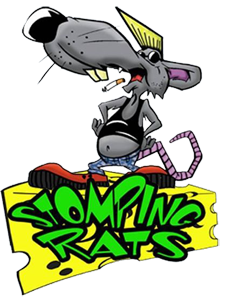 Interview: 12 step Rebels
Dec. 2014
Young Psychobilly band from Mexico, the STOMPING RATS represent pretty well the new-Old-School Psychobilly Wave: fast rythm, pumping slap bass, reverb guitar and a crazy singer
They launched confidentialy their 1st demo 3 years ago, and, hopefully, should release their 1st album soon.
Ladies and gentlemen, let me introduce you those mad rodents from Mexico: The STOMPING RATS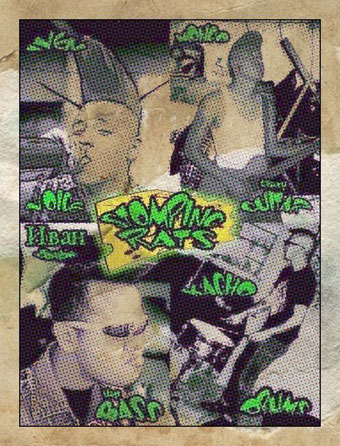 1/ How long does the band exist? Could you sum-up the Stomping Rats' history?
We started in 2009 as every band, a group of friends without nothing to do just looking for have a good time and share with the people what we like. But it was till 2010 that we have our first show, and since that moment we haven't stop of rockin'.
2/ Who plays what? Can you describe the members of the band?
Allan Mongo (Guitar) and Kacho (Drums) brothers and musicans since the moment that they born, experts in many music genres, we have Ivan (Bass) bassist by self learning just for the joy of play psychobilly and see how fast he can play as a personal challenge, and Iven (Lead vocals) the energy of the band the drunk rat that never can stay in silence, four friends, four minds, one band.
3/ How would you describe your music?
Crazy and fun, we like to mix a lot of music genres, of course without lose the line of what we make.
4/ What are your main musical inspirations? The bands you are listening to?
Our main inspiration is of course the good old psychobilly bands as The Meteors, Torment, King Kurt, Klingonz, Batmobile ... and a lot more. But also we have inspiration by other bands like Toy Dolls and some other music genres as salsa, cumbia, and mexican folk music.
5/ How is the Psychobilly scene, here in Mexico?
We're growing everytime there's new bands and more people interested in this scene, so we´re going better and bigger.
6/ Do you sing in English or in Spanish? What are your lyrics about?
In spanish, our lead vocals does not have any idea about the english ha ha! Our lyrics are about party, fun, wreck, alcohol, womans, fears, everything than a crazy people can live!
7/ How many shows? Your best memory on stage?
We lose the count we play a lot of times supporting the local scene and everytime we're on stage we enjoy and have the best time.
Best memory on stage? It was the first time that we went to play out of our city, it was a blast, full of people and a lot of energy, it was amazing. We can't wait to the day that we can play in another country.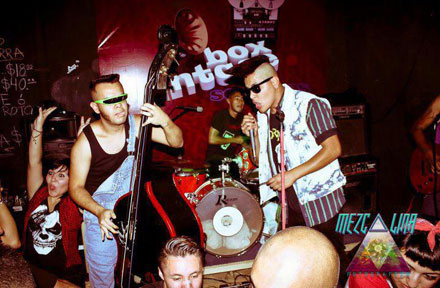 8/ You have recorded a 6-tracks demo. What can you tell us about it?
To be honest only we sold 20 copies, cause we only made 20 copies, but thanks to the internet many people can listening. It was a home made recording just one mic and an ipod.
9/ What will be the next steps fot the band? (your projects)
We're getting ready for recording of the full album that's our priority, and we're looking for the opportunity to go out and play to Europe to a big psychobilly festival that would be our biggest goal.
10/ Your last words...
Thank you Charly and ¡¡Get Drunk, Have fun And Let's Wreck !!