Interview: Skarekrows

Feb. 2008
Their second long-player has been launched a few weeks ago. A brilliant and unique crossover between Psychobilly, and Garage - the perfect blend- wich has been released on vinyl only. "Dying To Get In"... 10 feet of concessionless depraved Rock'n'Roll.
Interview with the Skarekrows!!

1/ The SKAREKROWS, who does what in the band?
The SKAREKROWS are 4 terrible scarecrows: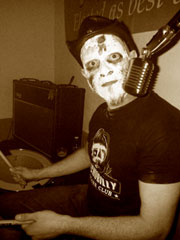 Michel El Globül: Destructive Fuzz guitar player, he's also our icone, our hairy mascot, a great showman.
Mad Vinz: Ryhthm guitar, and a lot more...
Dave Devil: drums. He sings a few songs with his sweet voice. He also writes most of our lyrics, he a reel sadic and depreved pervert!
Blondo: Slap and sing
2/ Some of you have already played in some other bands. How long does the SKAREKROWS exist for? Could you sum up the history of the band?
That's true, we're not so young anymore!
After I stopped playing with the ASTRO, I stayed about 3 years without playing any music, I took detachment, I thought about all that, I drunk. Then I wanted to set up something. Mr Dave Devil took the drums, and El Globül joined us, his band (Psychotic Reactions) had just splitted then. And finaly, just before the recordings of our 1st album, Mad Vinz -who had just left the ASTRO then- eventually arrived.
2 albums and a shitload of concerts after, the SKAREKROWS are still hungry, and especially, thirsty! So much, that we all have a side-project: Dave Devil joined the MANOR FREAKS, Vinz and I have set up SEXTOYS with Gaybeul (ASTRO, again... I guess half of the musicians from the city of Dijon used to play with the ASTRO!).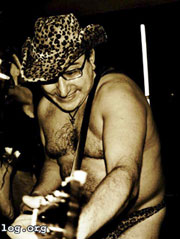 3/ You just released your 2nd LP. Could you introduce it?
We really wanted to release a vinyl album, a 10 inches. And, among our compositions, 8 of them were quite consistent, and they matched well together. Then Steven Bretzel proposed us to release it on his own label HUMAN BRETZEL RECORD and 100% VINYL SOUND. So we recorded it at Jimmy's (BERB'S RECORDING), a friend of us, and he plays a guitar part on "How Small U R".
It's not easy to compare this album with the 1st one, the sound is more dry, maybe less deep, but the tracks are more accomplished and more speed. Anyway, the guitars sound particularly good.
A few words on the cover artwork: personnaly, I find it great. It's Willey, an great Irish artist, who did it.
To make a long story short, it is the best album since the '68 Come Back.
4/ How'd you describe your sound?
As I told you, our sound has evolved since our 1st album. But, as we've got a Fuzz guitar, we sound much more Garage than Psycho. And especialy since I'm less and less fan of the slappin' sound of a doublebass. On our upcoming album, some songs will be played on a electric bass (with some Fuzz effect, of course!).
As my mother used to say, « your music is a real crossover between Elvis and a straitjacket ». You're right, Mom, we're playin' Oldschool Psycho Fucken'Billy.
5/ What are your main influences?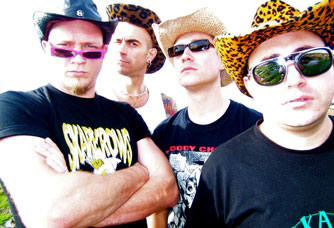 Our influences are multiple because our experiences are diverse (or, is it the opposite? I don't know, this sentece gave me an headache).
From 60's Garage to Speed Rock, from Surf to Rockabilly, Psychobilly and 80's Punk, even some Gothic Rock. Personnaly, if I had only one band to mention, it would be the Monsters.
Each one of us has his own musical background. When we compose a new song, each one of us brings his own ideas, that's what makes the wealth of our compositions. We don't try to stick to one particular style, but we do what we want, and we do it right.
There's something we all like, this is cinema: we all have the same bad tast: stupid movies with topless blond girls trying to escape from a maniac psychopath.
Most of our lyrics refer to that kind of situations. At this point, it is necessary to emphasize the talent of Mr Devil, real poet of the depravation there.

6/ "Dying To Get In" has only be released on a 10" vinyl. Why this choise? No CD release to come?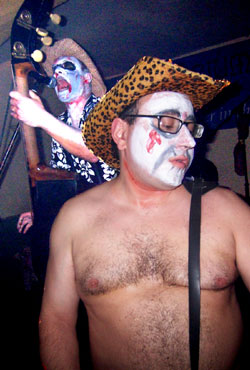 We're all vinyl addicts, so we really enjoyed ourselves with the release of this 8 songs record. The size of the disc, the cover's artwork, the inlay... it's really somethin' else than a CD! I think I would prefer to reedit our first album in vinyl before reediting this one on CD. But if a label ask for it, we'll do it.
7/ You've shared the stage with a lot of bands. What are the bands which really impressed you, live?
That's true that we did shows with quite a lot of bands. We won't be very original, but, considering the Psycho scene, the "Mad Sin Circus" kicks ass! And also the Klingonz, Demented Are Go, when they're in ggod condition. There're also some very good bands in France, I would mention Banane Métalik, the Washington Deadcats. And also the Manor Freaks, we toured a lot with them, as we got the same drummer, and each time they do the show! Great!
El Globl insists so that we also mention the Wampas (I think he secretely felt in love with Didier Wampas since he had some intimate moments with him in Dijon).
8/ The cover of the VIRGES is your 1st song in French. Will there be some other french lyrics?
No, it just happened. We like this band, we wanted to cover this song, it was in French, so, that's it. Singing in French is not really for us.
9/ What have the SKAREKROWS scheduled for 2008?
We should go back in studio to record our 3rd opus, we just miss some money, actually. We're trying to release a 15 tracks, with 1 or 2 covers, I think it will be "the album of the year"!
We've also planned to shot a video this summer. Talkin' about that, there're 2 videos you can find on U tube, or on our myspace: a cover of Funnel Of Love recorded live at the Tanneries, and a wonderfull unedited songNight of the Living Dead.
A part that, Mr Devil is planning to become alcoholic, Mad Vinz plans to buy about a half-dozen of guitars, El Globl may leave for a while to Slovakie, to find a wife and a pig, and I'll try to take advantage up to the bone of everything that will be offered to me.
10/ Last Words...
THHHHAAAAANkS CHARLYYYYYYY !!!!!!