Interview: the Ronnie Rockets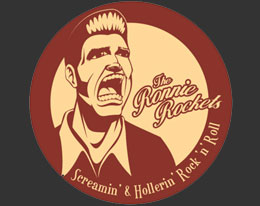 August 2007
The RONNIE ROCKETS, an axcellent combo of "catchy & greasy Rock'n'Roll" from France, have just released their 1st long awaited full-lenght records.
This new album is called "IT AIN'T NOTHING BUT RIGHT", and before you get it then run to see them live, let me introduce them to you with this interview.
Check their website: www.theronnierockets.com
1/ Who does what in the Ronnie Rockets? Could you introduce the members of the band?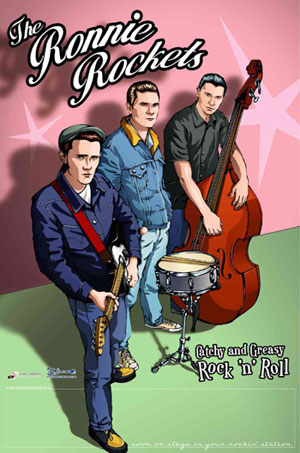 In the Ronnie Rockets, we are 3, it's an old-school trio : Arno plays the upright bass and do the backin' vocals, Buanax at the drums and the backin' vocals, and I, Guig's, do the guitare and sing.
2/ How long do you play for? Could you make a short historic of the band?
The Ronnie Rockets exist since the summer 2002, but we know each others for a long time now. We met at Besançon (in the east of France). We tried to set up a Rock'n'roll combo with Arno, but it wasn't really serious, then Buanax who was already the Hawaii Samourai's drummer came to join us. Quickly, we started to practice in his room, then in a real local, and the thing was gone. As the 3 of us were fan of Rock'n'roll (surf, country, psycho, rockabilly), things went well and quickly, we wanted to do the same covers, we had some good feelings together.
3/ Aside the RnR, what are your occupations?
We spend a lot of time working for the band: reharsals, searching shows... But, we also got jobs, that allowed us to buy gear. A part that, we drink bear, we go to see some shows, we watch Z-movies with teenagers turned into zombies eating other teenagers... We're kinda normal actually.
4/ What are the main influences of the band ?
It's hard to answer this question, each one of us has got his own influences. There are a lot of bands we all listen to, and if I have to name some of them, it could be (but in no particular order...) AC/DC, Runnin' Wild, Reverend Horton Heat, High Noon, Lightin Hopkins, Batmobile, the Detonators, John Lee Hooker, Johnny Cash, the Sharks, the Quakes, Hank III, et Hank Williams senior, Dave Phillips, Link Wray, Space Cadets, Red Hot and Blue, Lee Rocker, the Stray Cats...
5/ What are you listenning to, currently ?
Now, what we play the most might be the Ghastly Ones, an american Surf band, Dick Dale, Rip Carson and the Twilight Trio, Supersuckers, Johnny Cash, Ronnie Dawson, the King... Ronnie Self, obscur surf compilations, that kind of things...
6/ After 2 short CD, you've finaly released your first album. Could you introduce it ?
Our new album, which is actually our real first record, with 12 tracks is called « That ain't nothin' but right ». There are 11 songs of our owns and one cover of « Slinky », an old Link Wray piece. It's our friend Tom from Visual Addiction who works on our visual art-work. It's obviously Rock'n'Roll and when we're asked to definite our music, we're talking about «catchy and greasy rock'n'roll », that seems to match with us.
It's the first time that we take our time to record, and squat the studio untill we're pleased by the result. We recorded at the Cube studio, which is at only a few kilometers from our homes, and which is managed by some friends of us.
We had some guests on it : Dick Den's, from the Hawaii Samourai came and played one solo, Jon, ex Second Rate, came and added some slide guitar, and Mike Shannon, an american bluesman, recorded a harp solo.
7/ How is the Rock scene in France ? Which are the bands you're close with ?
The Rock scene, it's a rather broad term, it's not obvious to speak about everything that sounds Rock. Let's say, we have much more affinities with the Rockabilly, Psycho, Surf and Garage scenes, which is still apart from everything else. We don't know the other scenes.
Now, there's like an explosion of bands, everywhere in France, especially because of MySpace. You can record 4 tracks on a Fisher Price* recorder and put them onto your profil. You just have to be a few friends, search into your cellar to find a bass or a guitar, then, let's go ! I find it OK, that people want to play some music. The problem is that everybody want to become famous, and run to the labels, one make a single that works pretty well for 6 monthes, then nobody hears from you anymore. We don't really like this part of the buziness. We prefer to stay humble, playing in small venues for a fistfull of dollars, meet people, that's the Rock'n'Roll...
We're close to a lot of bands, such as the Dodge City Outlaws from Montbéliard (with Petra, ex-Hellbats), the Hellbats who are some friends of us, the Kryptonix, the Scarecrows from Dijon, the Liquor and Pocker, Bee Dee Kay and the Roller Coaster, Star and Keys of the Indian Ocean, the Texas Mongols from Besançon, the Boneshakers from Metz... I may certainely have forgotten some of them, we're gonna get bawled out!
*NDT : Fisher Price is the Name of a famous toy compagnie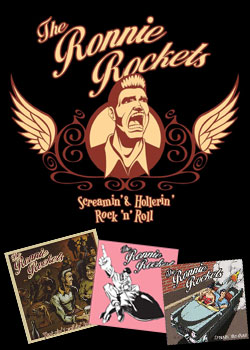 8/ An anedectote on stage... Something very special who occured to you on stage ?
On a rainy day, in november 2004, we played in a small venue in the region called The Creuse. There were about 3 guys, the boss there and an old cat more dead than living. We had to play two set of forty minutes each. We plugg in, we begin to play our set, and nobody cared about what we were doing, the three guys at the bar watched TV and asked us to make less noises... Suddenly, there was a power cut, instruments and amplis roasted in a sheaf(wreath) of sparks. At this point, a white light blinded us and Eddie Cochran approached us. He tightened me his Gretsch 6120 and looked us straight in the eyes by saying to us: guys, or you send your set as if your life depended on it, or you retrain into the harvest of beans. It is a sacred memory, unfortunately, all the witnesses of this incredible scene are reported missing today, so you'll have to believe to us on word ...
9/ What are the band's projects ? A tour ?
We always have a shitload of projects, some are more urgent than some others... We compose some pieces, and when we got at least 10 of them, we'll figure to go in studio, otherwise we continue to play almost everywhere, anywhere where people want of us. We'd like to go abroad, maybe in England, Spain, Italy, we'll see then. And why not a real tour, one of these days ...
10/ Last words...
A thank you to you Charly to have proposed us this interview, I hope that the new album is going to please those who've bought it and that those who haven't baught it yet are going to hurry to do it.
Play some Rock'n'Roll, go to the shows...
Keep on roooooooooooooockin'
THE RONNIE ROCKETS