Interview: The Raygun Cowboys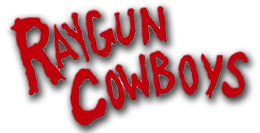 August 2015
The Raygun Cowboys have been around for 15 years now, mixing without any complex Punk-rock and Rockabilly, Ska and Psychobilly.
Their 4th album has been released on Stomp Rcds (Vinyl and CD) a few month ago and totally deserve to land on your turn-table!
Heads Are Gonna Roll!!

1/ How long have you been playin for? Could you sum up the biography of the Raygun Cowboys?
The Raygun Cowboys have been together since 2000, when we started we did lots of old school psychobilly covers, I think at one point we were playing about 6 Frantic Flinstones tunes!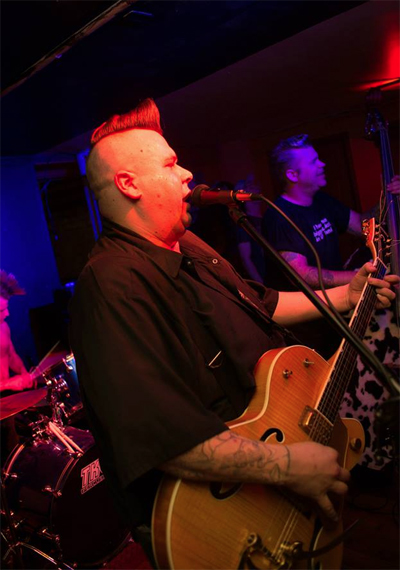 Oakland joined the band in 2002 and that's when we started writing our own stuff and really tried to make things happen.
We released our 1st recording in 2005 on "Zombie Night In Canada #2" and in January 2006 released our first record "Underworld Boogie". We toured around western Canada for that before recording our 2nd record. We put that album out on Stumble records and toured across Canada in 2009, did Europe in 2010, then recorded "Cowboy Up" in 2011. We put "Cowboy Up" out in 2012 and toured the westcoast down to California.
We took a break after "Cowboy Up" and then came back in 2014, recorded "Heads Are Gonna Roll" and signed with Stomp Records, and toured Canada!
2/ Could you introduce the musicians?
Jon Christopherson - Guitar/Vocals,
Oakland Valleau - Bass,
Derek Thiesen - Drums,
Johnny McCormack - Saxophone,
Michael Johnson - Trumpet,
Nathan Connolly - Trombone,
Zach Semanuik - Trumpet,
Kris Bridge - Drums
3/ How would you describe your music?
I think we have our own sound, we do a bit of Rockabilly, Psychobilly, Punk, Blues and mix it together. I think with the songs we write and the horn section gives us something totally different than whats out there.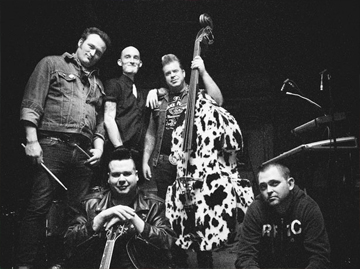 4/ What are you main influences?
I think it's different for each of us, some guys are really influenced by Jazz, personally my influences are Slash/GnR, Brian Setzer, Elvis, Danzig/Misfits, Ramones, and old country stuff like Hank Williams
5/ The Raygun Cowboys have a horn section since the 2nd album. Why did you decide to add it?
We wanted to do something different, there are a million Rockabilly trios out there and after the first record we wanted a bigger sound. Some people don't like it but we want to be original and do our own thing and adding the horn section allowed us to do that!
6/ You've released your 4th album a few weeks ago. What can you tell us about it?
We are really proud of the new record, I think personally the songs are the best I've ever written, and the production is better then on the previous ones. It's a mix of who we are, some roackabilly, punk, psychobilly etc... I hope people check it out and dig it!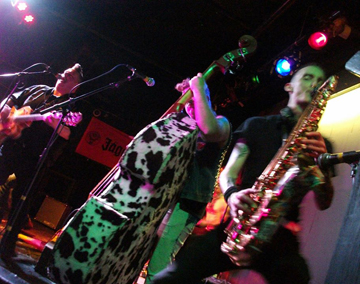 7/ What are you listening to? What are the 5 albums in your top-5?
As I'm writing this, I'm listening to the Gutter Demons! Top 5 in no particular order, Hank 3 Strait to Hell, Appetite for Destruction, Bruce Springsteen live 1975-85, Never Mind the Bollocks, Ramones Road to ruin
8/ What are the plans of the band?
We are planning on touring Europe and Canada next year, and are currently writing songs for a new record that hopefully we will record next summer!
9/ Last words?
Cheers to everyone out there, if we missed you this year we will try to make it to your town next year, and for all who have the new record I hope you enjoy it!!!