Interview: PaSKaL Millet

Aug. 2006
With the release of the DVD"THIS IS PSYCHOBILLIES vol.1", whose cover has been drawn by PaSKaL MILLET, it seemed to me interresting to make a little break on the career of PaSKal who is actually one of the most famous drawer for the Psychobilly, and who is also the MONSTER KLUB's frontman.

1/ You do illustrations for a long time now, but you seem to become more and more present, today. Will it become a full-time job?
Fot the moment, no... That lets me choose the people with who I work. That's sure, I sometimes lack of time, considering the music, my real job and my draws. But I prefer to keep it as a hobby, like I do with the music.
2/ The atmosphere of your draws is very close to the Monster Klub environment. Will there be a song or a draw without any monster or zombie, someday?
There are a few... But monsters belong to my life. Since I was a child, and I'm too old now, to change. My first graphic shock was Jack Kirby on Fantastic Four with all those demented creatures of this period. I never got over it! And I have more fun drawing freaks than cars or flowers. It's the same thing with the music: I talk about subjects that I like, and who entertain me. I think that this is the Psycho: B-movie with zombies and werewolves... it's indissociable from the music.
It goes together: the image, the music and the lyrics.
3/ You've just released the art-work of a german DVD "This Is Psychobillies - vol.1". Will you also draw the covers of the 2 other volumes?
No.. The 2nd one will be drawn by David Vincente, and I don't know who will make the 3rd.
4/ Do you know what will the volumes 2 and 3 be about?
The 2nd will be about the evolution of the psychobilly, and I havn't got any information on the last one.
5/ We all know you're very loyal to the METEORS, you might be proud to have the oppotunity to work for them. How happened your collaboration with PP Fenech?
It's pretty simple actualy. I was in his studio with my band to record 2 songs for "fenechaphobia". Then he asked me to draw its cover, and that's it! All began like that.
I had previously drawn the "10th keys screamers" logo. Working with and for the METEORS was a real pleasure. I was dreaming of this since I heard them the first time, it's great! Paul fenech is very pro, reliable and loyal. I've got a lot of admiration and a lot of respect for him.
OTMAPP !

6/ You released a mini-comic for a fanzine called "My Way". Do you plan to release a full-length comic, or a compilation?
Actualy, I released 2 mini-comics for My Way, one about tatoos, and another about the Meteors. I really enjoyed to do that, 2 pages is the perfect size for a comic, to me. Unfortunately, Chester told me he won't publish this fanzine anymore.
A real comic with 40 pages, I'd like to, but I ain't got no time. It would take too much time on my other activities, and I couldn't stop one of them for another one. As I told you, all this activities are connected.
7/ Could you list the covers you made?
fenechaphobia (PPF)
Welcome (Monster Klub)
Act II (Monster Klub)
Inside (Monster Klub)
Drink with the Devil (Monster Klub)
Psychobilly (Meteors)
these Evil Things (Meteors)
To hell (Lucky Devils)
Skarekrows are raising hell (Skarekrows)
Skamikaze 1 & 2 (japanese ska compilations)
Hellish Noise (Voodoo Devils-second pressage)
25th anniversary picture disc (Meteors)
comming soon:
The "F" Word (PPF) in collaboration with the photographer Becks.
God save the King (Elvis tribute compilation)
8/ Will you be ready to work in some environments very far from the Rock, as David Vincente did?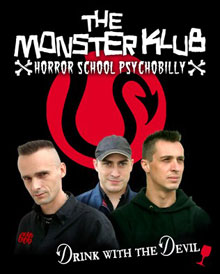 That, I do it everyday, in my day-job... I work in a studio, and I design Champagne labels. There're no monster, nor skulls... What a shame!
9/ A tribute to Elvis is to be released really soon?
Yes, it should be released at the end of august. Its name is " God Save the King", and I also drew its art-work. And we cover a song from the King, by our own way... I don't tell you its title, it will remain a surprise.
10/ Taking about the Monster Klub: you got a 5th album on the run, you just came back from a Brazilian tour... It seems everything's going well?
I am completing the writing of the last songs... Everything should be ready for october... Then, we should record in Paul Fenech new studio, in Germany. The label might be Raucous, but we'll see.
It's true, as a french band, we're happy. But we play now for 9 years! With almost 5 albums, and without any stop. We're going to play at the Speedfreak 2 festival, in Great Brittain, and I'm very happy: we're gonna play with Cockney Reject, UK Subs, Last Resort, Selecters, Batmobile, King Kurt... It will be great!
We havn't any other previous shows. We're currently waiting for propositions.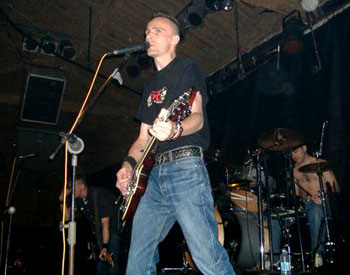 11/ How did you put up this Brazilian tour?
It was supposed to be a tour, but finally, we just played in a big festival in Sao Paulo.
We were headlining for the friday night, and on saturday, it was Demented are Go. It was great!!!!!!
The Brazilian crowd is really cool, we've been very well recieved, and they were friendly and very active. They sang our songs when we played our show, it was amazing. We are supposed to go back there, and we'd really like.
12/ What are the next plans for the Monster Klub? A live CD? un DVD?
Well, aside the 5th album, Raucous wants to release a best of... Why not... we'll see.
The DVD is actualy in stand-by. But we are going to make a new clip.
13/ And your plan as an illustrator?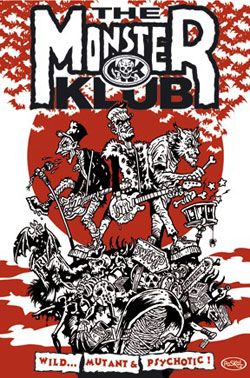 I've got a lot of contacts, here and there, but I can't speak about them, because there's nothing concreat yet. But as soon as it goes, you'll know it.
I will also exhibit my work in Amsterdam, at the end of october, with some other illustrators and photographers. It will be an exhibition about the psychobilly art. And in November, in Epernay (F), I will participate to a big comic festival with Druillet, Margerin and more than 40 drawers.
You see, I got a lot of things on the run.
Thanx PaSKaL!
Thank you, and bravo for all you do. And I hope that we'll met again each other, in Canada, at a Monster Klub concert.
Paskal
http://membres.lycos.fr/themonsterklub
http://paskal.canalblog.com
http://themonsterklub.canalblog.com