Interview: Monster Klub
May 2002
First of all, a big thank to Pascal of the MONSTER KLUB for accepting answering a few questions.
Latest News : The MONSTER KLUB has just recorded two songs at the "In Heaven" studio for Paul FENECH's forthcoming solo album "FENECHAPHOBIA".
1/ Since when does the MONSTER KLUB exist, and who are they?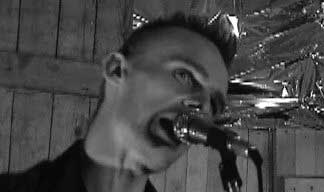 The MONSTER KLUB started in 1997 and comprises :
Pascal « la goule » artwork, screaming and guitar
Arnaud « la brute » hits the skins
Eric « la bête » bass ans screams.

2/ The movie "The Monster Klub" is rather soft. Is that where your name's from?
Yes, it is, amongst other movies involving monsters like "Monster squad" and stuff. We like Z-movies, hottot films with lowest budgets, cardboard monsters, visible strings on U.F.O., stupid martians, 50ft women, fishmen, man eating giant fishmen babies, etc.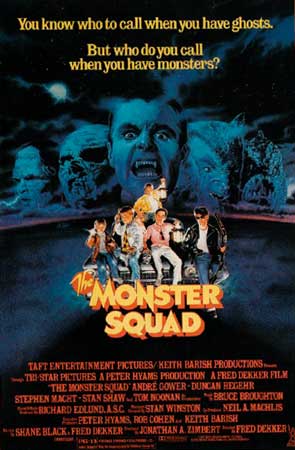 3/ You've been touring a lot lately, how many gigs in all?
We play where we are being asked to. We love playing live, meet people and have fun. Even thought it's difficult nowadays for a psychobilly band to get gigs, we try as ofen as possible to make the genre (not so tready anymore) better known.
4/ Both your albums are published by NOCO. Who's gonna release the 3rd one ? Do you have contacts with other labels?
The 3rd album will still be a NOCO, we love Fred and Hervé, the sound ingeneer, they do a good job. No reason to change even if they're not labelled "Psychobilly", we don't care.
5/ The 2nd album is very much like the first one, how's the next gonna sound like?
Well, it will sound very much like the second one ; we have a few tunes ready. Ne reason for us to change, that's the style we like.
6/ What do you think of the Psychobilly scene in France?
One can"t quite call that a scene, only four or five bands. The choice is very limited.
7/ And abroad?
So much wider for it's the rest of the world we're talking about !...
Psychobilly does know no frontiers. During festivals, the audience is international. Every time we've played abroad was a good experience, apart from one time in Germany where the crowd was not receptive.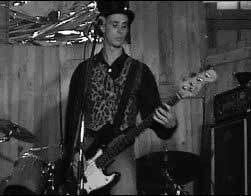 8/ Lots of frestivals are starting everywhere (Spain, USA, ...). Will we be able to see the MONSTER KLUB in those soon?
We're playing London Klubtastic next August. We played Calella last year. We've done one "Demons of the swamp" as well. We'd like how to try out the U.S.
The atmosphere in the festivals is really great, you got to meet so many people, drink a lot and see all those bands live.
9/ Musical infkuences?
Mostly Meteors and everything PPF666 does, the first Krewmen records, Demented are go and the Toy dolls (amongst many more).
Apart from these, mostly psychobilly and Punk Rock, a wide range from Mad Sin to rancid through Peter & the tttb or Torment.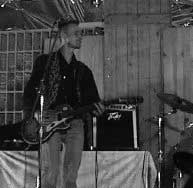 10/ Other influences?
Horror movies, comic books, Lovecraft, Satan, pin-up girls, serial killers, cannibals, voodoo (and "the 7th company"*).
* Traductor Note : a french "comic" film
11/ How are the MONSTER KLUB on stage?
Every one standing up exept for the drummer ...
12/ You just started the Monster Klub official website. Any comments?
Well, it's beautiful with plenty of naked women and millions to win with each connection (thanks Olivier Foxdad) :
http://membres.lycos.fr/themonsterklub
Don't hesitate writing us.
13/ Who's doing the record sleeves artwork?
Pascal, singer/guitarist who does it.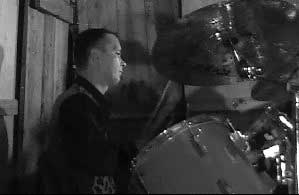 14/ One last word:
Well, thank you.
"Stay strong, stay proud & stay psycho".
15/ Extra Question : What do you guys think of your work's critics in the Psycho encyclopedia at GOPSYCHO?
Those critics, you're responsible for, as far as we're concerned, it's OK for it's rather neutral. We try to pay attention to everything said about us. If it's negative, I don't see the point, there are so few psychobilly bands, they don't need bad critics, it only damages the whole genre.
I understand people not necessary liking what we do thoughn but just don't bother us judging you, we do what we do, that's all.