Interview: Lucky Devils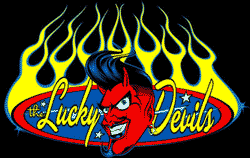 May 2003
Their 2nd album will probably be out when you read these words, and it should be a good one ! Whatever, to help you to wait, here is a presentation of this band from the north of France, who play a Psychobilly quiet close to the Neo-Rockabilly. The LUCKY DEVILS are very actifs and are making a lot of cincerts, so watch out, and don't hesitate to go and see them live!
Big Thanx to Phil for having answered to those questions.
1/ How many years of existence for the LD? Short Historic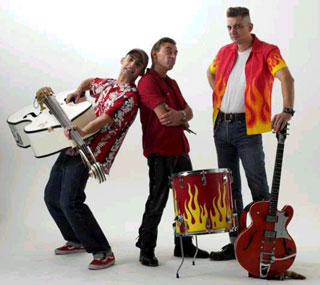 We exist since 1999, that makes 4 years.
Ricky and Philippe were playing as far as there in Mystery Train (a rockabilly band) respectively to the drums and to the guitar. As the group was existing for 1992 and was not evolving (always the same songs, the same style etc., group more known for the animation, the visual on stage than for its music), in 1998, they have decided to stop to make a group who would been really known itself for its music, playing with more energy and closer to the music that they were loving, less near of the "authentic" Rockabilly, with stout drums, a guitar a little saturate, a double-bass well loud 'n' slapy. In fact , a music without prohibition like "in the 50's, there was no double-slap" or "in the 50's, there was no saturate guitars ", "one cannot cover songs from the 70s" etc.
The definitive form of the band is done with Vivien to the double-bass, and as we wasn't finding no singer, Phil himself 's done it.
Phil's songs came naturally, in a style between Neo and Psycho, in a raw style, efficacious, but clean and melodic, with strange and melancholic backgrounds.
Texts speak about things of the everyday life of the current Rocker, about the shitting job that he must do, about the dead, the music, girls, sex and love etc., well, about a lot of things but not particularly about pink Cadillac or about blue suede shoes etc.
Phil brings the musical tram and the texts, then each one of us brings his personal touch in the elaboration of the song and the arrangements.
2 albums to our credit, concerts in Swiss, Belgium, Germany, England, France, with bands like the Nekromantix, Guanabatz etc.
Ah yes, and the first part of Dick Rivers in Lille Ahah!!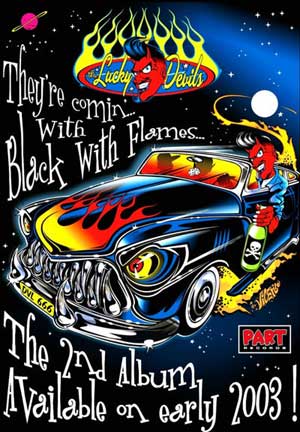 2/ Members description: Who does what?
Ricky, dark charmer :drums, backing vocal.
Vivien, nice young wolf:double-bass, do graphics on our posters, and all that is "artwork".
Phil, big bad wolf:Guitar and song, do the songs and the management.
3/ You have played in other formations?
Ricky has played in the Rock'n'Bowl, in the Herman Speed, the Tazmen, The Mystery Train etc.
Vivien has played in the Men with no Brain etc.
Phil has played in the Parkmen, the Carbon 14, the Crazy Cats, the MysteryTrain etc.
4/ HOT CHICKENS (with ex-members of MYSTERY TRAIN) have just their 1st album out. Have You listenned to it?
NO COMMENT...
5/ What do you listen to, today?
A lot of different things, from R'n'R-50's Rockabilly to more current Psycho bands like Mad Sin, Phantom Rockers, Godless Wicked Creeps, and bands from of the great period as Guana Batz, Blue Cats, Surf Rats, Batmobile etc.
Near that, we listen different things like Skatalite, Metallica, Hank Williams, Deep Purple...

6/ What are the groups of the current scene you feel close to?
Musically, we don't think to be really near of other groups (unless we don't know them !)
But we've got good relation with Monster Klub with who we have had some good times (Strawberry Vodka ?), Russ from the Death Valley Surfers, and with the Guana Batz (we were their support band and they have been really nice with us.
Have forgotten we somebody?
7/ What are your main musical influences?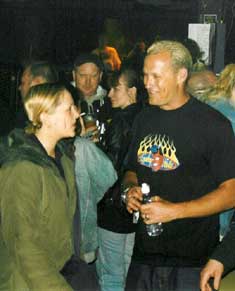 Pip (from the GUANA BATZ)
wearing the T-Shirt of the LUCKY DEVILS
Musically, without copying their style, we have been influenced by the early Stray Cats (songs like "Runaway Boys", "Rumble in Brighton"), the Quakes (mostly "Voice of America"), Reverend Horton Heat,Brian Setzer's 68 CBS (songs like "Ignition"), the Surf Rats, Archie...

8/ Other influences?
"Live nude Guitars" from Brian Setzer played in 78rpm!
9/ You're just back from a concert in London, in support of GUANA BATZ.
It seems (as the messages on your internet site show it) it was a pretty good experience?
Yes, we played very early (around 19h30) and although all the crowd wasn't in, people have liked what we have done.
We had the surprise to see Pip (the singer of Guana Batz) come to tell us that he's liked what we have done (it was mad : one of our idols who comes to say us that!), and the others members of the group 's bought us albums! They have us connected with organizers etc. well, they have been really cool!
We have already played with other mythical bands who hadn't been so nice...
Thereafter we've had some messages on our site (www theluckydevils.fr.st) from people who had seen us in London and have appreciated. In fact peoples must think that we do a small snug rockabilly, and when they do they see us, they are surprised in a good way
10/ The Lucky Devils can often be seen in congregations of cars, or motorbikes, and enough little in festivals. Don't you fear that one keeps you in a label?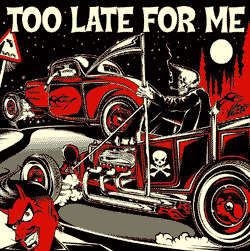 Which label ?
The label of a band who is not sectarian and who is open-minded ?
We don't do no restriction. French bands know that this is very difficult to find dates and if one confin himself to one kind of place or one public, there is chance not to play anymore. And a band who doesn't play is a dead group. Us, our pleasure is to play live.
This is clear that we're not going to play for wedding and other celebrations, but Bikers and Drivers are often Rockers in their soul or ex-Rockers, they appreciate our music, then why should we deprive them ?, and why shouldn't we play there ?
Concerning festivals, this is not so easy to play in festivals, this is the organizers who decide. Of course, we have sent extracts of the new album, press-books etc, what has made us playing in Germany, in Belgium with Nekromantix and in England with Guana Batz.
But organizers dare not necessarily take recent groups, they stake more easily on "secure values", and this is, I guess, why practically the same bands can be seen in a lot of festivals. But things begins to move for us, those who've had the idea to take us have not regretted it, our reputation is growing up, and with the 2nd album, we are persuaded that they will be convinced in our quality.
Do not hesitate, call us, there is always a way to deal!
11/ You are about to turn up your 2nd album. Who will publish it? How many songs? Where can we get it?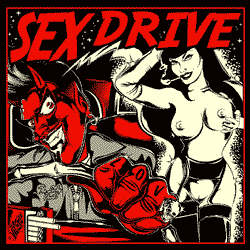 Our 2nd Album will turn up in May on Part rcds, a German label.
It will be composed of 13 titles, of which 9 songs of us and 4 covers. We have manage to get a national distribution by ADMA distribution, You should find the CD at the FNACs, Furets du Nord, Virgins stores, etc. in France and Benelux.
More, Part Rcds has an excellent network of distribution who will permit to find the album in all the country of the world by internet and distributors of the whole world (Nervous, Raucous, Rocket, etc.).
Otherwise, you can send us a mail!
12/ Relative to the first, how will it be musically?
First of all, about the sound quality, there's nothing to compare :
For 1st one, we didn't have no financial means, and we had to do it the cheapest we could. We've gone into a studio where we've recorded our 13 titles live (No way to add or correct anything, if one of us was crapping out, everybody had to start again the whole song , no way to mix or to correct something at last ).
It has been recorded in 2 days, and you imagine what that can give away to sing or to play the drums all a day along, last recorded songs were done with teeth! The voice flinches, one is less precise on solos etc.
By the way , this live sound is a proof that nothing has been changed : Nowadays in studio, everything is possible, you can all remix, make a little girl singing with the voice of a baritone, make a guitar sounding like a clarinet etc. Well, actually, you can so often hear perfect things (because they have been retouched), that when a raw recording arrives, people are not prepared and it seems not good to them.
But it's only on the stage that one can really see if the band is as
good as it seems on record.
For the 2nd album, we won a rock contest "Frog'n'Roll" where there were about 20 bands of all styles (pop music, punk, rock, reggae etc.), and the first stake was 5 days of studio in multi-tracks etc. With the experience that we had in studio, where we had to work fast, it is easy to imagine that for us, those 5 days have permitted us to finick over our 13 titles!
The sound is then due better that on the 1st, with an impression of spatial "sound", where, if you blink , you have the impression you can place each instrument, crockin' and rumblin' drums, slappin' 'n' thunder-roarin' double-bass, slicin' guitar and the voice well worked and aggressive just when it should.
The fact to be less under pressure has permitted us to be less tired, to be still better technically, the voice is perfect, solos are impeccable, one approach perfection (as much as possible without using technological cheatings!)
And, for the inlet, there is a beautifull draw that our friend David Vicente has drawn us (www.vicente-graphitec.com) ; inside, you'll find our lyrics illustrated by other draws from David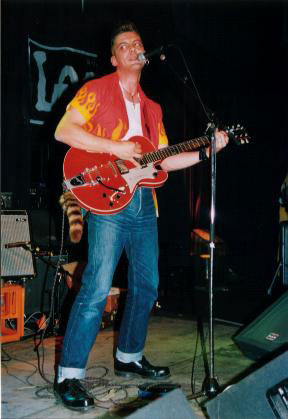 13/ On your first album, there was rather unexpected covers. What will it be in the second?
On this album, we have tried to do less covers.
We think that covering a song like the original doesn't bring anything : To the best, you will do as well as the original, what's more ?
That's why when we cover songs that are not from us, we play them in our style, converting them, so, we give an other dimension to the song, a new life. Then on this 2nd album, we wanted to cover songs from different
horizons :
There will be a Gene Vincent's cover ("I'm goin' home"), that has been a little boost up and on which there is a harmonica, an instrumental ("dragster"), a Hank Williams' cover ("My sweet love ain't around") that has been turned, from a happy song into something very lugubre), and one song from AC /DC ("Whole lotta Rosie").
14/ There will be a tour for the issue of the new album?
We don't know yet. We already play very often, we'll try to organize this in more. Whatever, those who want to see us can do it, we play regularly.
15/ The last word...
The last word … Well, we hope that this musical movement (which seems to be asleep in France, nowadays) is going to share out ; it works in Belgium, in Germany, in Holland etc. because the different kind of rockers (Teds, Psychos, Punk, Garage etc.) mix without problems and thereby , there is a lot of people in their festivals.
In France, these different publics doesn't seem to mix easily, and there is less people in concerts, and organizers dare not more launch . That's a pity … But with goodwill, everything is possible, and we know some guys in the East , the West etc. who want to make the things moving !
It is thanks to people like that and with guy as you Charly that one will manage to make reappear the music of his still hot ashes, while communicating and while making circulate the infos, while being interdependent.
Things won't move with people who say : « I won't go to this concert, I've already seen all the bands ! »
We're already not numerous, if the mouth is puffed out, if one competes with another instead of helping ourseves and if one criticizes all the times, one will not go far, it is self-destruction!

Thanx to the LUCKY DEVIL!