Interview: Komety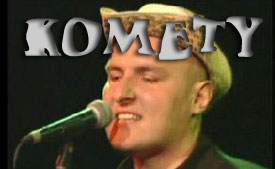 June 2003
There's a new scene who's appearing in the Est of Europe, one can hear about some brand new bands from Poland. One of the best of them is KOMETY. They play a music between Rockabilly and Psychobilly, and the band has a solid reputation. You have to discover their first album. Before seing them in our countries, here is their interview.
1) Who are you?
Komety are something of a Polish psycho/rockabilly supergroup comprising punkabilly Partia's drummer Arkus and ska-billy Skarpeta's bass-player Pleban who now slaps a double-bass in Komety and myself, Leslaw.
I write the songs, sing and play guitar.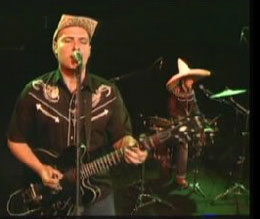 2) How long have you been playing for?
Komety have been around for a couple of years but we released our debut album just a couple of months ago.
3) Where are you from?
The drummer and I are from Warsaw's Zoliborz district. For this reason we like to describe our music as Zoli-billy. Pleban lives in the nearby town of Pultusk.
4) What are your maine musical influences?
We listen to a lot of different things. From our favorite 50's
rockabillies (Johnny Powers, Joe Clay) through some 70's and 80's bands Buzzcocks, The Cramps, The Smiths to contemporary bands such as Tiger Army or Mad Sin.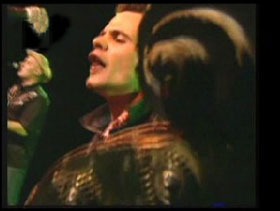 6) Can you describe your music?
I think everybody's music reflects the place it comes from. Living in Warsaw, Poland has definately shaped our music and words and helped us come up with our own sound. I'm not sure if what we play could be described as typical rockabilly or psychobilly so it's safer to call it Zolibilly. It's everything we like about rockabilly music without some of the obvious and predictable cliche's which we personally find quite boring.
7) Tell us a little more about your LP...
In Poland until recently were no rockabilly or psychobilly records. My previous band Partia was the first band to change this. We recorder 4 albums containing our own brand of punkailly/punk-swing and become popular enough to inspire other bands to experiment with rockin' music.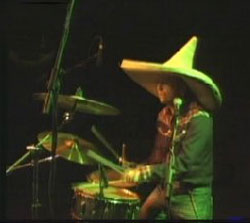 Partia's sound was closer to punk and for Komety's first album I wanted a 50's kind of sound with clean guitar, double-bass and lots of sun studio style slap-back.
In Poland there had never been a record like that, but I want Komety's second album to be yet something else. I'm always trying to experiment and come up with new ideas.
8) where people can buy it?
You can buy it at :
terra.pl http://sklep.terra.pl/opis.php?lang=&id=4119
Half of our album is in Polish, half in English
9) why have you choose to sing most of your song in Polish?
Most of our fans are Polish anyway and I'm sure that for people in other countries listening to some songs in Polish will be a completely new experience.
10) What are your lyrics about?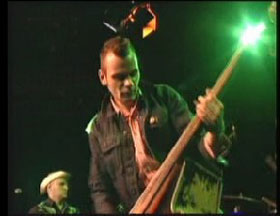 The words are a very important part of what we do. They deal with some of the darker and more depressing sides of big city life.
11) How is the rockabilly and psychobilly scene in poland?
Like I told you the scene in Poland is still quite small, but I see it developing and I find that encouraging.
12) What are the bands you are close to?
We like Mad Heads and Ot Vinta. They sometimes visit Warsaw.
13) What are the next projects of KOMETY?
We want to record the second Komety album, as soon as possible
Best regards
Arkus