Interview: Jungle Fever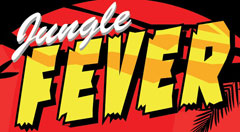 June 2011
JUNGLE FEVER's 1st album had made a very strong impression. The release of "Maja Thürüp", their 2nd album, was the perfect occasion to have a little talk with this trio, between Swampy Surf, crazy RnR, greasy Garage ane exotica Punk&Roll.
1/ JUNGLE FEVER: who does what in the band?
Ted Alonzo sings and plays the guitar
Johnny Ray abusing the drums
Skandal Dane on the bass
2 / How long does the band exist for? Could you sum up the band's history?
Jungle Fever, rock'n'roll combo, formed in 2006 in Avignon. Ted Alonzo and Johnny Ray, ex-members of the punk band BIMBO KILLERS, recorded after six months of existence the first 6 tracks demo with David, double-bassist. Soon, a man named Pastor Guy joined them on the bass, replacing David. The trio then chained concerts, tours and they recorded their first album in the antrum cryptic Kaiser Studio. The album was released in September 2008 on CD and vinyl. The The band played more and more dates with different bands of the scene, and supported Cowboys from Outerspace, les Suprêmes Dindes, Washington dead Cats or Eddie and the Hot Rods to name a few.
Dane, guitarist of The Great Smuc Zarmah orchestra, from Marseille, took the place of Guy Shepherd on bass in 2009. Jungle Fever played then in a lot of venues, cafe-concerts, and bars in France (but also Germany, Belgium, Spain) and begins to have its own audience. During a tour, Sylvain Fornaro (aka Batarterror), a brilliant multi-artist, follows the band to film them during 10 days of madness. He made 2 videos and 10 episodes of 10 minutes who transcribe the frantic atmosphere of the "Jungle Tour", on and off the stage.
In August 2010, Jungle Fever returned to the Kaiser Studio for their second album which has been released in April 2011.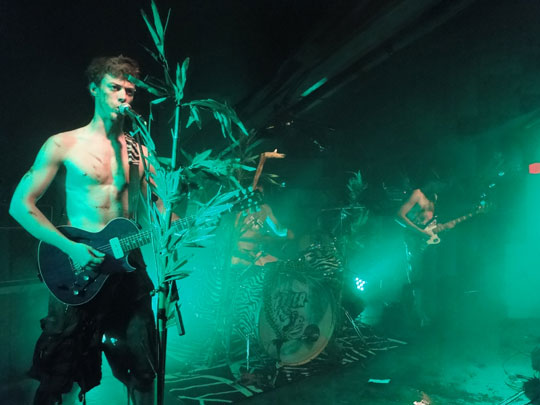 3/ Some of you have played in other formations before?
TEd Alonzo and Johnny Ray played in BIMBO KILLERS (Bloody Punk'n'Roll with bad taste) before forming JUNGLE FEVER, and Dane was a guitarist in The GREAT SMUC ZARMA ORCHESTRA (Psychobilly)
4 / How would you describe your music?
Primitive Rock!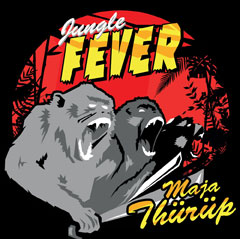 5/ You've just launched your 2nd album. What can you tell us about it?
It is very different from the first, although still recorded with the Kaiser, with a pretty close sound, the songs are more mature, and the new bassist has also brought a darker side to the tracks. This time the lyrics were written by different people, most of them weren't in the band, most of them weren't even in the Rock background. We also incorporated 2 covers, "Red Monkey" from thee MILKSHAKES, and "Vent Divin" from WARUM JOE. Labels are the same, except for Be Fast, plus this time Mass Prod from Brittany, and Strychknine Prod.
6 / You have chosen to sing mainly in French (and it works perfectly!). Was it natural for you?
Yes, it somehow was the beginning point: to make Rock sounding good in French, to say what we had to say, without singing "Walking-Down-the-Street-motherfuckin'baby" on all the tracks, and to piss off a little bit all the fanatics who believe that rock'n'roll can only be sung in English. The first album of La Souris Déglinguée, the first Wampas and the Rats, among others, were direct influences, for a long time, so it came naturally, as well as the writing.
7 / What are your lyrics about?
It is as varied as the people who have spun these texts! Basically, the title track of the album is based on a novel by Charles Bukowski, a dark tale of a perverse journalist kidnapped by a cannibal tribe and its leader Maja thurup with his excessive sexual needs. The rest is sometimes a little abstract, about wild love ("Cannibal Lady", "Frenetik transe", "Geraldine"), sticky days ("Toxique"), Gothic poetry ("Sur Ta Tombe"), plus some swampy instrumental Surf ...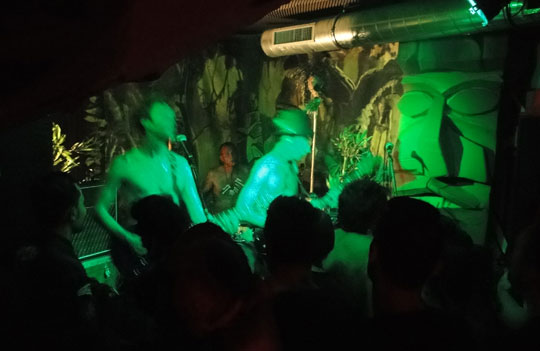 8/ What are the last 5 albums you bought?
Zone Libre VS Casey & B. James "Les contes du chaos"
Grinderman "II"
Powerlsolo "Lemon Half Moon"
Ty Segall
Hipbone Slim
9 / What are your main musical influences? The bands that inspired you the most?
Cramps, Wampas, Milshakes, Jello Biafra, Dick Dale, Gun Club, Bad Brains, Monsters, Messer Chups, Starshooter, Ludwig Von 88, Meteors, Les Rats, OTH, Dr Feelgood, John Spencer... ... and many others.
10 / How many concerts? What was the most memorable ?
About 150 so far. A lot of them were memorable, hard to pick one up! The last one, 2 days ago in Rennes was excellent then in Berlin, Vittoria Gasteiz, anyway...
11 / What are the projects of Jungle Fever?
Tour, tour, tour...
12 / The last word ...
Thank you to BATARTERROR for his decoration sets and his classy videos!
See ya!