Interview: Hellbillys

June 2004
Americans are landing once again?
Kings of the Horror-Psycho, the HELBILLY'S have just finished their European tour (with a few dates in France). Several records of the band should be released in a few weeks (including the so awaited "BLOOD TRILOGY vol.2"). Well, an occasion to me of knowin' a little more...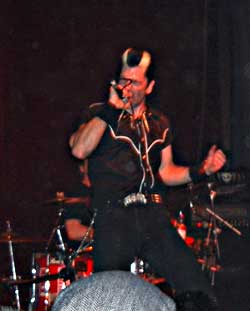 1) How long does The HELLBILLYS exist for?
The hellbillys have been together since 1989.
2) Do you really come from Hell?
Yes we come from the burning seething depths of the firey hole.
3) You seem to have a large discography (and it's sometimes hard to find all you Records in Europe). Could you list all your LP, and tell us a few words about each of them?
Well the first 7" is "Rythum and Ooze" it was pressed in 1990. On
Dionysus records
Then "knocked up and Gun Crazy" 7" released in 1991 on Rage-on records.
Then "It's Alive" 7" released 1n 1991 on Bottlecap records.
Our First lp "Land of Demons" released in 1992 on Planet records japan. Will be re-released on Pure and Proud records later this year.
Our next 7" was "Evil" on Dionysus records, released in 1993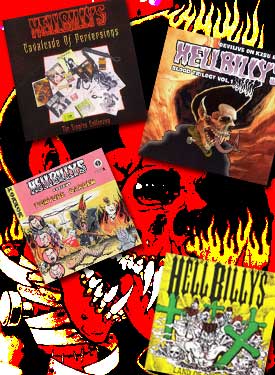 Our second lp "Torture Garden" was released in 1995 on radical records then re-released on Wing-nut records in 1998.
Our lp "Cavalcade of Perversions" was released in 1999 on Wing-nut records was a collection of our 7" singles and some unreleased stuff as well as a few live tracks.
Then came "Blood Trilogy Vol.I "which was released in 2001. It sold out in 1 month and was not repressed until 2003 on Pure and Proud Records in france.
We released a live cd called "Devilive" in 2003 only available at our live shows.
We just released "Blood Trilogy Vol.II" this month on Splitseven Records
4) Heavy-Psycho? Hard-billy? ...? How could you describe your music?
More Hell than Billy..
5) What are your main musical influences?
We have NO influences. We do and play what we invent.
6) You've just done a mini-tour in Europe. How was the Audience?
They were great and bought alot of merchandise. I think the French fans were best.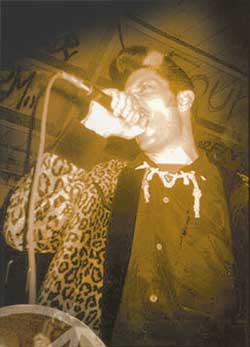 7) Some of the membres of the HELLBILLYS play in a side-project, called PLAN 9 which is supposed to be close to the early MISFITS. Could you tell us more about it?
I (scary) Play in plan 9 . You can go to www.plan9-hq for more info. We just released a cd/lp called "8 Hits from Hell" on Pure and Proud records.
From what i saw in Europe people there love iot. It is not released in the USA yet. I started the band kind of as a joke. But our first show sold out in 30 minutes and people like James Hetfield and kirk Hammett from Metallica, Les Claypool from Primus and jim Martin from Faith no More all came out to see us and they loved it. We were asked many times to play again so we decided to go ahead and play more. We only do the eraly Danzig era Misfits as well as our own original songs.
We are planning a European tour now for the winter time.
8) What are your five favorite songs?
"Satans Rejects" by

Demented are Go

"Where will it go" by

Mad Sin

"Astro Zombies" by the

Misfits

"Mother" by

Danzig

"The Witch" by

Hellbats

.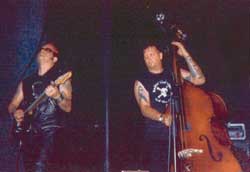 9) What are the current bands you like?
I like Danzig, Hellbats, Mad Mongols, Nekromantix, Asmoedeus, Thee Merry Widows.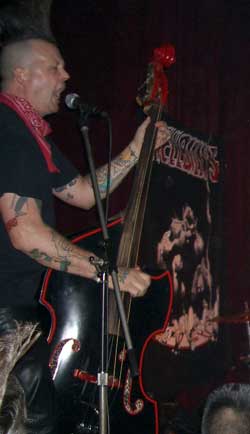 10) More generally, what do you think about the current psychobilly scene?
In the USA it is growing here in California. Iike the Psycho scene in
Europe the people REALLY love the music and they try to live the way of life. I hope it grows more in the USA. We need it here. the music here sux.
11) What about your web-psychobilly-radio?
It was invented by Rockn' Rick our Bass player. he wanted to showcase Psychobilly bands to people who may not be able to buy records in their local stores and it also serves as a way to showcase new bands and old ones too.
12) What are the next projects of the HELLBILLYS?
I think we just want to tour more to promote the new Blood rilogy Vol.II cd.
I think that is our next project.
13) Last Words?
Yes. I want everyone to go to(*):
Please support psycho. especially the new bands