Interview: Gutter Demons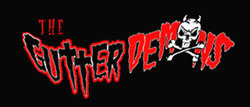 May 2003
This is a new Canadian band, from Montreal, the GUTTER DEMONS plays an actual Psychobilly, quiet violent without being too much noisy. They have only put down 6 tracks on a self-producted CD, but it's very promising. Now, the presentations are made ...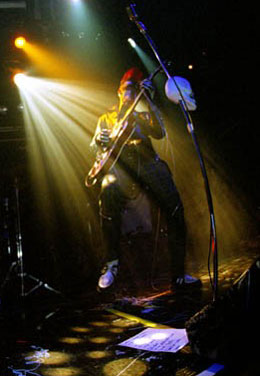 1) How long have you been playing?
The band exists for 1 year, but we used to play together (Rosekill) with a girl who was singing, and a guitarist more. We were going away from what we wanted to do, so the GUTTER DEMONS arrived naturally, during the spring 2002. Since that, we play each time we can, and the public reaction has always been positiv. So positiv that the Canadian ice-barrier is melting. Ouffff.
2/ Description of the band Membres : Who does what?
Johnny Lee Toxic : perversif growls and guitars
Flipper : gutter bass and psychotrops
Custom Pat : dead skins and howls
When Johnny isn't occupied scraping the bottom of his pockets for a last beer, he's lost in his Gore univers, psychedelic, sci-fi ...
When Pat isn't occupied financing Johnny's last beer, he parades with his Belvedere 61', while flipper smoke a big one and despears to see his Matchless 1950 functioning some day (dirty english bikes !!!)
3/ What are you listening to, today?
Obviously, classic Psycho from the 80's till now. But also 50's Rockabilily, and neo, street punk, country, ska ... This times, when we're in the van, there's a preference for GODLESS WICKED CREEPS and MAD SIN.
4/ How do you describe your music?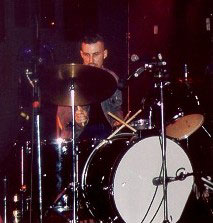 Like every band we'd like to say that we don't look like another band, but GUTTER DEMONS' sound is an hybrid between the early 80's psycho, and the harder sound of this last years. The billy is something that we try to keep present in our music. Some bands forsake it, and it is just not the same anymore ...
5/ We, in Europe, have the impression that something's happenning in the East-Canada, with some new bands like you or The Brain. How is the Canadian psycho/Rockab scene?
Psychobilly is still very unknonw in the east of Canada. It's perharps better now, with bands like TIGER ARMY and NEKROMANTIX on the american label Hellcat Rcds, but all is still to be made. For exemple, the DEADCATS, who are based on the west coast of the Canada, are 4000 miles far away from Montreal ... So, it's not obvious to build a concreate and solid scene ! The scene is much more important on the west coast (California, seattle, Vancouver).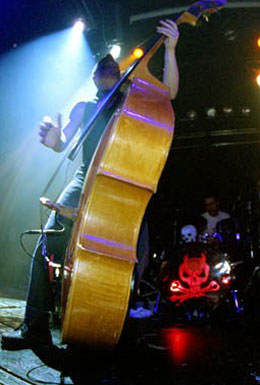 6/ Do You have contacts with the American scene?
Thanks to our delicious and sexy top manager Daly, our name circulates in the place, and we could have made some concerts in the USA (Boston, NYC) with PHOTON TORPEDOES, SPEED CRAZY,... And each times, the party was going so wild !
When the HANGMEN made their Canadian tour, we play some dates with them, and we've keept a good contact with the fellows.
7/ What are your main musical influences?
To Flipper, who comes more from the rockabilly than from the Punk, the M3T3ORS have definitely changed his life. Johnny, as for him, likes the MISFITS and street punk. While Pat came from punk new school and is now in the country music (HANK WILLIAMS, JOHNNY HORTON) and 5O's Rock'n'roll. All this sonorities are incorporated to get the DEMONS' sound.
8) Other Influences?
Garou and Céline Dion :-) Comic books, B-movies, topless sci-fi are most of time, the depart-point of tortured and bad taste lyrics from Johnny Lee Toxic.
9/ You've made a miniCD. How can we get it in Europe?
In this moment, the only way to get it is our website. http://gutterdemons.tripod.com/. We made 300 CD, who are almost all sold. Special message to the collectors : they are numbered.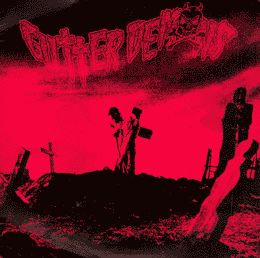 10/ Have you got a LP project?
The band should go into a studio this summer, to record a new CD with 13 tracks. Nothing concreat with any label for the moment. We perharps going to stay independant and keep the rights of our own songs, unless we get an honest deal. The important point, to us, is to be well distributed in North America, as well as in Europe.
11/ The Last Word ...
We thank you for the interview !
Look out : custom Pat, who is also our website-designer, is updating it with new photos, new merchandising page (t-shirts, demo), etc...
If we could get the occasion, we'de like to come and play in Europe, but, before that, Flipper and Daly will be in Callela for the 11th psycho meeting.

GO PSYCHO !!!