Interview: Frantic Vermin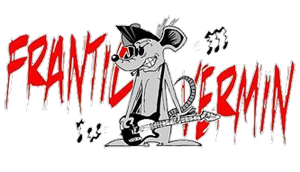 Juin 2015
Psycho Attack Over Holland!
What a great band! FRANTIC VERMIN plays on the tiny borderline between melodic Psychobilly and fast Rockabilly. They've just launched a new mini-CD, what makes a good oportunity to (re)discover them!

1/ Where do you come from? How have you been playing together?
We come from different parts of the country (Holland), but basically the north and the east, far away from the big cities (although there really is no such thing as "far away" in a tiny little country like ours). BertJan and Marcel have been playing together for way over 30 years now. Rodney and Arjan have played together a few times but that band never got off the ground, really. In this line up we've been playing together for about 3 years now.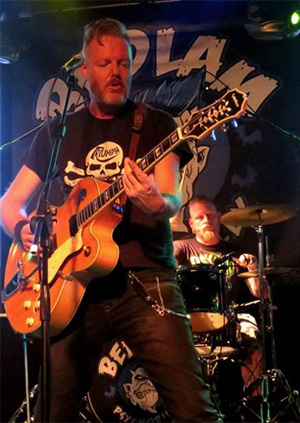 2/ The band exists for many years now. Could you sum up your history?
FRANTIC VERMIN was formed in 1982 in Heerenveen (NL) by Bert Jan, Marcel, Norbert & Frank as a rockabillyband called The ALLEY CATS This was during a time when every band started to call themselves "....Cats" so the name was soon dropped and changed into FRANTIC VERMIN. During the early 80-s FRANTIC VERMIN developed from rockabilly to psychobilly, without betraying their rockabily roots. In 1986 they appeared on the Cool Cat Go Ape LP and were supporting bands like FRENZY and BATMOBILE. However also in 1986 3 of the boys were drafted for their militairy service. And that was basically the end of the original band. There was a line-up change, Frank who didn't need to serve, left to form the band CRACKLE RATTLE BASH, he was replaced by a guy called Marko but come 1988 FRANTIC VERMIN was over and done with.
FFWD to 2009. A tape with 2-track "live-in-the-practiceroom" recordings emerged from an old box on a loft. It was very well received by the people who had a listen to the songs. Fuelled by this enthousiasm the boys started to put the band back together again. In Feb. 2010, FRANTIC VERMIN set foot in to the rehearsalroom again for the first time in 20 years, with a slight change in the original line up with Arjan Wiersma as guitarist. In September 2010 the boys played in England for the first time at the "Bedlam Breakout #10 Weekender" and where asked back to play in the next edition "Bedlam Breakout #11 weekender" in March 2011 as well. In march 2011 the recorded a 5 track Demo CD, which was received pretty well by Rockin' and Non-Rockin' audiences alike. Highlights for 2011 where the gigs at Bedlam Breakout, the US-Cars and bikers meeting and gigs in Germany and Belgium.
In April 2012 we entered the studio 'Landscape' in Gauw to record our first full Album in our 30 years existence. Being our first record it took a long time to get the sound right so it happend that in July 2013 while finaly finalizing and working towards the end mix we all were suddenly shocked by the news that Norbert (the drummer) died of a massive heartattack while on Holidays in Bali. After this sad news and the fact we played a few songs on Norbert's Memorial we decided to pick things up with the band with Rodney on drums. Rodney was already part of the band from 2011 on as roadie, soundman, mental coach and fill-in drummer for Norbert on the occassion that Norbert was absent on one of his frequent holidays during 2012 and 2013. Norbert lived the last years of his live to the max, enjoying all of it till his unsuspected end.
December 2013, saw the birth of the first CD and was dedicated and named in honour of Norbert. During the last year we wrote some songs, played them live over and over again and recorded them live-in-the-studio last March. These are the tracks that appear on Right Now!!, our new 6-track EP.
Motel Bates - Frantic Vermin
3/ Who plays what? Could you describe each members of the bands?
BertJan on vocals and guitar
Marcel on vocals and dawghouse bass
Rodney on drums
Arjan on guitar
4/ Have you played a lot of shows?
That depends on you defenition of "a lot". There's a list on our website with all the gigs we've done so far since FV reformed in 2010.
Then there's of course the period between '82 and the early 90s. I'm affraid we have no idea how many gigs FV did during that time.
5/ What are your main influences?
BertJan: Well, there isn't directly a main influence... When I was a little kid I loved "Rock Around the Clock" by BILL HALEY.. I think probably because it's almost a nursery Rhyme..
Then I heard ELVIS... And then I found in the attic an old tape recorder when I was about ten, and there were some old rock and roll songs on it. One of them was GENE VINCENT and The BLUE CAPS, "Be Bop A Lula"... With CLIFF GALLOP on Guitar!! Loved it so much. And it took me another two years to find out which singer and band it was (bought a compilation record with that song on it..) In those days i started to buy (when i was 12,13,14...) albums of JOHNNY BURNETTE, CHUCK BERRY, EDDIE COCHRAN, GENE VINCENT, ELVIS and so on... all those old rockers. And then you grow older, you hear CRAZY CAVAN, BUZZ and The FLYERS, The ZANTEES, ROBERT GORDON and LiINK WRAY... And compilation albums bij "Rockin' Ronny Weiser" and also the STRAY CATS.
And then I bought my first record of the METEORS "In Heaven", in 1981, it blew me away again.. like the first time I heard GENE VINCENT...
So Rockabilly, Rock and Roll, Surf Music, Rythm and Blues even Irish Folk and Zydeco and Cajun influenced me.... As long if it's honest and raw, or really meant!!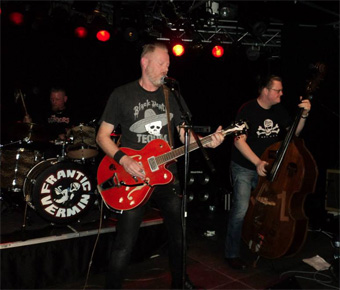 Marcel: As a child the first album I bought after getting a record player was 'Help!' by the Beatles, after that I first got all the other records of them. But as for my playing they do not influecend me that much, on Rockabilly I totally dig JOHNNY BURNETTE and the ROCK&ROLL TRIO, GENE VINCENT and The BLUE CAPS, BILL HALEY and the COMETS for the awesome bass slapping. Later on, RESTLESS, STRAY CATS, POLECATS, etc.
The first record that changed me totally over to Psycho, was "In Heaven" by the METEORS, the next thing that shocked my was the EP's by BATMOBILE and ARCHIE, never knew something that good could come out of our little country. We already had a loads of UK bands coming over due to Rockhouse Records. Also the other early Psycho bands, RICOCHETS, the SHARKS, GUANA BATZ. As how Slappin' Bass should sound recorded I think The DELTA did a good job on 'Boogie Disease', deep bass and transparant slap.
Arjan: Thanks to my oldest sister I grew up with The BEATLES, BLONDIE (the Plastic Letters LP), BOWIE, NINA HAGEN, The WHO. When she went to live on her own I made sure I brought a load of cassettes each time I visited her and taped half her LP collection. When I was about 16 I was heavily into punk. During that time I got to know some psychobillys who introduced me to psychobilly music. I immediately thought: this is it! The power and punch of punk, but better played and without the boring political doctrine. Psychobilly opened the door for me to 60s surf music, skiffle... the last 15 years or so I really started to dig into the history of pop and rock and which is a lot of fun because you get to know soooo many great records and artists. One very important thing when it comes to music: NEVER limit yourself or let other people limit you! Another big influence on FV is that none of us is a trend-hopper. We don't follow every fashion whenever a new one appears. I think that the area where we come from, where we live, has a lot to do with that.
Rodney: Rockabilly in general from the fifties till nowdays! Bandwise it's mainly STRAY CATS, The CRAMPS, BATMOBILE, The METEORS, P. PAUL FENECH, The LEGENDARY RAW DEAL and the SURFING DEAD..
6/ What are the band you would like to play with?
BertJan: Well, FRANTIC VERMIN obviously!! Or do you mean what are the bands you like to play together with on a festival or gig? Because we played together with the all great bands already, and even with the METEORS. The longest playing Psychobilly Band in the world...
But even with less known bands it's always fun to play, as long as they are honest and true to the music! And even with non Rockabilly/Psychobilly/Rock&roll bands it's sometimes fun to play because it gives you a reason to distinguish yourself. Show the people how honest rock and roll can sound!!
Marcel: Like my brother already said, we played with most of them already in the scene. But any Band that shares the beer in the dressing room and is a good laugh, I'm happy to share any festival with them.
Arjan: I totally aggree with Marcel.
Rodney: Read question 6...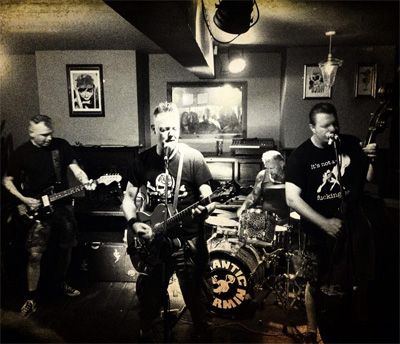 7/ You havent recorded anything between the 2 songs of "COOL CAT GO APE" (1986) and your 2013 CD "Schmutzzz"? Why aren't there more recordings?
Marcel: Well there are a few more recordings, but not on CD or LP... We made a cassette tape... But I found it back years later, and it wasn't really good sounding anymore... Although I put one song of that Cassette on Youtube; that was the first recording of "The Underground"... We recorded a lot during rehearsel though, but three of us had to join the Army in 1986. It didn't leave much time to play at all. We tried to pick up the pieces after Service... but after 1988 the band dismantled. And we weren't smart enough to find us a recording company anyway or they weren't smart enough to find us. In Holland there wasn't much, and we heard a lot about being ripped of by one company... And those where the days without Internet or computers, remember? Besides in those days you had to live in one of the bigger cities or close by to be recorded, being from somewhere up North in the Netherlands called Friesland no Record Company could be arsed.
8/ Your last words...
BertJan: Look mum, I'm being interviewed ;-)!!!
Or.. I'll Be Back!! Or.. "OMG... there's a Gremlin on the wing, ripping off the engine".. Or.. "the Truth is out there!!" Or.. "hope to see you soon at one of the gigs, AND BUY THE CD!!!"
Pick one!!
Marcel: Aaargghhhh?!!!
Arjan: Thank you for this interview. Much appreciated. And buy the CD folks! Even more appreciated ;-)
Rodney: Kizmiaz