Interview: Frantic Flintstones

March 2004
A great album - which wasn't expected anymore ("Champagne 4 All", out onCrazy Love Rcds), Chuck is at his top, some band members have quit, a world tour is nearly to start... Well, that makes a lot of good reasons to ask a few questions to the FRANTIC FLINTSTONES.
Thanx to Rockin'Reject who answered.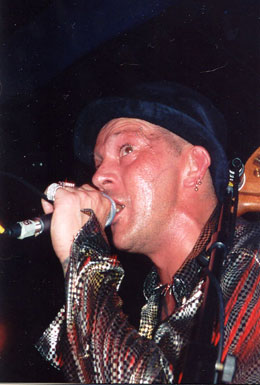 1/ With this new album, the FF seems to join again with their wildest roots.
What can you tell us 'bout it??
Well, the idea came up even some years ago. We love Rockabilly, FF-Billy and much more. We did loads of gigs the last years and collected some really interesting and strange impressions. That feelings went all in this album. And the product is typical wild druggish FF-Tripabilly... .
2/ It has been recorded at Alan Wilson's Western Star Studio. How was the work with him?
Alan is a good friend of us and he's highly professional. He knows us since many years and that's really necessary. It's not always easy to muh whizz us, I think...hehe. But Alan knows how to muh the muh and so we muhed a fuckin great Muh!
3/ Your new album is distributed by Crazy Love Records, and you now live in Germany. Does it mean that there's no more Psychobilly in UK?
There's even more Psychobilly on the moon than in UK. We enjoy it always to play in UK but the scene (oh, which scene???) - so these some last Retards should better come to the rest of the world to see where the muh is muhin. It's a pity but we can't change it anyway.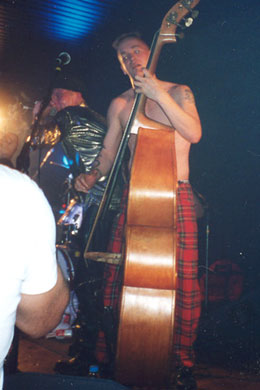 4/ More generally, what do you think about the current psychobilly scene?
Hohey, this is a good question!!! 20 - 15 years ago - Psychos were intolerant psychotic and agressive, 5-10 years ago - Psychos were intolerant. psychotic but not agressive, since 2 years ago - Psychos are tolerant, not agressive, nice, handsome, friendly and they love all styles of music and generally everything and they are open minded and social..... .
I prefer the time 5-10 years ago. Rock and Roll is tops anyway. But most fun: A stupid flat head, stupid clothings, stupid Psychobilly and stupid answers to stupid questions.Or: A greasy hair style and loads of petty coats! Rockabilly-Psychobilly...it's so simple... .
5/ Some members (Loïc & Thomas) have left the band since the recordings of "CHAMPAGNE 4 ALL". Why did they leave? How are your relationship today?
They left after the recordings.
6/ What is the current line-up of the FF?
That's top secret! But Chuck is still singin' and muhin around on stage and I'm still muhin the drums! That's 50% of the top secret secret I told you now! Isn't it great!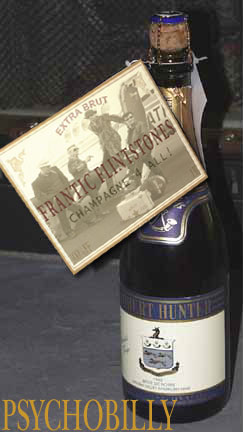 7/ What are your main musical influences?
It's more a question of LIFE influences. My grand dad was a drummer in the 30's and 40's, my daddy played piano with Jimmy Jones and the Starfires and Dave Berry & the Ghosts and was on tour with Screaming Lord Sutch. So what the hell must be the product of these rockin maniacs???
8/ The "World domination-Champagne 4 all ! - Tour" is supposed to start in March. Where will you play?
Seems to be an old question. We have march and we are still not on tour.... .
But wait and see.... We will be everywhere!!! Just muh our website!
9/ The FF might have done hundreds of concerts. What is your best live memory?
Memory? What is that? After hundreds of gigs there is no more memory.
I think we did everything what Muhers have to do: Destroying hotel rooms, puking everywhere, poppin girls everywhere, teasing everybody, shittin & pissin everywhere. Druggin 'everywhere....etc. etc. It's sooooo boring.......hehehe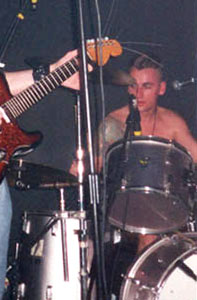 10/ Last Words?
Do ya know the muh??? I'm quiet sure you don't! So come up and muh the FF - muh next time in your town! We gonna dominate the world - and you are part of it!!
Champagne for all!!!
11/ Additionnal Question : What means "muh"???
Oh, here comes the question about the muh. That's good. So, the muh is a muh word. It means that you can muh it everywhere and muh. If you forget to muh a muh just muh this muh and you will see that it's much easier to muh with the muh than trying to muh the muh muh. Undermuh? Keep on muhin', muh our album and get muhed!
Hicka 'n' Cheers!
Yours fav. FF'