Interview: Dead Valdez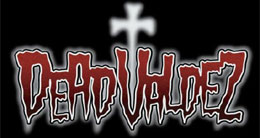 April 2010
New on the scene, DEAD VALDEZ just launched their 1st CD: Hi-quality Psychobilly mixed with Horror Rock; a female singer, very good instrumentation and original melodies, all that with a really welll-done artwork!!
Anyway, I didnt need more, after 2 years off, to get back to work on some new interviews, because I really wanted to introduce them to you.
During your reading this lines, you should go on their MySpace and listen to the track "NIGHT OF THE LIVING DEAD".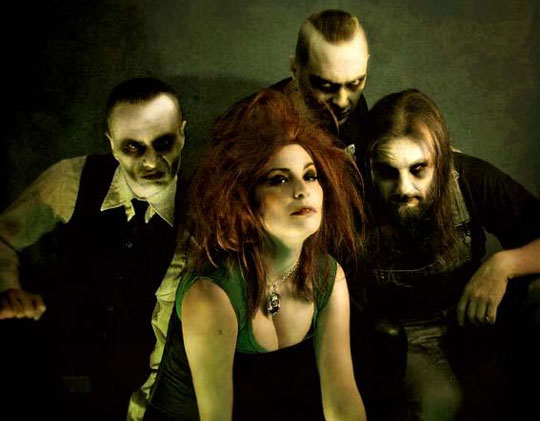 1/ Could you introduce the members of the band? Who's who?
So, there is Zombi on drums,
Kaiser Lopez on guitar and on bass,
Mr Greazz on doublebass and on guitar,
and Daisy sings.
2/ How long does the band exist for? A lotta shows?
The band exists since 2006, but its current and definitiv line-up has been found in April 2009, after several experimentaions.
The oncoming of the doublebass really established the new style of DEAD VALDEZ: between Psychobilly, Punk and Horror Rock.
3/ What are your main influences?
Psychobilly, Punk Rock, Surf, Garage and Metal.
4/ What are DEAD VALDEZ's main caracteristics?
Well, DEAD VALDEZ, it is : a guitarist on the doublebass, a metal guitarist on the drums, a punk-rock guitarist on the guitar and on the bass and a schotzophren singer.
5/ Where does the name of the band come from?
DEAD comes from "DeadBolt", the Surf-Gothabilly band from San Diego, and VALDEZ comes from a song from this same band.
THANX DEADBOLT !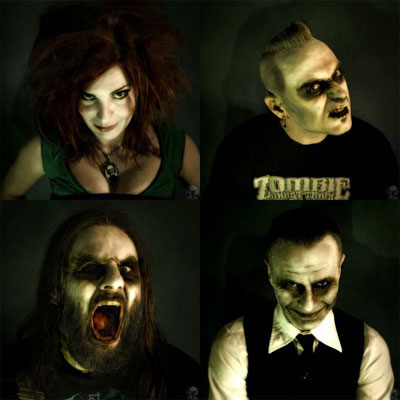 6/ What are the 5 bands you would really like to open for?
We'd love to play again with Mad Sin, otherwise DeadBolt (of course), The Damned, Rob Zombie and also Hank III and the Damn Band.
7/ What are your lyrics about?
Zombies, sex with zombies, B-movies with zombies and sex....
8/ There seems to be a lot of new bands in France. How's the scene there, according to you. And what are the band you're close with?
In the South of France, nothing really happens, actualy, we're a little isolated.
There should be a big Psychobilly festival in France. So the bands could meet each other more easily, and then all the people could be in a place that belongs to them.
9/ What are the plan of the band?
We're on the bill of Bourges' Cosmic Trip Festival (in France), in May, an Eastern Europe tour is also scheduled in the end of the year, and other wise, we're starting to work on our 2nd album, and we're lookin for a label and distribution.
10/ The last words?

Well, buy the album! Come to the shows! And we'd love to come and play in North America (but in Summer!!)