Interview: Clockwork Psycho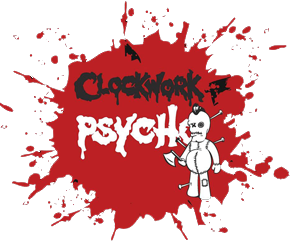 March 2014
This band has been playing shows after shows for the 3 last years, spreading its powefull and melodic Punkabilly all over Europe.
One can see their name on the posters of some of the biggest festivals (Bedlam, Psychobilly Earthquake, ...) and, no doubt, it's just the beginning: CLOCKWORK PSYCHO are Go!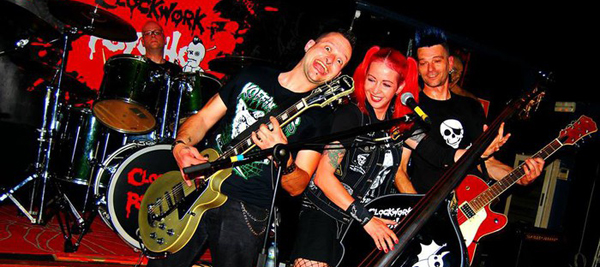 1/ Where are you from? How is the scene around there?
We are from Slovenia. Tiny country in Europe with only 2 milion population. The scene is therefore small, but there are still some great (neo…, rocka…, psycho…) billy bands (8bomb, The Other Ones, Cyphre Louis etc..).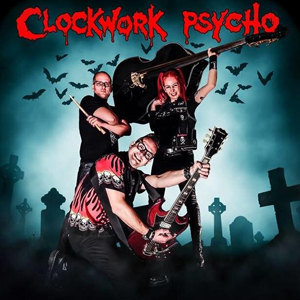 2/ Who's who: can you describe the members of the band?
Lilith is a bossy lady who can't accept no for an answer and she is the lead singer and slaps the bass, Erž is our funny, jumpy and confused rhythm guitarist and back vocalist, Lou is a grumpy old bastard and our solo guitarist and back vocalist and Mare is our crazy overthinking, philosophizing, aura reading drummer.
3/ What are your main influences?
Our influences and our background vary a lot... From Psychobilly, Punk, HC, Industrial, Metal... If music gives us a drive and energy we like it.
4/ How would you describe your music?
Our music is heavy , speedy , powerful mixture of punk and psycho...
5/ How long have you been plaing for? How many shows?
We started in November 2011 and we played close to 100 shows till now.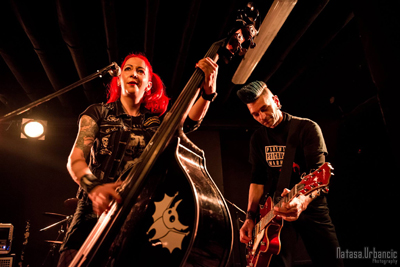 6/ What's your best memory on tour?
Lots of amazing memories…from playing in small seemingly deserted village and surprisingly filling the venue anyway, partying hard, playing in a drag queen bar with one toilet behind the stage, eating delicious local food, meeting new friends, seeing some great new bands.
7/ And the worst?
Sleeping in dirty cockroach infested places, paying too much for gasoline, listening to Erž making sounds for any kind of surrounding movements.
8/ You 1st LP has been released a few month ago. What can you say about it?
It is our first and It partially represents what we were capable to produce when we recorded it. We worked with great producers (mastering was done by Rene (from the Brains)). We signed with 2 amazing labels – Fury (release) and Nervous records (publishing). We learned a lot and we are sure, that second will be much better – in all aspects. We are planning to record a new album by the end of this year and hopefully will be released in beginning of 2016.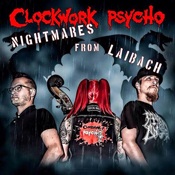 9/ Where can people find it?
People can buy it via downloading sites (Amazon etc), via Fury Records or directly from us.
10/ What are planning for the next month?
Next month we'll make new songs, play some local gigs in Slovenia and Croatia and we'll go on our 2 weeks tour across Czech, Poland, Estonia, Finland, Sweden and Germany.
11/ Last Words!
Clockwork Psycho will tour, will record new stuff and will party hard with all you psychos!!
Stay Sick, Stay psycho!