Interview: CREEPSHOW

Oct. 2006
With the release of their 1st CD, "Sell Your Soul", and their personal Horror-Billy style, The CREEPSHOW actually brings something fresh and new in the scene.
European and American crowds should be able to appreciate by themselves really soon.
Thanx to SickBoy for his answers.

1/ The CREEPSHOW: who does what in the band?
Hellcat: guitar/lead vocals
Sickboy: doublebass/vocals
Reverend McGinty: keys/vocals
Matt Pomade: drums
2/ Where do you come from, and how long does the band exist for?
We are from the Toronto area: Matt is from Toronto, and the rest or us live just outside, in a town called Burlington (Ontario, Canada).
We have been a band for just under 2 years... It'll be 2 years at the end of march.
3/ How'd you describe your music?
We pretty much take elements of rockabilly, punk, psychobilly, and ska... and smash them all together. Not sure what you would label it... So far people have been calling it horrorbilly...
4/ What are your feelings about the Canadian rockin'/psychobilly scene?
The Canadian scene is amazing!! Although it is still very small in most places, it keeps growing. Each time we tour across Canada, more and more people are coming out to the shows... The Canadian scene is also very supportive of own bands!
5/ You've just released a (brilliant) debut CD, "Sell Your Soul". What can you tell about it?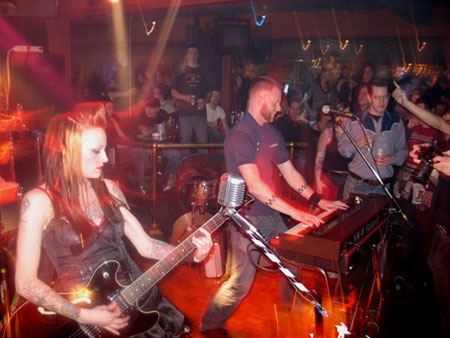 We worked very hard on this album. We wanted to make sure that all the songs sounded different from eachother... Too many bands these days have albums that seem like 1 long song...
We also tried really hard to make every song just ass good as the next one, with no filler songs.
We are really happy with the way it turned out!
6/ This album has been released on Stereo Dynamite Rcds. They also released the last MATADORS album. What else have they done?
Stereodynamite is a brand new label. It is run by Toronto metal god Adam "doom" sewell. They have done a great job with our record and are great people to work with!
They Also released a CD from a band called the VIDEO DEAD (like SICK OF IT ALL / MISFITS / KIF DYNAMITE) and a metalcore band called ARISE AND RUIN.
Checkout www.stereodynamite.com
7/ What are your lyrics about?
Most of our lyrics are made up horror stories, some are based on personal events... There's even a love song or 2 on there...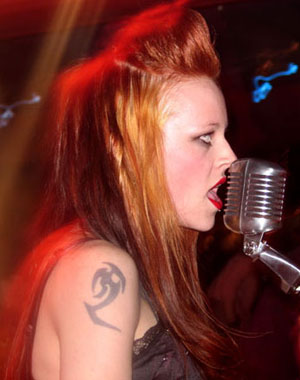 8/ You have sometimes been compared to HORROR POPS. How do yo feel about that?
We knew that we were gonna get that sooner or later... It's better than being compared to NICKLEBACK!
I don't think we sound very much alike except the fact that we both have female vocals and an upright bass...
9/ What are your main musical influences?
We all have different and very broad tastes in music...
Ginty brings his ska roots on the keyboards, Matt is a punk guy: he likes the fast stuff, Hellcat is really into the oldies, and I'm all over the map.
10/ Do you plan to play outside the Canada? An European tour is on the run?
Yes! We are heading to Europe at the end of October for just over a week. We're playing in Germany, France, England, Switzerland, and a festival in Amsterdam (with the QUAKES!!!)...
We also have some California dates at the end of November that we are really excited about!!!
They are all up at our MySpace
11/ What are the other plans of the band?
Crazy Love records in Germany is releasing the vinyl version of "Sell Your Soul" on 4 different colors of vinyl!! We can't wait to get our hands on that!
We also plan to hit Europe again next may!
12/ Last Words...
Come see us play live when we hit a city near you! And checkout www.thecreepshow.ca for updates!!!