Interview: Cheeky Rascals
Novembre 2003
"Different Eyes" on the actual Psycho/Rockin' scene: The CHEEKY RASCALS is a brand new band from Germany, and they've got their first LP out on Crazy Love Rcds. ROCK'N'ROLL SURVIVOR. Fresh & interesting.
Let's see what they got to say...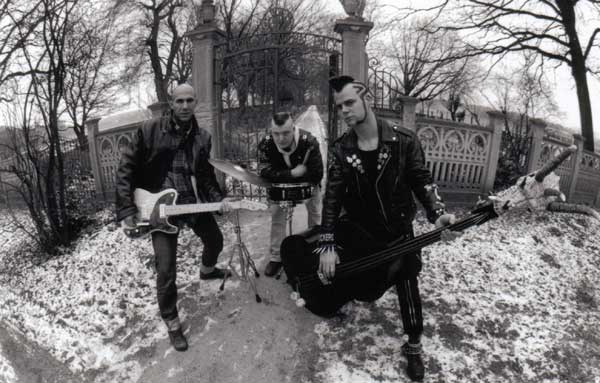 1) Who are you? Describe yourself in a few words...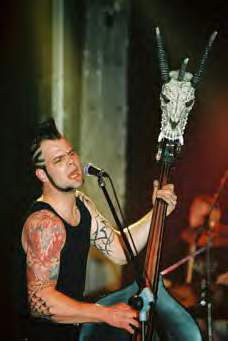 Hi we are the Cheeky Rascals.
Our Voice is Goran 33 years old and he also plays the guitar.
Marco 27 years old doublebass player and the backing voice from the Cheeky rascals.
Last but not least Alex 25 years and the drummer of the band.
Our favorite bands are Stray Cats, Nekromantix, Demented are Go, Peacocks, Mad Sin, Gorilla, Misfits... ... ...
2) How long have you been playing for? Some of the members have played in other bans before?
The Cheeky Rascals had formt at the end of 2001.
Goran and Alex played before by The GREASERS
2000 Marco and Goran played by a band called NASTY HABITS. In early years Marco played also by bands called CALFSKIN and TOMBSTONE REBELS.
3) Where are you from?
We all come from different towns in Germany.
Goran lives in Guetersloh. Marco comes from Muenster and Alex hometown is Wiedenbrueck.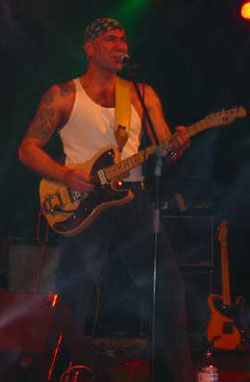 4) What does "CHEEKY RASCALS" mean?
When you translate Cheeky Rascals into German Language it`s called " Satansbraten ".
It means : Like a son of the devil / an very awful child
That's why our symbol is an trident.
5) What are your best 'Live' memories?
We enjoy all our live gigs, but specific the "OPEN AIR" concerts this year.
6) What would you say about the actual Neorockabilly & Psychobilly scene?
In our opinion it's so that the most people get older and left the scene and no new people come to the Psychobilly music.
That's one of the reasons why the concerts are not so filled like years before. An other problem is that the tikets for the concerts get partly so expensive that the people wont come.
7) What are your musical Influences?
Our main influences are Psychobilly, Rockabilly and Punkrock.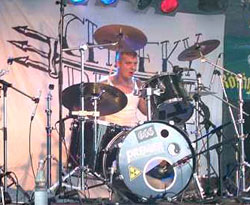 8) Do you think that the CHEEKY RASCALS sound like Neo-Rockabilly With Psycho attitude?
May be. You can call it how you want.
The different between Neo-Rockabilly and Psychobilly is by some bands not so easy to hear. We say it's a kind of Oldshool Psychobilly with Rockabilly influences.

9) Your first LP has just come out on Crazy Love Records.
Could you describe it?
We are very glad that Guido say yes to our recordings. He has so much to do and not realy time for new projects like us.
So it takes a few month between sign the contract and press the CD/LP.
In the end we are all happy about the result. And the criticism about the album are not bad.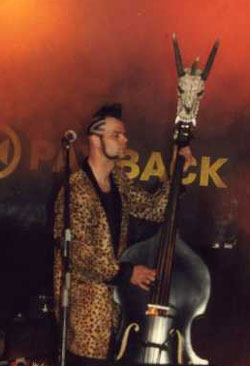 10) What are the next projects of the band ?
In this month we moved with our testroom.
It was much work because we make everything new.
In the next few month we want to built there our own recording studio, so that we can record there our next album.
Some of the new songs are ready but we have to write some more. We think that the next album sounds a little bit harder.
11) Have you got something else to add ?
Till now we played 15 concerts this year in germany.
We hope that we get some more gigs this and in the next years.
We also want to play outside from germany. So check out our webside and ask for gigs: www.cheekyrascals.de
Keep on rocking and don't change your style.
Greetings
Goran, Marco and Alex (CHEEKY RASCALS)