Interview: Brain Eaters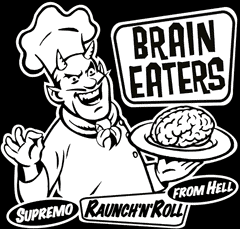 July 2004
BRAIN EATERS, that's the story of 4 unbalanced psychotics, coming straight from outer-space. BRAIN EATERS, that's 3 musiciens who play a pretty good and powerfull Garage-Rock. BRAIN EATERS, that's an amazing stage-act singer, a kind of devastating hybrid between ROCHEE SARNO and LUX INTERIOR.
Well, BRAIN EATERS are a really good stuff ... except if you got a brain, of course!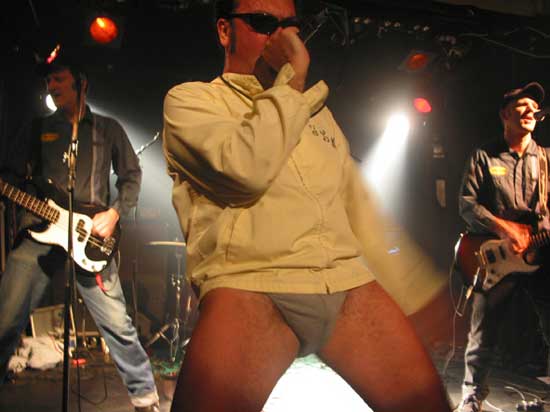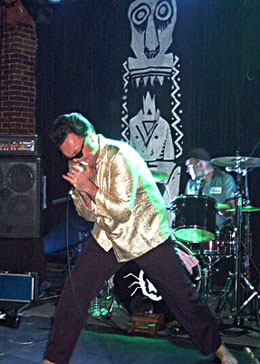 1/ Since when does the band exist ?
February 99.
2/ Where are you from ?
Paris and its suburbs.
3/ Who does what ? Can you describe yourself in a few words?
PROF BOUBOU : song, howls, lyrics, cascades, strip tease and artwork.
HEAVY JC : guitar, compositions, effectsssssssss ...... and units punk.
MEGA DOM : drums, chorus and grumbler.
CAPTAIN FRANCKY : bass, compositions et mentor.
4/ According to the name of the band and to the tittle of your songs, you seem influenced a lot by the Z-sci-fi 50's! What are your other influences?
Mexican catcher Santo's movies
Fu Manchu's movies.
Russ Meyer and John Waters' movies
Betty Page bondage movies
60's surfers B-movies.
Bourvil, tiki art, hots rods, alcohol, sex, pin-ups, Japan, Hell and moustaches.
5/ Musicaly, your inspirations ?
Rock' n 'roll 50's, surf, 60's garage, punk rock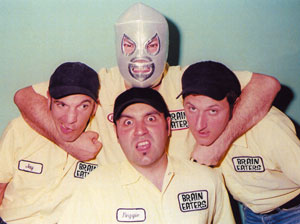 6/ 2 membres come from the SNAILS. What became the 2 other ones? How and why the adventure of the SNAILS finished?

After 10 years of existence, 2 albums, several tracks on compilations, and more than 200 concerts, we decided to stop (problem of availability of one of the members).
The guitarist-singer actually plays with the WASHINGTON DEAD CATS.
The rhythm-guitarist has stopped the music.
7/ What are your activities outside the band?
Rentiers, epicureans, fathers of family, collectors of discs. And beer tasters in the Bavarian biergarten.
8/ BRAIN EATERS appear on several samplers, and in particular on an american sampler "Release the rats". How have you contact them?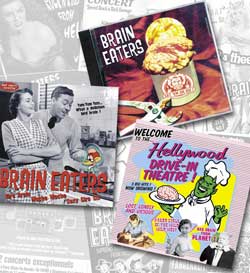 It's Anastasia, the boss of Creepy Cat Records, who contacted us, after having discovered our website, and having fallen in love with Prof Boubou.
9/ When will you release an album?
We will work on it in September. It's just a problem of disponibility and a problem of studio.
10/ What do you think of the french Rock/Garage/Psy/... scene ?
The french rock 'n' roll, garage, surf ,punk and psych scene is very flourishing. There are some very good bands in all the places of the France (Marseille , Bordeaux, Rennes, Paris, Besancon, Metz ...etc).
Unfortunately the lack of structures and public slows down the concerts and obliges the bands to play outside France... snif....
11/ What are the bands you are close to?
The Washington Dead Cats, the Defenestrors, the Bad Lieutenants, and, in Germany, the Elektras, Scumbag Roads and the Reekys.
12/ What are your next plans?
The recording of a song for a compilation : "Rock'n'roll All Stars".
The recording of our album, with our friends of the german label Swindelbra Records, whith who we've already work, on the compilation "The creatures wanna dance".
Several concerts in France.
The Update of "Hell's Kitchen", our website.
13/ The last Worlds?
ROCK'N'ROLL IS HERE TO STAY, ROCK'N'ROLL WILL NEVER DIE