Interview: Blue Demon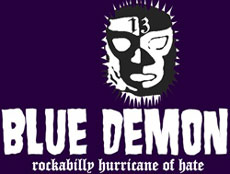 May 2005
BLUE DEMON is a brand new band from Liverpool. You can discover their wild & frantic Psychobilly on their first new EP: "THE INDISPUTED KINGS EP" (out on Mimashima Rcds).
Watch out, BLUE DEMON could become one of the leader of the European Psychobilly scene!!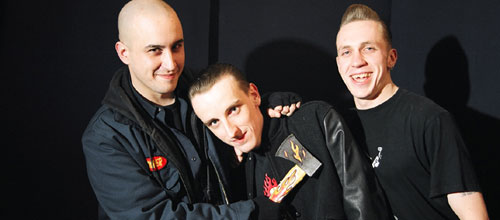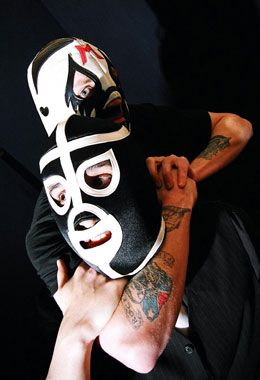 1/ BLUE DEMON . Is this anything about the famous wrestler?
Yes it is. One of our main interests is watching hour after hours of cheap and weird exploitation films.
It just happened that at the time of putting the band together, it coincided with our discovery of the K. Gordon Murray Mexican horror films from the 60's with El Santo.
Lucha Libre is fairly unknown in the U.K but, appearing on stage in a Dr Wagner mask tends to grab the attention of an audience. We are not trying to steal anything from Blue Demon's legend. We are merely giving due tribute to the little fella with the giant hands.
2/ Could you present the members of the band
Demon Dave Drum Monkey
Chris Billy Pockets Hough Bass
Paul G Guitar and shouting/cackling
3/ How long has the band existed for? Could you give a short history of the band?
We have been playing for just two years now. Psychobilly was more or less a dead music scene in Liverpool. So we decided it was time to try and break the filthy hardcore and metal scenes around the city.
4/ How can you describe your music?
Is it psychobilly? I am sure that this is debateable. It is mainly real fast music with frantic bass slapping throughout. We have tried to keep the emphasis on the billy aspect of the music. Personally, I was getting tired of all the punk and metal psycho type music that was prominent in the mid 90's.
We throw in swing beats and surf stuff and try and keep away from the old boring 12 bar in E minor as much as possible.
5/ What are your main influences?
We listen to all type of music the weirder the better. Chris, is more hardened "Ted" type and everything from Charley Feathers to Cavan. Demon Dave, is a big Jimmy Rogers and Lonnie Donegan fan. I am influenced by garage punk and surf instrumental music, like Dirk Dole.
Regarding psychobilly music, we all love music from The Meteors, Torment, The Sharks and The Hangmen. I would also like to mention Sin Alley and Hi-dramatic. They are both amazing bands.
6/ Your first EP is just out on Mimashima Records. What can you tell us about it?
Mimashima was an ideal label to sign with. A local label set up by people we know and trust. With some labels, you release a CD and that is the end of it. You take your 10% and fuck you very much! The scene is moving out of the ghetto now. Big labels like Epitaph and People Like You are hopping on the bandwagon. We have seen the Tiger Army tour bus there is gold in that thar psychobilly!
7/ What are your lyrics about?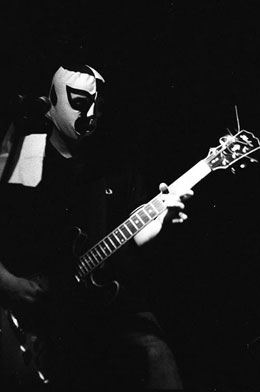 Well, we were not keen on going on the psychobilly favourites of monsters, ghouls and werewolves. So we have mainly stuck to the rockabilly tradition of booze and women and only with a slightly bitter twist.
We have a track called Turpentine which is about leaving your lady in favour of a life drinking methanol in the gutter.
Another track is called, Her love is disfiguring which, is about seeing a psychotic ex-girlfriend with her new man, laughing. But you know what he is about to be put through!
We have got a new track called, Yeah you know is right which, concerns all the trouble we have managed to create backstage with the other bands and their riders!
8/ How is the Psychobilly scene around Liverpool?
Like I have said, psychobilly was dead for a long time. In the early 90's, there were a few Liverpool bands, but they died out like dinosaurs. It is slowly picking up again. We are currently the only psychobilly band in Liverpool, although there are a few on the way, I believe. The only other Liverpool band similar to us is Zombina and the Skeltones. Whilst they are not psychobilly, they do have a lot of the same blueprint as psychobilly bands.
9/ Can we expect an LP soon?
Yes! We are due to record in a cottage in the middle of nowhere quite soon. Hopefully, it should appear on Mimashima towards the end of the year.
10/ What are the Blue Demon projects?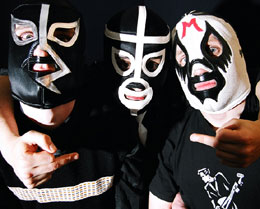 Like recovering alcoholics, we just take things one day at a time. No grand plan yet. Some gigs out of this shitty country would be good. It would be nice to earn a wage as well we are not holding our breath!
11/ Last words???
Cheers for the interview. Glad you like the CD. We shall end this interview like this Psychobilly is not about a haircut or a pair of creepers you bought off eBay. Nor is it a stop-gap between being a ska kid, a new romantic or whatever the fuck these big indie labels try and sell to the fashion-conscious alternative teenage market.
Psychobilly has always been there kids, you just never knew until all your mates got into it!!!