Interview: Brigitte Handley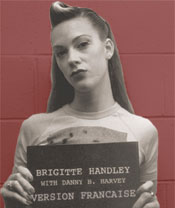 Agust 2003
Bands with a female singers are always rather rare in Psychobilly. And with Brigitte HANDLEY, one holds certainly the most beautiful success in the matter. She comes from Rockabilly, and has what is necessary to leave an excellent mini-LP (with Danny B Harvey)! Between wild charm and powerfull energy, the alchemy is perfect!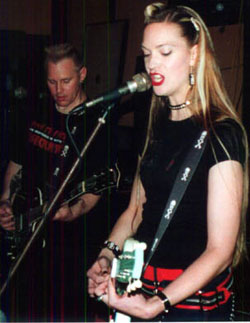 1) How long have you been rockin' for?
About 7 years now.
2) Where are you from?
Sydney, Australia
3) How many gigs ? And Where ?
I started playing shows in and around the country town where I grew up then I moved to Sydney where I'm based now. I've played shows in Sydney, Melbourne, Coolangatta and various other places in Australia. I've also toured in the USA.
4) How is the Australian Psycho/Rockabilly scene?
Pretty small. It seems to be growing a bit lately though.
5) Your 1st EP sounded really Authentic Rockabilly, and the following recordings were much more psycho. How will sound your next songs ?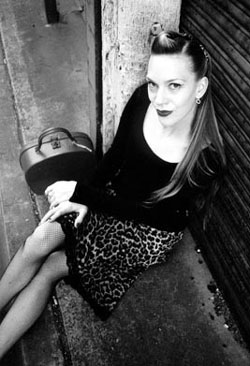 photo by Anjy Cameron
I have been working on creating my own style and I think that is reflected in my new songs. There are obvious influences from my rockabilly and psychobilly roots but I think there other sounds in there as well which I hope are unique to what I'm doing. I've always like to mix things up a bit and make them my own and I think the new material is a natural development of that. I've also tried to take a modern slant on things both in sound and thematically.
6) What are your main musical influences?
Eddie, Gene, Stray Cats... but that's just the begining. I love Batmobile, The Quakes, Demented, Polecats Dave Vanian & The Phantom Chords, Morrissey...
7) With the "Psychobilly Calendar 2003", You're litteraly a real Pin-Up, now?
Well I'm not sure about that... I don't really feel like a pin-up. I'm just a rockin' gal! >;-)
8) How happened your work with Danny B Harvey?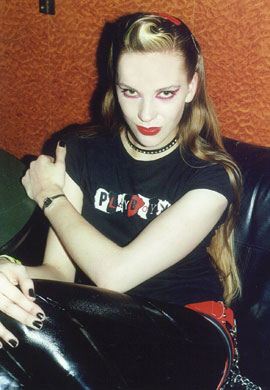 photo by Angela Femia
I was in Nashville at the Rockabilly Hall of Fame office for a few days and had some shows lined up in LA the next week. I had to put a band together for the shows and so I asked Tim Polecat if he knew of anyone. He put me in touch with Danny so I gave him a call and he helped me put a band together for the shows I had lined up. I was in LA for 2 months and we played quite a few shows together and we decided to lay down a few tracks before I head back for Oz.
9) Have you got a regular band?
My band The Riff Randalls just recently dis-banded as my guitarist Gil just bought a house and moved to Coffs Harbour which is about 7 hours away from Sydney. At the moment I've been focusing on writing new material but I'm just starting to put a new band together so stay tuned...
10) Which bands are you close to?
Well I'm not exactly sure what you mean here but if you're talking about bands that I have some conection to or are influenced closely by I guess I'd have to say the Polecats. I was lucky enough to meet Tim Polecat when I was in Vegas and he really took me under his wing and introduced me to a heap of really cool people who have all influenced me in one way or another. Tim's kinda been my Guru in a way as he really opened my mind up to a lot of different music which has really broadened my horizons as a musician. I mean when I first went to to America I was a lot more trad which is totally cool and I love that stuff but as a musician you get to a point where you start wanting to really push boundaries and develop you're own sound. Tim is a crazy cat but he's always been very encouraging and helpful to me. Paul Roman from the Quakes has also been really cool and supportive of what I've been doing. It's cool to be able chat and get advice from these guys that I've admired and respected musically for some time.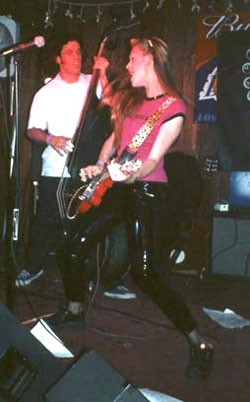 11) Being a woman on the Rockabilly/Psychobilly planet : do you think it has helped you or is it more difficult ?
Well the best thing is that I don't get compared to Elvis like the guys do but it can be tough being one of very few girls in a very male-dominated genre of music. A lot of people have the mind-set that 'girls don't rock' which I think is really lame. I guess in some ways it's always been the same and hasn't progressed much since the 50s. I guess I've been a bit different in that most of my heros have been the guys and I have always really based myself on that kind of attitude which has given me a lot more freedom. There were not really many women singing wild rockabilly in the early days apart from your standards - Wanda Jackson, Janis Martin, Lorrie Collins etc... and usually, the guys got more freedom to sing about what they wanted. I guess that's one of the reasons that there are not that many women out there singing rockabilly or psychobilly today. But I reckon it's time the girls give the guys a run for their money!!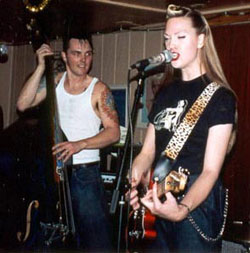 Brigitte Handley with Jonny Bowler
12) What are your next projects ?
Well I'm currently working on new material which will hopefully be released as an album. I'm also in the process of putting a new band together. So there's lots of stuff going on behind the scenes at the moment. I can't wait to get back out there and start touring again. I really want to go back to the US and Europe for the first time, maybe even Japan... I'm getting excited just thinking about it!
13) Have you got something else to add ?
Keep spreading the rockin' and psycho word!
All the pictures are from Brigitte Handley's Website.