Interview: Banane Metalik

March 2006
Sex, Blood and Gore'n Roll!
Kings of Psycho-Gore are back! Furious interview with Banane Metalik.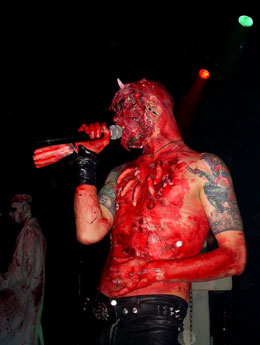 1/ BANANE METALIK, the band came back in 2003, after a long absence. What has motivated your come-back?
I fitst think we came-back because we wanted to give a good shake and because a lot of retards all over the world were waiting for us!
Because of the actual musical soap, les Bananes came back with the envy to make a very "Gore" and very provocating Rock'n'roll, something that doesn't care about the label and all the commercial normes... We wanted to fight against the aseptic musical background... so far away from what we like!
2/ What have you done durng those 10 years?
During our 10 years long absence, we have played in several bands, and we didn't came back because we were boring, neither because we needed money, but by passion!
We have never stopped to play some music, to go to see some shows, to buy some records and horror movies... The Rock'n'Roll culture means a lot of things to us (attitude, music, provocation, nonconformity...) and we were fed up to see on stage so many marketing products who were saying they were "top rock'n'roll" !
3/ There have been some changes in the line-up since the "Requiem" album?
There hasn't been any changes for the 2 guitarists (Bananium et Boris) and me as the singer. Concerning the new doublebassist, we knew him for years, he was the doublebassist of the french band LES CARNATIX and he was also an old friend of mine. So, this choice was obvious to us. The drummer is a recent member who convinced us since his first rehearsal by the way he plays and his high motivation.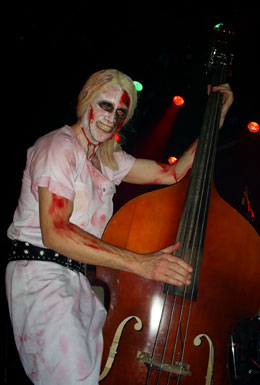 4/ A lot of your songs are in french. Why that choice?
Without any fuss, because it's easier to me to express what I feell in this language. I also love to write in this language (the images, the lexical field, the contradictions...). And moreover, I don't give a shit if singing in English is more seller.
Singing in french has never been a constraint for us. I think our foreign public appraises that kind of mix of rock'n'roll, punk, psycho... Some of them even told us that they could feel the meaning of our lyrics because of the atmosphere (the energy, intonations, melodies ...) that we put on each song. They can feel what comes out of our compositions.
5/ How is BM appreciated, outside France?
We've been very surprise and happy to see that our foreign crowd was very various.
Most of them (the public, the medias, the entertainer...) love our energy and the madness we've got on stage, and they like that our shows mix up provocation, horror and rock'n'roll... We've been told by the people who came to see us during our USA tour, that they liked our musical style because the psycho could listen to us with his punk friend, who could listen to us with his metal friend....

6/ On stage, BM proposes a very visual show: hemoglobine, stage settings, dress... Is it an important side of BM?
Yes, it's very impotant! When the band formed in 1989, we played in the whole Europa up to our split in 1994 (we made our come-back at halloween 2003). From our early beginnings, we wanted to show our passion for the rock'n'roll (bands, attitude, do it yourself...) and the horror culture (movies, litterature, special effets, make-up... ), that's why we called our music Gore'n'roll.
We make all by ourselves, we need about 40 minutes to prepare ourselves before coming on the stage. We've always needed to develop the visual aspect of the band.
We make our show very visual because we want them to generate a feeling of madness, nonconformity, provocation...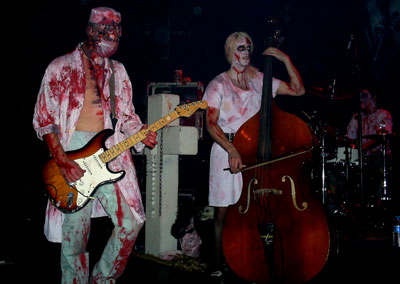 7/ Talking about the violence of your music and the engagement of some of your lyrics, how do you situate yourself in the current scene?
Generally, our favorite subjects for our lyrics are about the horror culture and the rock'n'roll... the "gore'n'roll way of life", you see,-) So, we keep a part of our stock talking about zombies, waltz of the damned....
But les bananes have also some songs who claim our denial of the normes, the oppression of the dummies and the extremists...
If that means that we're an involved band, we don't care! We just want to avoid to teach any lesson and we prefer that people use their own critical mind...
8/ "Sex, Blood and Gore n Roll" has been released a few months ago. Could you talk about it?
We've taken a long time to sharp the songs of « Sex, blood and gore'n'roll », we knew that a lot of people were waiting for it, and we didn't want to disappoint our public.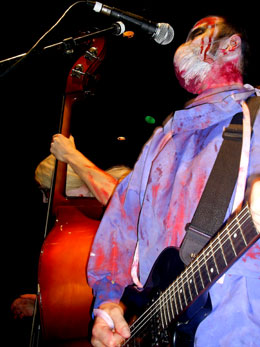 We turn the choice of the studio over our mind, we decided what kind of production and of mixing we wanted, we talked alot about our artistic choices, visual, distribution... Now, I would say we have given birth to this new opus after a very long period of composition, recording, studio troubles... For our next album, we wish something more direct, a kind of pure energy, catched in the urgency and the rage!
We are currently composing it, and we are planing to release it in Halloween 2006.
9/ If you had to chose only 1 term to define BM
..... SEX,
..... BLOOD,
..... GORE&ROLL
Which one would it be? Why?
Gore'n'roll because it includes the 2 other terms,-) Gore'n'roll mean's vice, blood, sex, rock'n'roll, booze...
10/ What are the plans of the band? Will you participate to an audition for the 2006 edition of the Star Academy?
A big part of our crowd like the lyrics of "Opus666". With this song, we try to denounce the actual musical soap (in France and everywhere else), all those so-called artists, formated by the medias, who invade the radio and our lifes. The music industry preoccupations are much more material than artistic... But, kickin all that shit at Star Academy... what a dream! The 2006 edition with les Bananes would become the Vice Academy!!!
We are going to keep on giving a good shake, to breed a Gore'n'roll pandemy!!!
We've got a lot of scheduled concerts, in France and abroad (USA, Canada, Scandinavia, Italia, Spain...) in 2006, it's gonna bleed!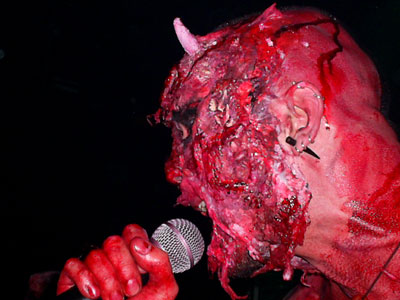 We are currently working on a new album, totally Gore'n'Roll, and we are also working on a demented DVD! Halloween 2006 might be restless ,-)
11/ The last world
Run on our last album, there's no better medecine to cure the surrounding moroseness!!!
www.bananemetalik.com
www.myspace.com/bananemetalik
And thanx to you and all the activists (public, bands, webzines, associations,...) who fight, by their own ways, against the cultural and artistic standardization!
In gore'n'roll we trust !!!
Ced666
Photos: Ludo / Live in Bures sur Yvette - Essone - F