Interview: 3 Lost Maniacs

Nov 2006
Watch out, Jack Fire is back, and this time, ... he's back for blood!
A few years ago, the WILD ONES, a famous belgian Neo-Rockabilly band, used to sing, talkin' about their own country: "This land wants Rock!"
That's what you may think if you listen to the new album of JACK FIRE's latest band, the 3 LOST MANIACS.
Let's take a walk to the Belgium, land of Rock?
1/ How long have you been playing together as the 3LM?
We are playing together for 2 years.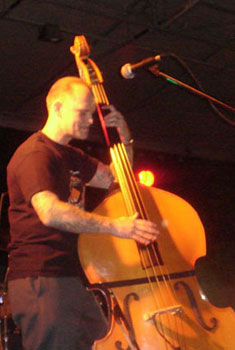 2/ Who does what in the band?
We're 3 in the band: big bad Hono is the singer / guitarist, Loco Ced is the drummer, and me as bassist and double-bassist.
In this band, there's no leader, we write our songs together.
3/ Jack Fire, you are pretty well known in the scene: In europe with the Wild Ones, in Canada with Flesh, in California with Brigitte Handley...
Could you give us some details on your own history?
I'll try to make this long story short: I started playing the double-bass when I was 13, and I recorded my 1st EP at 15, with Teddy Levis.
Then the Wild Ones arrived, in the early 90's, and after that I toured with a lot of bands in Europe (Jack you're dead, La Muerte, Tazmanian Devils, ...) till I left for USA.
There, I worked with a lot of artists, such as Slim Jim Phantom, Tim Polecat (Polecats), André Williams, Johnny Powers, Danny B. Harvey,......
Then, after a short stay in Canada, I came back to Belgium, and that's where I reformed 3LOSTMANIACS, and, since december, I also play with the Seatsniffers.
4/ I've been told you quit Montreal because of the coldness of the winters. Is it true?
That's true that, in Montreal, it's getting very cold, but the true reason is that I was very boring there. Happily, I met a few super cool people there, and I still keep in touch with them.
5/ Considering Loco Ced and Big Bad Hono, have they played in other bands before?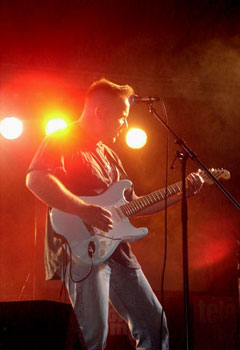 Loco Ced and Bad Hono were already playing with the Tazmanians Devils (not the current german band) that we formed in the 90's.
Before that, they used to play in Punk bands, such as the Melocakes.
6/ How long does 3LM exist for? How many shows?
We exist as the 3LOSTMANIACS for 2 years, but we play together since 1994.
I can't tell you how many shows, but we pley regularly.
7/ The Belgium seems to be a central point for European RnR. Is it easy to play there? How is the scene there?
The scene in Belgium is very RnR, specially into the north part of the Belgium, and that's true, a lot of foreign bands like to come and play in Belgium because the crowd is always enthusiastic! There are a lot of clubs, so a lot of opportunities to play.
8/ What are the bands you like?
My tastes are very varied, it goes from the Punk Rock to the Jazz, here are some examples: Deadbolt, Social Distortion, Peter Pan Speedrock, .........
9/ "Back 4 Blood" is your 1st CD. Could you introduce it?
In this album, we mixed what we used to play before, and what we do now. When we went to the studio, we recorded some songs that we used to play in the 90's, and also some new songs. Is this album, you'll actually found our different musical influences.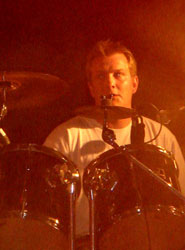 10/ A lot of different influences can be found in "Back 4 Blood". How'd you describe it sound?
We could call this sound "old school", because there are some Punk Rock, neo Rockabilly, and Psycho songs, but all of them has an old school sound.
11/ What are the 5 last albums you discovered?
I've recently heard a song from the last Meteors album*: the F word and I think, it will be my next purchase. I've also discovered a Texan band called Deguello, and I hope they'll release an album soon.
12/ What are the plans of the band? Another release? A tour? ...
We don't plan to release a new CD now, because "Back 4 Blood" has been released a few month ago.
Considering the tours, actually we are playing quite regularly, but as we, all the 3 of us, have an occupied diary, there's no planned tour now. But we may tour later.
13/ Last Words...
I'm playing since the early 80's, and I've noticed, for a few years, that there's a revival for this kind of music, it's great, Keep on Rockin!
Jack