Interview: Three Blue Teardrops

December 2006
This Chicago based Hard Rockin' Rockabilly trio celebrates its 15th anniversary with the release of their 4th album, "RUSTBELT TRIO".
THREE BLUE TEARDROPS are 3 very accomplished musicians playing some wild American Rockabilly, with strong roots but in a modern way.
Thanx to Dave Sisson for his answers!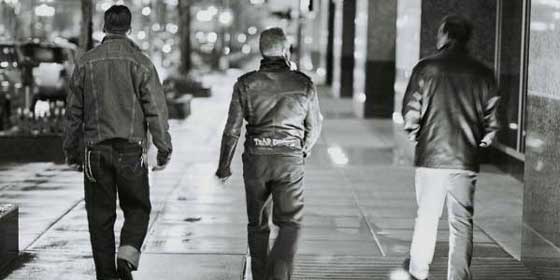 1/ Could you introduce the members of the band? Same line-up than in the early days?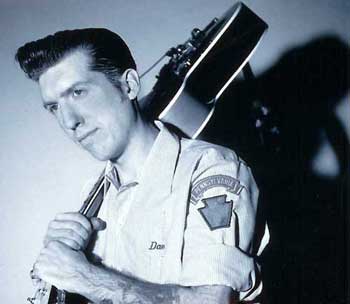 Rick Uppling- Upright Doghouse Bass and vocals
Dave Sisson - (Me) on Hollowbody guitar and vocals.
This is the same trio that started the band back in the summer of 1991. We played together and recorded and released two disc from 1991-1994. "One Part Fist" on London based Nervous Records and "(Stilletto) Poised in Hate" on the now defunct Teen Rebel Records label out of Miami.
In the fall of 1994, Randy decided to stop playing so he and his wife could raise some children. He moved back to Michigan and we lost touch. Rick and I were going to break up the band but we stumbled into Kevin Lee Myers who drummed with us from 1994-1999. During this period we toured quite a bit and released "Milemarker 26" also on the Teen Rebel Label.
Eventually we stopped playing with Kevin and picked up with Randy again.
2/ Talkin' about the past: you were one of the 1st american bands who toured in Europe. How was it then?
We didn't tour all of Europe. We didn't know anybody at all who would help us with that. We only went to England to play some festival shows and clubs and record our disc for Nervous Records in 1993.
We were considered pretty wild on the American scene with our greasy hair, engineer boots, leather motorcycle jackets and wild original punk flavored Rockabilly music until we went to the Big Rumble in Great Yarmouth and met a bunch of wild psycho-billies and punks from England, Germany, France and many other places in Europe and Japan. We realized we looked like a bunch of conservative characters from Sha-Na-Na by comparison to some kids with the wild blue quiffs and creepers and Teddy Boy jackets and such but our music was definitely comparable and right in the pocket with a definite American Juvenile Delinquent flavored twist. I guess you could say the scene was very cool only maybe slightly fragmented but we weren't there long enough to know nor were we old enough nor sober enough to pay attention. It certainly was a memorable moment in time though with a lot of legendary characters walking around and behaving strangely.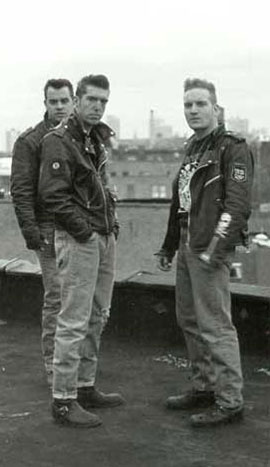 3/ After the 3rd album, the band had a quiet long inactive period. What have you done between 1999 & 2005?
Oooh...this could be lengthy.
The short version is what alot of people do: everybody moved, people were born, people died, people got married, people got divorced, people were angry, people got happy again, people were sick, people got better. If you don't care about the long version, skip to the next question NOW.
Hang on for long reply!
In 1997 after our third disc came out "Milemarker 26" the band experienced a string of independent events that really took the wind out of our sails. Rockabilly and Psychobilly fell out of favor in the USA for a big SWING revival. We didn't wear suits and didn't have horns so we didn't fit into the money making trend. Nextly: the label decided to pack it in and fold. This meant our disc would never be promoted to radio and we essentially had a new disc with no label. Rick and myself were freshly married and very quickly I had a baby boy on the way. Rick's wife got offered a great job in Germany and he moved to Bavaria. Without Rick in Chicago I threw up my hands in disgust and moved back to Pittsburgh to retire from music forever and raise kids in early 1998. Essentially the relationships between Rick, Kevin and myself became very strained to the point of unproductivity. "The fire was gone" as they say. Things remained this way for quite some time.
Without the burden of writing songs to fit into Three Blue Teardrops, both Rick and myself went on creative song writing sprees. While Rick was in Germany he made at least 20 very interesting demos featuring just him on all instruments including bass, guitar, drums, accordian and harmonica. Most of these songs were (in my opinion) really great but not exactly Three Blue Teardrops style material, but rather quirky Rick stuff that reminded me of Stan Ridgeway-Wall of Voodoo. Good but weird. He had alot of personal stuff he went through but now has a happy little family situation going and 3 kids to look after. He claims he never had a desire to put out his own recordings though I did encourage him to do something with all the good songs he wrote that I didn't want to do with him in Three Blue Teardrops.
My stay in Pittsburgh was short and instead of retiring from music I did a lot of "woodshedding" and song writing, most of which fell in the traditional honkytonk country and western swing, hillbilly harmony, bluegrass, rockabilly, country bop field. Going against the grain has always been my nature so instead of reforming Three Blue Teardrops when Rick and I moved back to Chicago in 1999 (for completely independent reasons) I decided to start a big assed, low volume 6 piece hillbilly band with steel guitar and fiddle and lots of harmony to record the songs I wrote. This band had several mis-fires but eventually became the Gin Palace Jesters.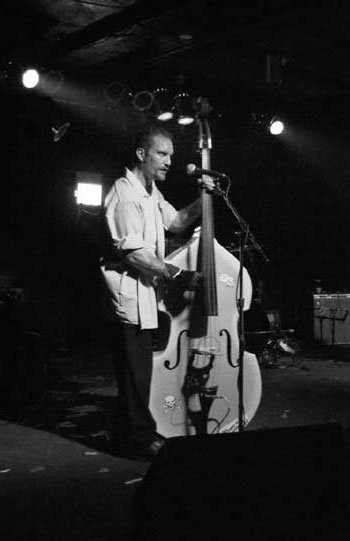 Since 1999, the Gin Palace Jesters went through more numerous lineups than I care to remember and have released one disc out on the German based Rhythm Bomb Records label and we finally have a stable lineup and have a second disc on the way. We have played alot of festivals, played before mayors and in support of country music legends, toured a bit in Europe and are gearing up to tour the west and southwest part of the USA in February/March. The band features a huge slew of talent and great personalities and we get to dress up in hillbilly clothes and pay homage to all or our honkytonk heroes while leaving some tracks in the sand for ourselves.
As an aside, I had a life threatening 9 month fight against Guillain Barre Syndrome (GBS) in 2001 and was paralyzed from the chest down for a while but eventually got over it. that took a year of my life. My second son was born in 2002.
From 1998-2000 Three Blue Teardrops played very few shows and eventually Kevin was a bit disgusted waiting for something to happen and words were exchanged for the worse. We consented to do a show and had no drummer and I called Randy Sabo up to fill in which was how we got back in touch with him. He had been in Michigan working doing carpentry and volunteer fireman stuff putting out fires and prying people out of highway wrecks for fun. He had 3 kids also by now and when we played with him a real MAGIC was rekindled. The magic from the first days of 1991. It's something you can't define with words. It is just something that happens and it's why people keep coming to see us.
Kevin Myers shifted his attention on the martial arts from 1998 to the present and is quite an instructor I hear. He moved back to Georgia with his wife and doesn't gig with us anymore obviously. He will always be a brother to us no matter what. We shared a lot of miles and memories with Kevin.
4/ Why motivated you to come back and record a new CD?
We played very few shows between 2000 & 2004 with Randy. Only a few a year. We'd show up and trot through the "oldies" as it were. Sort of a greatest hits of Three Blue Teardrops show, you know? With the introduction of the home computer and the My Space phenomenon, suddenly we had alot of people writing us every day to request we tour here and there and we got together and started talking about the oddity of people caring about the music we make and what we'd like to do about it. We decided to put out another CD as validation and justification to play more shows and show that the gift of creativity is not a finite commodity. Aging has nothing to do with creativity as Johnny Cash proved beyond a shadow of a doubt as he was creative and relevant to the very end. As a band we just have no interest in being an "oldies" band nor being connected to a certain time and era and since we formed 15 years ago, we have always done our best to give something new to the listener and keep people guessing and take our music to unexpected places. This is just us being us. The best motivation we have is fans of our music encouraging us to keep playing.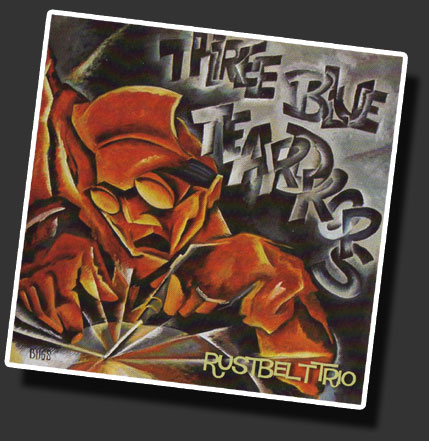 5/ Why have you decided to release "RUSTBELT TRIO" by yourselves?
We all came of age in the early 1980's "Do It Yourself" American Punk and Hardcore scene. In our 15 years as a band we have had relationships with labels and the general consensus in the band is LABELS SUCK! When especially American Punk Rock started there were no labels that would put out these hardcore bands in the late 1970's and early 1980's and west coast bands like the Descendents had their own label and east coast bands like Minor Threat were doing their DC scene a service and all over there were people cranking really good stuff out themselves with no encouragement (and often downright disdain and anger from those scared folks around at the time) and magazines like "Maximum Rock and Roll" and "Kicks" had regular people writing scene reports for free and the mags came out on the cheap and EVERYBODY had a DO IT YOURSELF (DIY) attitude. Somehow that fell by the board in the 1990s and being on a "Cool Independent" was the goal. Now every band wants to be back on a big label and kids are looking to get their band "SIGNED". We say "FUCK THAT!" As a band we have outlasted labels. We have been fucked over by labels. We have had labels that were unwilling or unhelpful in promoting our music or unhelpful in providing booking or tour support and the biggest lesson to all that getting fucked around is: "YOU DON'T NEED TO BE ON A LABEL TO BE A REAL BAND!" There is no validity to it.
It in no way diminishes what you do to be independent and if you DIY you get alot more done not waiting for someone else to do it for you. The headaches of being Independent are far less than those being connected to a label. You are your own boss.
The thing that really is the wild card that never was way back when is COMPUTERS have made it possible to connect with the people that want to know about us. That has evened the playing field for independents versus major labels and we are taking full advantage of it. Not being on a label...Does that mean we will not be heard by as many people if we were? Probably. Does that mean we will play smaller venues or have less CD distribution? Yes, probably. Does that mean we won't have tons of dollars to push our stuff towards corporate radio programmers? Definately. Does that mean our music is not as good? Hell no. The point is we made this CD on the cheap, out of nothing for folks to listen to and maybe we'll make a few dollars but we did it to be creative because we wanted to, not because we are trying to make a big career move, nor to be big rockstars to get hot chicks to suck our dicks in some big theater side room between sets and lines of cocaine. That crap is bullshit. It's just about making good music. We hope you think it's good. We hope it moves you. Decide for yourself and don't let some multi-conglomerate video jockey puppet tell you what to think because his boss told him what to program.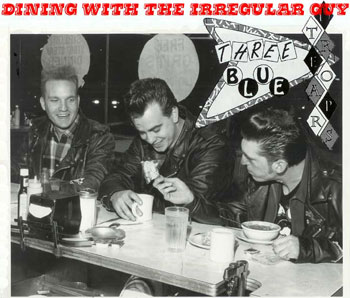 6/ How'd you describe your music?
Punk Rockabilly. Neo-Rockabilly. Cowpunk. Psychobilly. Americana Roots Roadhouse Rockin' Boot Stompin, Bluesy Beer Swillin' funtime happy forget your troubles music. It's loud and it's fast and we yell and jump around alot.
Sounds like...The Paladins, The Sharks, Reverend Horton Heat,
Batmobile, The Cramps, oh...I dunno. Lists suck.
7/ What are your main musical influences? What are the bands/artists you listen to?
There are only two kinds of music: Good and Bad. We listen to the good. I cannot speak for the others but will try to name a few bands that this band kind of uses as jumping point for what we do.
The Clash
The Replacements
Stiff Little Fingers
The Jam
The Stray Cats
Buddy Holly and the Crickets
The Everly Brothers
The Dead Kennedys
Marty Robbins
The Buzzcocks
Gene Vincent and the Blue Caps
Scotty, Bill, DJ and Elvis.
The Dickies

Philip Dougan Photography

Social Distortion
Burnette Brothers Rock and Roll Trio
The Long Ryders
many many more....lists suck.
8/ Generaly, what inspires your lyrics?
Story songs, Love, Sex, Drugs, Booze, Cars, Murder, Anger, Fear, Women, Gunfights, heating, Fun, Friendship, Work, Society, Aliens, Mobsters, Aging, Birth, Death.
9/ You did a video on "Cadillac Jack"? Where can it be seen?
It is being re-issued on a Raucous Records DVD compilation of rockabilly and psychobilly videos by modern day bands. We shot that thing back in 1994 and it's pretty funny to watch and hell, it ain't half bad. I don't know who else will be on the compilation or exactly when it's due out. Sometime soon I expect.
10/ You come from Chicago area. How is the Rockabilly or Psychobilly Scene there?
Living in a big city like Chicago you can lose sight of how cool the music scene is here until you go to some other places where it ain't so hot. The bigger the town the more weirdos I guess...if you know what I mean? There are a lot of bands and a lot of fragmented scenes
and we sort of move in and out of them. There are straight Rockabilly folks who like the traditional stuff, some who like the neo and psycho and some straight psychos and punkers with an offshoot into the dark realm of goth and then there are straight rock and rollers. It's all a matter of taste and no one is right or wrong but everyone has their own favorite flavor to be certain. It's a pretty good varied scene and I've lived in Chicago far longer than I
anticipated so I haven't grown sick of it yet.
11/ You've never covered any song in your recordings. Do yo play covers live, sometimes?
We actually recorded a song on our "Milemarker 26" CD that was a cover of a Peter LaFarge song "Stampede." Johnny Cash recorded a pill riddled version of it from his 1965 Columbia Records "Johnny Cash sings the ballads of the true west" concept double LP. That's where we got it. That's the only cover we have on a disc. Live, we have done lots of different stuff and still do. "Teddy Boy Boogie" by Crazy Cavan and the Rhythm Rockers, "Shame On Me" by Ersel Hickey, "The Battle of New Orleans" by Jimmy Driftwood/Johnny Horton, "I'm Ready" by Muddy Waters and probably others I cannot recall now. Not too awfully many though. We try to play our own songs mostly.
12/ What are your future plans?
Future plans? "The future is unwritten" right? Try to play music when we can, try to tour when we can, try to record when we can.
13/ Last words...
"BIRD" is the word. New CD: "Rustbelt Trio"
Website at www.threeblueteardrops.com/
Thanks to you for the interview. Cheers.
Pennsylvania Dave