Interview: 12 step Rebels

Nov. 2004
Some news from New-Mexico: 12 STEP REBELS, is a trio who play a modern, melodic and hard driving Psychobilly.
You've got to check their brand new full-length out on Dead Body Rcds, a small american label : "GO-GO GRAVEYARD ROCKIN WITH ... 12 STEP REBELS".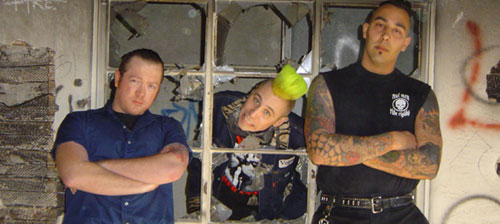 Thanx to all the members of the Band - Pictures come from their website : 12steprebels.com
1/ First of all, where does the name "12 STEP REBELS" come from? What does it mean?
JI: To me it just means, have fun.
MDC!: I don't think too much about 'what it means', I just love how the name flows. It has a good, strong feel to it. But if I had to answer – I'd say it means to do your own thing and not worry about what anyone else is doing.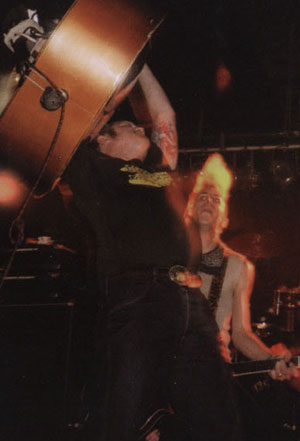 2/ How long have you been rockin' together? Could you tell us a short history of the band?
Nate: I've been with the band about almost 2 years now.
MDC!: We formed the band in the spring of 2000. Then in 2002, Jakob and I kicked out our original bass player and we were lucky enough to get Nate.
3/ Could you present the members of 12 STEP REBELS? Who plays what? Where do you come from? Do you work, outside of the band?
JI: I am Jakob Insane, I play guitar and sing most of the lead vocals. I grew up in Maryland, in the Washington D.C. suburbs. But I hail from New Mexico as of now.
Nate: I play upright bass and some vocals. I grew up in Arizona. I haven't had a regular fulltime job in several months, as our tour schedule makes it very difficult these days to keep a job. It's inconvenient at times, but it's worth it.
MDC!: Mad Dog Chad, baby. I play drums and throw in some harmonies and back-up vocals. I'm originally from New York but moved to Albuquerque almost 15 years ago.
4/ One can feel some Tiger Army's inspiration in some of your songs. Do you agree with that? What are your main musical influences?
JI: Hmm, I don't see it, I just don't see it. But I guess most bands
say that when asked a question like this. I assume that it is my voice that draws the connection. But I feel our voices are very different, and musically I feel there is not really a connection at all. I really just write what comes out but I guess my biggest influence is American roots music. Like old rockabilly, hillbilly, cowboy, etc. But I listen to a lot of other music like Neurosis, peace punk, crust, metal, pop punk, hip hop and I am sure that stuff finds its way into my music. In fact I know it does.
Nate: Personally, I don't think we sound anything like Tiger Army. I can see the comparison though, because our songs tend to be a little more melodic than many other psychobilly bands, and Jake actually sings. I would say as well, that my bass playing has indeed been influenced by Rob Peltier and Geoff Kresge, as I did learn to play the bass listening to Tiger Army 1 and 2. But then I was also learning by listening to Mad Sin and Os Catalepticos (and many other great bands) as well. Not to mention a friend of mine named Mark Lorenz, who was probably my biggest influence really...and he never touched an upright bass, so I would say my influences would be pretty diverse. Mostly though, I just play it how I feel it.
MDC!: Well I learned everything about my singing style from Freddie Hell. In all seriousness though, I don't think much about it one way or the other. I do know that my drumming style is nowhere near the drumming of Tiger Army's – the styles are completely different.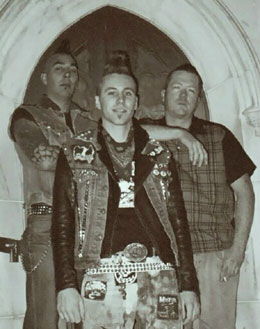 5/ How could you describe your music?
JI: I would say it is psychobilly for sure, but I would say it is melodic and hard driving. It is roots oriented with monster and horror inspired lyrics – that works for me.
Nate: I like it...if I didn't, I wouldn't play it.
MDC!: I describe it as fun to play. It's a rush to me.
6/ Your Album is out for a few weeks. What could you tell us about it?
Nate: I think it's doing well, especially considering we're such a small band on such a small label. Not to mention, it's just really cool to finally have the album out. It was a long (sometimes trying) experience, but it's fun to be able to go into a record store and find our own album now. And of course it's opening up a lot of really great opportunities for us as well.

MDC!: It's doing really well for our first full-length release. We hit the Top Ten Independent Records List at Amoeba Records in California in about a week and it sold out in many places that carry it within the first day. So that was really exciting to hear. I was completely blown away.
7/ Is your split album with GRAVEYARD SHIFT sold out?
MDC!: Currently the split release we did with GYS is out of print, yes. We've had discussions with our label about re-releasing our half of it down the line – possibly remixing it. But as of right now the only place you're gonna find that album is gonna be on EBay.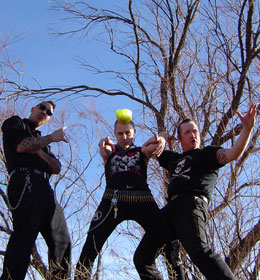 8/ What do you think of the current psychobilly/neo-rockabilly scene, here in America?
JI: Well there's been a lot more bands forming as of late. A lot more psychobilly bands that is. I do not know so much how the rockabilly scene is doing but it is all but dead in New Mexico, where
say 2 to 3 years ago it was doing really well. But the psychobilly scene is growing and now when you say 'psychobilly', punks and others more or less know what you mean where as 5 years ago they might not have known.

Nate: It's great. It's definitely growing, and personally I think that's a really positive thing.

MDC!: It's fun, I can say that for sure. The Psychobilly scene in America is pretty diverse so that's a great thing. Like any underground scene, it has it's 'purists' and people that are not gonna be satisfied no matter what happens – but they're the minority for sure.
9/ What are the last 5 albums you bought?
JI: Samaels the Ceremony of Opposites, the new Cradle of Filth, the Tragedy/Totalitar Split, the Victims/From Ashes Rise Split and the new Conflict album

Nate: I don't buy a lot of albums, so I can't really list the last 5 I did buy. As far as what I've been listening to lately...Tiger Army 3, the new Legendary Shack Shakers, and the new Social Distortion. I also got a couple albums from a band we played with in Austin called Born To Lose that I've been listening to, and a copy of the Phantom Chords' album for my birthday that I really like.

MDC!: Recently I've been buying up a lot of music that I really enjoyed when I was a teenager that I no longer had anymore – old Cure albums, Sisters of Mercy, Front 242. I just got the AFI album of old Nitro Records tracks yesterday.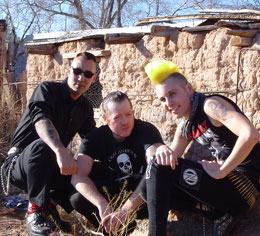 10/ Have you ever played in Europe?
Nate: No, not yet.
11/ Where can European find your album?
Nate: I don't know, I guess on the internet. I found a review of the album the other day on a Polish Skinhead website though, so I know at least some people in Europe have the album.

MDC!: Yeah, I believe interpunk.com or Flying Saucer online are gonna be the easiest places to find it for Europeans right now until it filters into stores overseas.
12/ What are 12 STEP REBELS' plans for the future?
JI: To keep on rockin'. To get out there and tour our butts off and then maybe, just maybe world domination.

Nate: Play music, have fun.

MDC!: Enjoy myself playing music with my two best friends in the world and tour as much as possible.