Compilation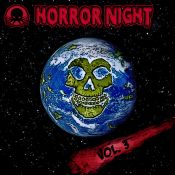 "HORROR NIGHT vol.3"
Cthulhu Punk | 34 titres | 2018 | HorrorPunk
Critique : Une compilation qui, à l'instar des 2 précédents volumes, nous fait voyager à travers le monde: de l'Uruguay à la Nouvelle-Zélande, en passant par l'Allemagne ou les USA. Le tout est très orienté Horror-Rock et Goth-Punk, le côté Psychobilly (assumé notamment par CLOCKWORK PSYCHO, the DIGGERZ, the LAB RATZ et ATOMIC PSYCHOS) restant minoritaire.
Bref, une compilation à découvrir gratuitement sur Bandcamp qui a l'avantage de nous présenter des groupes établis tout autant que des nouveaux venus et qui saura séduire un large public.
Liste des titres: 1. Los Lügers: Redrum 2. Fiend Cats: Demoni 3. Clockwork Psycho: Corpse Collector Dead United: Zombie Shake´83 5¢ Freakshow: Terror Under The Big Top Redneck Nosferatu: Father Curtis Hideous Monster: Season of the Witch Cine Sinistro: Dois Gatos Negros Billy Creepshow: Poltergeist 1000 Cadaveres: Jamas Dormiras 11. Siblings of Samhain: Hyde Atomic Psychos: Voodoo Voodoo The DiggerZ: Descending Angel (unreleased live recording) 14. Epitaph Romance: Your Cities Will Be Your Tombs 15. Horrorscopes: Dead Love 16. Hateseeker: Nightcreatures 17. The Crimson Ghosts: A Mothers Heart 18. The Creeping Terrors: Evil Witch Bitch 19. Horror Story: Deaths last goodbye 20. Demonic: Angel (Alex Story Cover) 21. The Lab Ratz: Sailing Ratz 22. Dr Satan: Noche Eterna 23. Electric Cockpower from Hell: I want your Blood (Piano) 24. Psychompares: Cucarachas 25. La Gamberra: Esta Noche 26. Monster Mob: Human Centipede 27. Die Gruwel: Curse of Crystal Lake 28. Poison Anthem: White Roses 29. Pumpkin Kings: Alone On Halloween 30. The Moors: We Are The Demons 31. Them Creatures: Dead Girls 32. Under A Nightmare: Rawhead Rex 33. Slasher Film: Ghoulsvill Reunion 34. Slavething: Violent Kiss
&nbsp [0 critique]