Compilation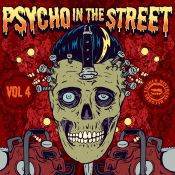 "PSYCHO IN THE STREET Vol.4"
Vicious Mistress Rcds | 16 titres | 2022 | Psychobilly
Critique : 4e édition pour cette très bonne série de compilations numériques qui permet de découvrir des groupes actuels d'un peu partout. La France est à l'honneur cette fois-ci avec des groupes comme the FLYING TORPEDOES, 6 FEET DOWN, CELTIX ou le très étonnant CHERNOBILLY ORKESTR. Et au niveau musical, c'est une nouvelle fois très large: ça va du Neo moderne des ATOMIC PAPAS au Punkabilly efficace des DEAD BOLLOX.
À découvrir sur Bandcamp, comme les autres volumes de la série.
Liste des titres: 1. 6 Feet Down: Hell Town 2. Dead Bollox: Little Monster 3. Stormtroopers Of Love: Brand New Nightmare 4. The Flying Torpedoes: Dead Bodies 5. Chernobilly Orkestr: Mary (Trouble Is Your Middle Name) 6. Molly Fancher: Howling At The Moon 7. Atomic Papas: The Invisible Man 8. Music Kills: Living Dead Blues 9. Celtix: Psycho Of The Night 10. Scared Owls: Pedophile Hunter Rock'n'Roll 11. The Hyde: Psycho 12. The Blanks: Rotten 13. Bulgarian Yogurt: Okay 14. Atomic Megalodon: Lone Gunmen 15. The Writhers: Down My Spine 16. Route 67: I Don't Wanna Die
&nbsp [0 critique]